By Suzanne Kelly.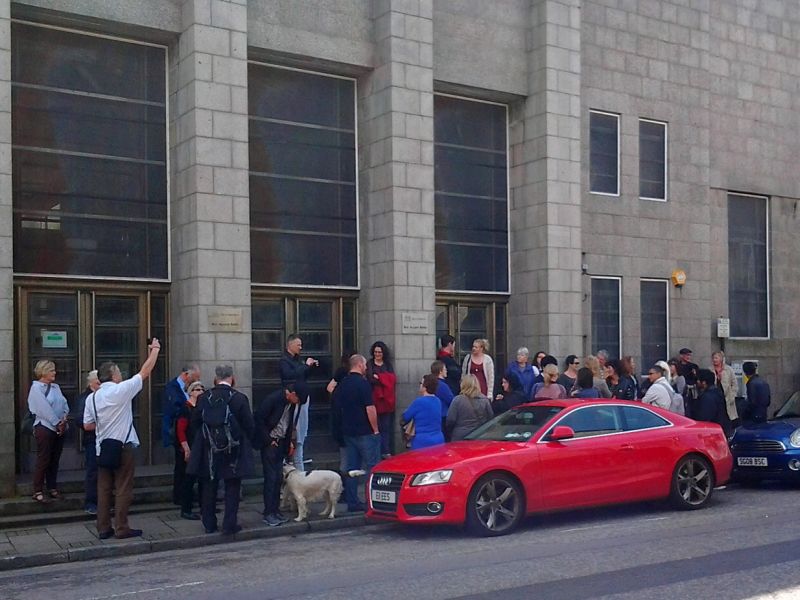 With local councillors from all parties supporting the move to reopen Bon Accord Baths, surely the thousands who want them reopened will prevail. The BBC was on hand recently for a photo call. Despite having a very small window of time to get supporters to the baths on a work day, Craig Adams, leading the Bon Accord Campaign, got nearly 100 people down on the day to show their support.
As well as the BBC, STV and Northsound were on hand, looking for photos and quotes. Aberdeen Voice spoke to one of the many supporters on the day, Kate Urbaniak, and her partner.
Kate said:
 "It's a shame about how things are going on here; look at St Nicholas House.  I learned how to swim in these baths, and if there is a chance they could be put to good use, then they should be. I used to come here, my family would come here, and people used to come here and have baths if they didn't have baths at home. It's a great building, and I've never been in nicer baths."
Mr Urbaniak talked about the carbon footprint of the people who would be driving to the large new pool and how convenient the bon accord baths were for transport.
There are many reasons for opening this much-loved city centre recreation opportunity; for more information look here.  https://www.facebook.com/savebonaccordbaths Many skills will be needed to get the project going; see how you can help.
Comments enabled – see comments box below. Note, all comments will be moderated.