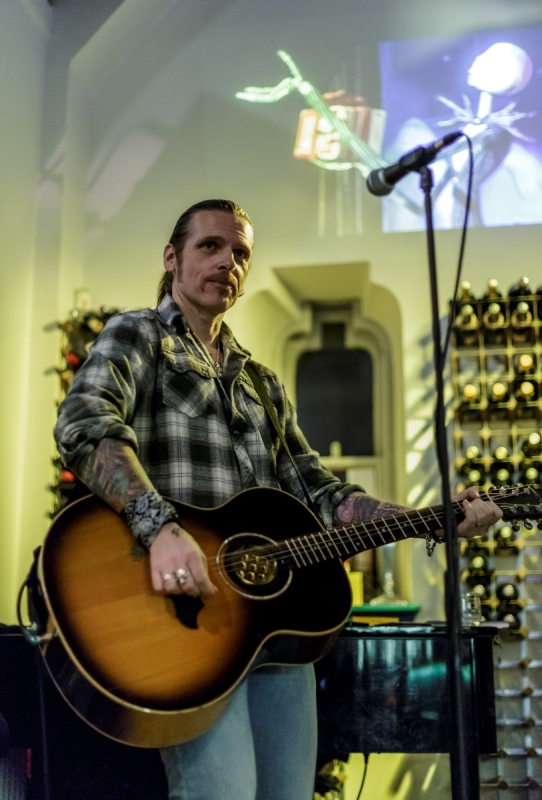 In her continuing series on the life of a pit photographer, Voice's Julie Thompson takes in Ricky Warwick's acoustic set at Musa, Enuff Z'Nuff, Blue Origin and Guttergodz at The Moorings, and The Courteeners and Telegram at the Music Hall.
So, after my rather busy timetable last week, I spent the weekend recuperating – in fact, I spent most of it either sleeping or processing photos. I had a quieter week this week but one with 3 very different gigs/venues on my schedule. I even managed to slot in a couple of Christmas dinners and some socialising.
First up was a very intimate acoustic session with Ricky Warwick in Musa. I had been invited to this private function and it was suggested I bring my camera gear along.
Between songs – which were a mix of Thin Lizzy (Boys are Back in Town, Whiskey in the Jar, Jailbreak, Rosealie) & his solo work (Three Sides to Every Story, The Whiskey Song) interspersed with some covers (Ace of Spades, Ring of Fire, even Oops I Did it Again; which was met with a ripple of laughter that ran around the room as people realised) – Ricky told amusing stories from his past.
A tale from his teenage years began with the information that he grew up on a very large chicken farm, which had the unfortunate consequence that everything, people included, ended up smelling of chicken droppings.
He told the, slightly mournful but amusing, tale of an attempt at dating.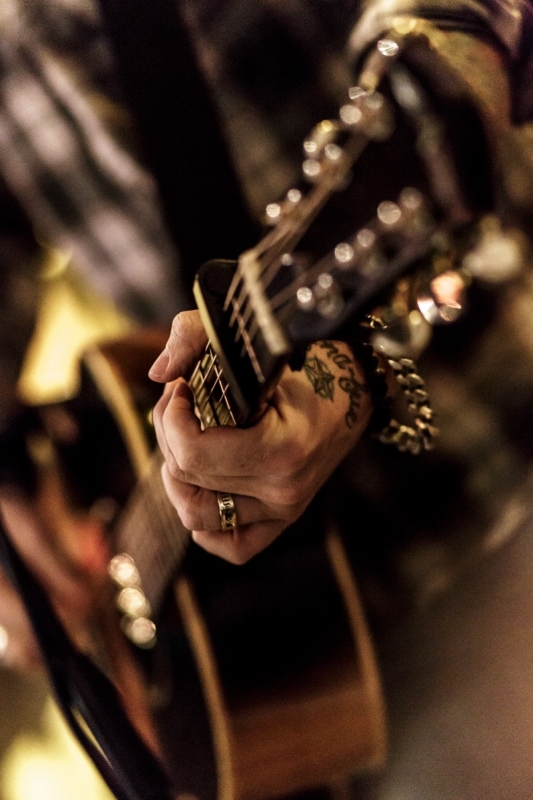 He picked the girl up in a car and as they were driving to the date, her nose started twitching and she asked what the smell was.
After first denying a smell and then winding down a window, he was forced to confess it was him, at which she asked to be let out. This is why, he says, he 'never got laid'.
Later on he told a tale about how, having fallen on hard times between bands, he took work as a sandwich delivery boy, dropping lunches into various companies.
He was out one night and noticed a couple of girls pointing and whispering to each other and, when they came over, was thinking they recognised him from his music. 'Are you Ricky?' one asked. 'Yes, I am' he replied. 'Well, those sandwiches you brought in the other day were delicious' was the, somewhat demoralising, reply.
I had a short chat with Ricky afterwards, where he told me that he found himself more nervous doing these small events than the larger ones – I suppose there is often a big separation from the audience at larger events and the band are generally in a 'bubble' of security that is totally absent in the smaller places making audience feedback limited to applause, well that, and the fact that a bread roll is more likely to hit you when it is thrown from a nearby table.
I'm happy to say that no food was thrown, laughter was frequent and a good time seemed to be had by all.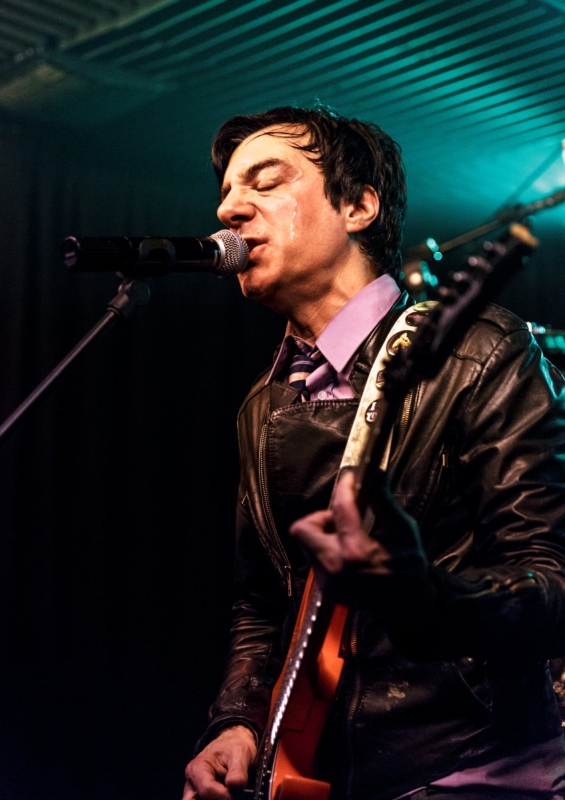 My next gig was yet another visit to the now very familiar, The Moorings (who are doing an excellent job of getting some good acts in) this time to see American band Enuff Z'Nuff, currently on tour around the UK with returning frontman Johnny Monaco. They were supported by local band Guttergodz, who I have encountered a couple of times now, and a band currently on tour with them, the very lively Blue Origin.
I wasn't sure what to expect from this gig, as I'd not come across Enuff Z'Nuff before, but I was pleasantly surprised and really enjoyed the evening. They've been going a long time now – more than 25 years with 12 studio albums under their belt.
As the set progressed they kept joking that they'd keep playing until someone recognised one of the songs. That could have taken a while – they have a large back catalog.
They were obviously enjoying themselves & interacting well with the crowd. At one point in the set, I noticed the frontman extract a bit of paper from a folder for the bass player – I managed to grab a quick snap of it for later examination and I was very glad I did.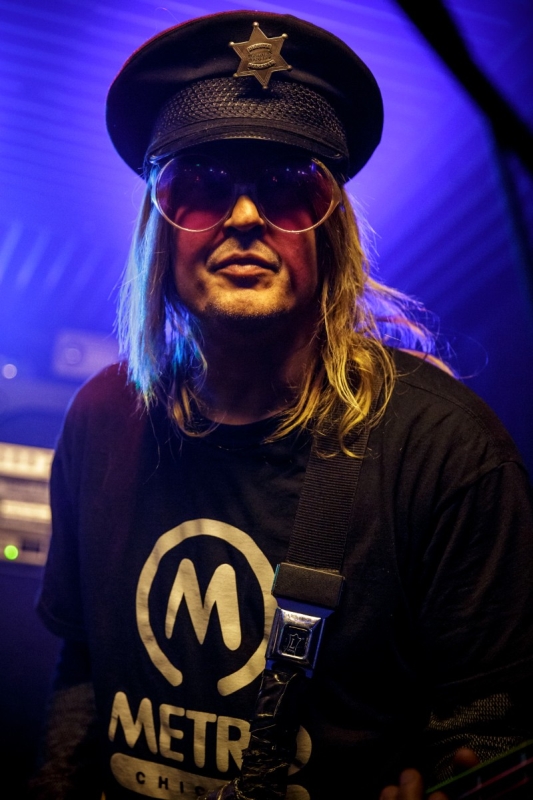 The began a number called Baby Loves You – this morphed into a medley which incorporated 500 miles, Don't Stop Believin' & Summer of '69 – the crowd was enticed into singing along with them for these.
We were all happily singing along to one which was vaguely familiar but I wasn't sure why.
As people realised what it was there was amusement and then somewhat defiant singing.
It was Call Me Maybe, one of those slightly embarrassing ones you don't realise you've picked up the words to, and was quickly followed by Wrecking Ball.
I am pleased to report the last one was not performed naked on a large swinging ball and was all the better for it.
Towards the end of the set, the band began expressing thanks to everyone for coming along to see them, to Flash (the owner of The Moorings) for driving them around ('like a madman') and, surprisingly, to the photographers for coming along to take photos and 'helping to keep their name alive' – I was a bit touched, I have to say.
Afterwards, I was asked to take a photo of someone with, and given an unexpected bear-hug by, the bassist – Chips Z'Nuff – and had a wee chat & a hand-shake with Johnny. They were a lovely bunch of guys.
When I began processing the photos from this gig later, I came across the photo of the sheet of paper I mentioned earlier, and found it was a list of the songs used in the medley – for someone with a memory like mine, it was a blessing.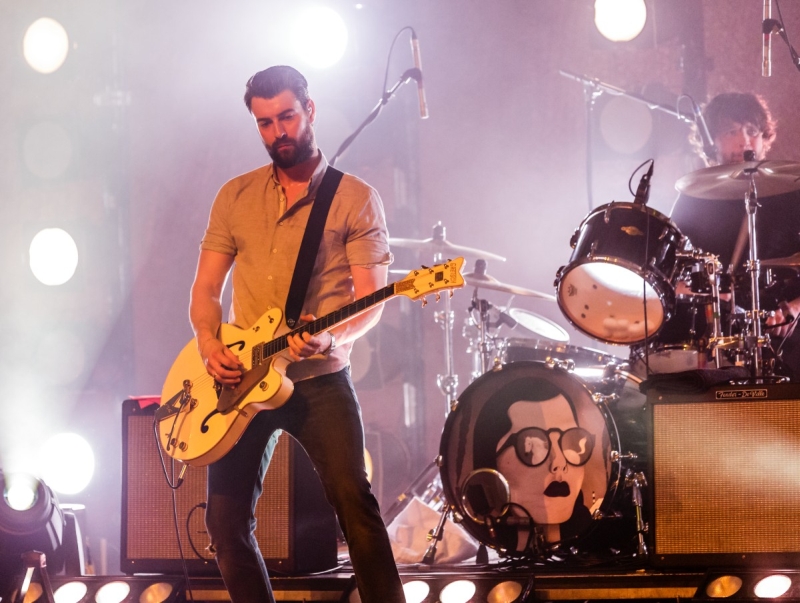 My last gig of the week was at the Music Hall to see some fellow northerners, The Courteeners. I'm not going to explain how I got a pass for this one – a girl has to keep some secrets!
All I will say is that I finally got the pass about an hour before the support was due on stage – giving me just enough time to grab a bite to eat.
This was a new experience – there was apparently no space for togs in the pit so we had to hang out at the back by the sound desk.
I was glad I'd the foresight to pack my 70-200mm lens, although even that was a bit short for the distance.
I asked if I could have a chair – it was a standing event and, as I'm not 7 foot tall, seeing over a sea of raised arms, all holding mobile phones, would make shooting the band pretty tricky – but that was not allowed (H&S I think). I went for a scout about to see where I might get a decent spot; the sides of the balcony area would have been good but that was not possible.
While I was waiting for the support act, Telegram, to start Dod Morrison arrived and we discussed the shooting limitations.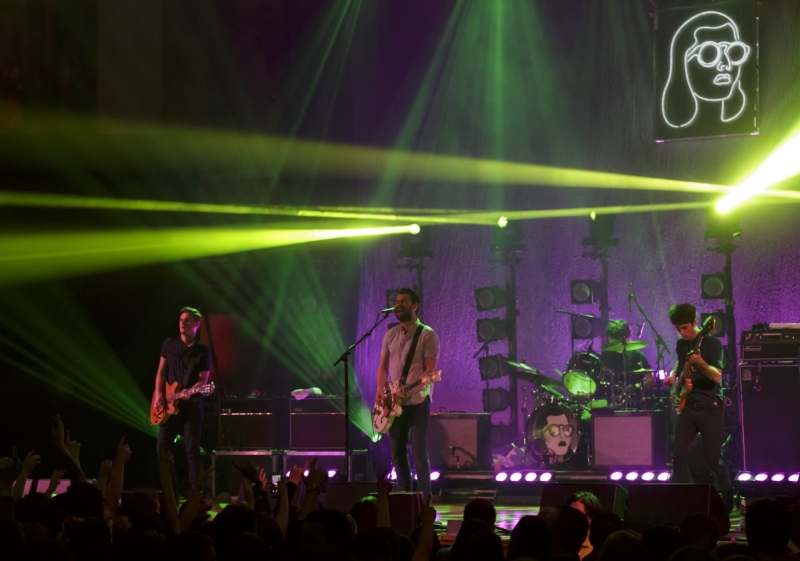 I had noticed a raised area about halfway down one side of the hall when I arrived (this was a ramp & platform for those with disabilities) so a quick chat with the head of security after the support act had finished gained us access to the area for the main act.
As we only get the first 3 songs, we did not get in their way at all.
We can be pretty discrete, and I hope it wasn't too irritating for the two people sat there.
Having noticed the massive banks of lights at the back of the stage and had seen a sign on the way in that said heavy strobe and smoke effects would be in use I was a bit worried, because these two combined can lead to tricky shooting conditions – especially from a distance.
I was worrying needlessly as it turned out because the first three songs were beautifully lit with different colour themes for each song – red for the first, green/purple for the second and yellow/white for the third. This is good because, being limited on shooting angles as we were, it gives you some options when it comes to picking a nice variety of images of the gig.
Beer was flying about part-way through the third song, much of it aimed at the stage. As I was packing up my gear, I heard frontman, Liam Fray, say:
"Are you here to be entertained?"  *Cheers*
"Are you here to dance?" *More cheers*
"Well, if more beer gets thrown at the stage you won't have either. If it gets in these electronics *points to the front of the stage* then it's over. So, PACK IT IN!"
A true northerner – blunt and to the point. It momentarily made me feel a little bit homesick.
My preliminary preparations for gigs I have applied for varies – if I have never heard of them or heard anything by them before, I will sometimes go in cold or I will look for photos of them online to see what they are like live to shoot. Sometimes, though, I will listen to a few songs or watch videos of them live on youtube.
For The Courteeners I went to their website & watched a few of the videos there.
One of the tracks, Van Der Graaff, had a great riff and I thought the song was lovely. I wasn't planning on staying for the whole gig but I stayed on for a few more songs after the camera gear was packed away, to watch the excellent light show as much as anything. I was putting on my coat in the hall exit when that riff dragged me back into the main hall to listen. Magic!
Later in the week, I was out with my day job colleagues (pretty much all the music togs here have day jobs) for the evening when I heard a familiar song playing in the pub – it was the opening track from The Courteeners gig – Are You in Love With a Notion? It's funny how some things seem to follow you about at times.
So, what's next on my schedule?
Well, with Christmas fast approaching, I have a festive/fun lineup for next week. I also hope to have pinned down George Mackie long enough for a chat.
More Photos:
Ricky Warwick
Enuff Z'Nuff
Blue Origin
Guttergodz
The Courteeners
Comments enabled – see comments box below. Note, all comments will be moderated.