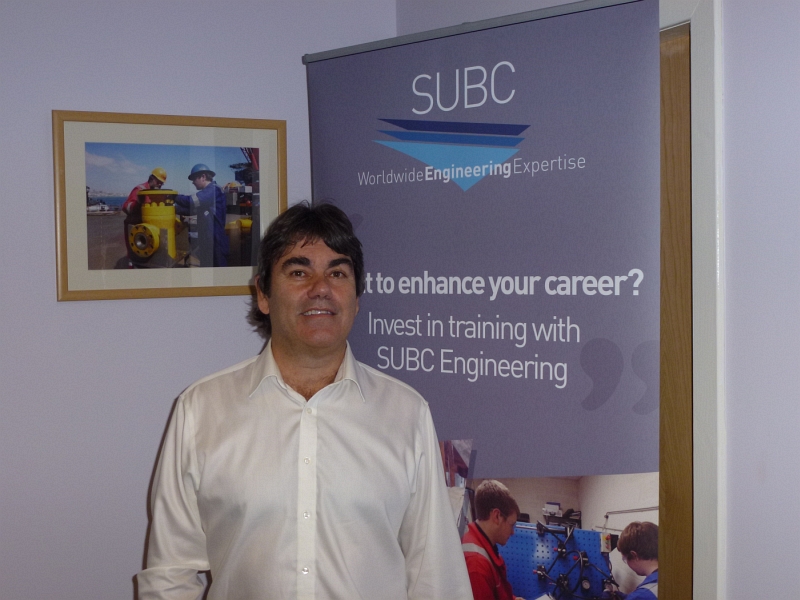 With thanks to Dave Macdermid
A growing NE service company has reinforced its commitment to investment in young and talented personnel with the hiring of the organisation's twentieth subsea technician, Scott White.
Scott spent more than a decade in the Royal Navy and is delighted with his change of career.
Scott said:
"It is very exciting to join the company at this growth stage and to become part of this organisation. I am looking forward to commence my on-the-job training after completing intense in house training."
Since its formation in 2009, East Tullos-based SUBC Engineering has amassed a total of 130 engineers.
Managing Director Colin Burney ( pictured )  is aware of the need to invest in the future of the industry, and said:
"We are pleased to have all those new and talented people as part of our successful and expanding team as our business relies absolutely on knowledgeable and talented people and, as a consequence of our intensive growth plans, we plan to hire an additional forty personnel over the next twelve months to meet the growing demand for our services."
All SUBC offshore employees undergo rigorous internal competence-based training programmes. Newer and less-experienced engineers also take part in mentoring sessions with in-house mentors, each of whom have more than a quarter of a century's offshore experience as subsea engineers.
Comments enabled – see comments box below. Note, all comments will be moderated.