With thanks to Dave Macdermid.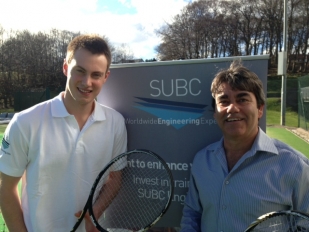 A North East subsea services and training company is the latest organisation to provide financial support for Aberdeen tennis player Bruce Strachan, in his bid to build a full time career in the sport.
Tullos-based SUBC Engineering Ltd, which operates globally, will assist the 18-year-old with equipment, training, subsistence and tournament entry fees.
Colin Burney, the Managing Director of SUBC believes it's vital to give Bruce every chance of succeeding in what is one of the world's most competitive sports.
"It's fantastic that Bruce is attempting to follow in Andy Murray's footsteps and SUBC is only too happy to play a small part in helping to make that happen. He's a real talent and certainly deserves to succeed in his quest."
Bruce recently lifted his first title of the year, winning the Stirling Grand Prix and in the process defeating former Australian Open Junior Doubles champion Graeme Dyce 7-6 (6), 7-5 in the final.
In addition to SUBC Engineering, Bruce is supported by a number of organisations and individuals including the Paul Lawrie Foundation and David Lloyd.
The North East Open Men's Singles champion for the past two years, Bruce is currently in the middle of a hectic competition schedule featuring the AEGON British Tour and the ITF Futures event, with a couple of events on mainland Europe planned for later in the spring.
For further information contact Dave Macdermid on 07710 580148,  dave.macdermid@tennisscotland.org