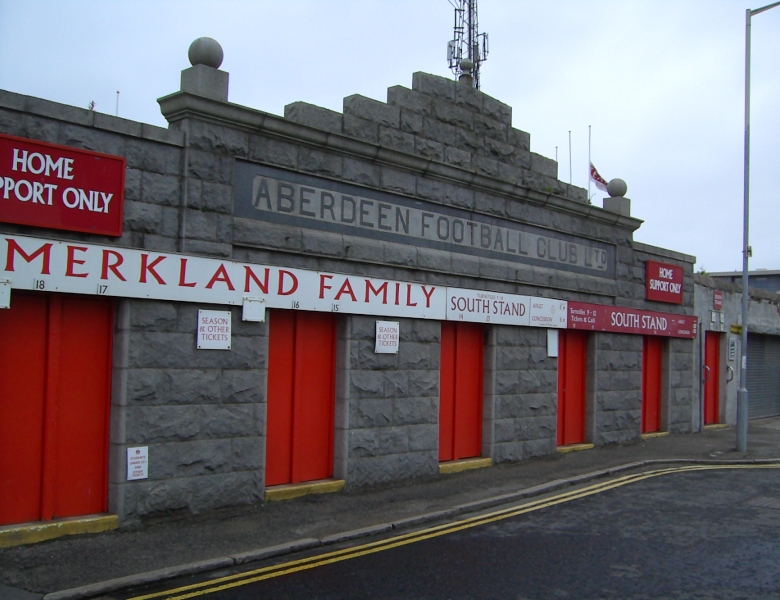 The spitting rain and low mist made for sometimes dull viewing on Saturday, though a Dons victory resulted nonetheless, says fitba reporter Andrew Watson, on his welcome return to the Voice team.
At least the away support appeared to make light of the weather, littering the pitch with orange and black balloons. They even shot rolls of paper from the stand when the whistle sounded for kick-off. The Tangerines had arrived in force.
Visitors Dundee United haven't won at Pittodrie since 2009, and in some respects may feel cheated of at least a point after threatening goal on a handful of occasions. Having said that, neither team had many shots on target throughout.
If every player attacked the game with the same sense of urgency as Dandies' midfielder Willo Flood, it would have been an entirely different spectacle.
He was the proverbial bull in a china shop, the colour of his own jersey acting like a Reds rag as he launched into every tackle. One can only hope this is a regular feature of his performance, and that he wasn't inspired by the fact he's an ex-Arabs' man battling with his ex-teammates. There were boos for him from the away crowd for the duration.
It was only fair that he was awarded Man of the Match, as his work ethic almost singlehandedly propelled the Reds' engine room in the centre of the park.
Despite this, Dundee United dominated the first half.
However, after the interval Peter Pawlett rushed through the United defence, passing to Niall McGinn, who found Calvin Zola. The man from Zaire slotted an easy ball into the back of the net on 54 minutes.
1-0 Aberdeen!
Joe Shaughnessy left the pitch eleven minutes later, with another ex-United man, Barry Robson coming on. Zola then came off, replaced by Scott Vernon after 77 minutes.
Michael Hector, a promising 21 year old on loan from Reading, was the last of the substitutes in 80 minutes, with Ryan Jack coming off.
The only other incident of note was the booking of Jamie Langfield. It was initially quite hard to figure out quite what had happened. Apparently as time was ticking away, and a United equaliser was threatening, the keeper urged the first aid man to take his time, and let him take the ball himself.
Admittedly, Aberdeen rode their luck in the closing minutes. Some blunders, made by a usually rock- solid defence, nearly cost them points.
Yet, on the other hand, it's forcing the opposition's hand, through winning ugly when there are few clear cut chances that accrues league points in the long term.
What do Aberdeen lack right now? Consistency. Results like this, against tough opposition like United, though, are telling proof of the Reds' potential.
Final score:  1-0.