To a background of calls for those sympathetic to the preservation and enhancement of Union Terrace Gardens to be extra-vigilant as the Wood Family Trust's 12-month deadline for withdrawal of its strings-attached £55m 'donation' to 'city centre transformation' approached, a predictable and transparently-concerted campaign, backed by increasingly-vocal local press coverage has emerged.
Our democratically-elected representatives now appear to be under renewed pressure to reconsider their decision to take a prudent approach to financial risk and publish imminently alternative and affordable plans for city centre regeneration. 'Stand firm' seems to be the message from the Friends of Union Terrace Gardens. Thanks to Robin McIntosh.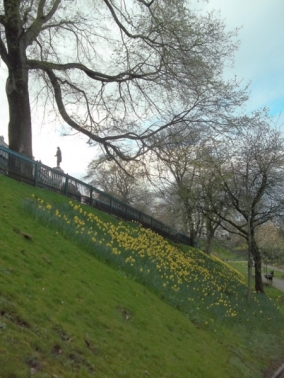 Union Terrace Gardens are an emerald jewel in Aberdeen's civic crown, and part of the city's proud Common Good heritage.
When the Victorian public toilets were closed in the 1990s, the Gardens entered a period of 'managed decline' with virtually no capital expenditure attributed to them. The last five year period has seen a variety of groups comment on the potential of UTG, motivated by their particular opinions on what is best for Aberdeen.
The result has been further degradation of the park, its suitability for events and its facilities as we await a resolution on the future of this publicly-owned green space.
The Friends of UTG group has compiled a wide range of transformational and evolutionary ideas from its membership and has presented its Vision and Proposals to the council for consideration.
The cost of delivering these membership-originated projects will be but a fraction of the predicted £140m cost of the City Gardens Project, and the benefits of evolutionary change to the 'feel' of our city centre are clear.
Robin McIntosh, Chair of the Friends of UTG, said:
"It is now vital that we move forward in the spirit of Bon Accord (good agreement), and undertake a full sympathetic restoration of this green heart in our Granite City. A modern society requires a combination of history, culture and facilities, and we must find the funds to deliver this for Union Terrace Gardens, in the same way that we have for the outstanding Duthie Park.
"The Friends have already delivered some minor, but sustainable improvements – building nesting boxes and planting a Spring Walk and a Flanders Field poppy field for the WW1 Centenary in 2014. 
"Larger capital projects will obviously require greater investment, and we are committed to continuing to work closely with the council, senior members of the administration, and any other interested parties, to secure finance to deliver a Garden with civic pride at its very heart. 
"Our aim is to achieve the best possible outcome for the people of Aberdeen – improvements that are both affordable and which will allow the Gardens to remain in public ownership."
FoUTG's blog outlines its proposals and gives current news updates http://friendsofutg.com/
Comments enabled – see comments box below. Note, all comments will be moderated.