With thanks to Claire McBain.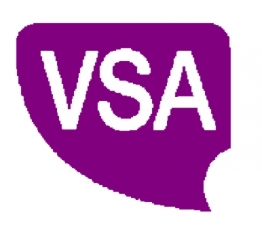 Aberdeen Lord Provost, George Adam, has officially inaugurated Scottish singer and producer Fiona Kennedy as Honorary President of VSA in recognition of 30 years of incredible enthusiasm, dedication and fundraising.
Fiona's career has been diverse and includes singing, acting, public speaking and performing at international events, as well as producing the vibrant and hugely successful production
The Kist.
Kenneth Simpson, chief executive at VSA, said:
"Fiona has given an enormous amount of support and done a tremendous amount of profile-raising for the charity.  We're so grateful and can't wait for the next steps.
"Fiona has a long history with us, having been a Trustee, Convenor of the Carers Committee, Vice Chair and Chair of VSA Board.  She has shown endless passion and tenacity, working hard for causes close to her heart. 
"The team at VSA, past and present, are incredibly grateful for Fiona's hard work in publicising and supporting campaigns, particularly for older peoples' services Broomhill Park and Broomhill Activity Centre."
On accepting the honour Fiona, who began her involvement when asked to accept a cheque on VSA's behalf and has been an ambassador and an active fundraiser for the charity over the last 30 years, said:
"I'm completely thrilled and delighted to become VSA's Honorary President. 
"I love being part of the VSA family and will continue to do whatever I can to support the organisation.  VSA is doing a brilliant job and I'm proud to be part of it."
"I went to see the range of work VSA is involved with and was just so impressed.  The work VSA continues to do is really inspiring. 
"I felt this amazing organisation was not blowing its own trumpet enough, so I was very glad roll my sleeves up.
"My main priorities were to raise awareness and fundraise.  What's really impressive is the fact that 96p of every pound raised goes directly to charitable expenditure."
A particular highlight for Fiona was spearheading and chairing the campaign for the £4million Broomhill Park, that she and her committee helped raise significant funds for, of which she went on to say:
"I'm never afraid to knock on doors to champion causes I believe in and was so delighted to attract supporters like Sir Alex Ferguson to help fundraise for the new Broomhill Park."  
Kenneth Simpson, chief executive at VSA, also presented local businessman James Stevenson with the title of Honorary Vice President at Tuesday's event.
Making the presentation to James, Kenneth said:
"James too has done so much for VSA during his time as a Trustee, Vice Chair and Chair of the VSA board. 
"He has terrific business expertise, which VSA values greatly and has given many years of extremely generous support."