With thanks to VSA Fundraising Officer Claire McBain.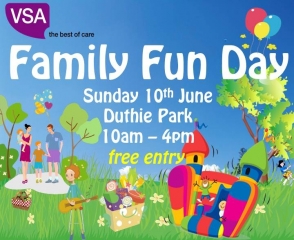 There will be something for everyone on Sunday (June 10) at Duthie Park between 10am and 4pm when the Celebrate Aberdeen weekend is rounded off with a huge family fun day.
Voluntary Services Aberdeen, the UK's largest city social care charity supporting people in Aberdeen and Aberdeenshire, is preparing to say a big thank you to those who have volunteered over the past year with its biggest ever fun day.
VSA Day, the charity's annual fun day at Duthie Park, Aberdeen, sponsored by CNR, was established in 2007 to celebrate and thank volunteers, staff and supporters who have made a difference over the year and to highlight the significant work of VSA in the local community.
Kenneth Simpson, chief executive at VSA, said:
"I'm delighted to be hosting VSA Day for the sixth time, especially given the big jump in size this year.  We've doubled our stallholder numbers and attracted more entertainment than ever.  Visitors can relax watching musicians, dancers and cheerleaders or get involved with military fitness, zumba and yoga. 
"Aberdeen Football Club will be on hand to give budding soccer stars a tutorial and, as usual, our funfair and face painters will be out in force.  Shoppers will be satisfied too, whether it's delicious cakes, sparkly jewels or pocket money treats they're after.
"Our staff are firmly behind VSA Day and we'll have a healthy turnout of stalls headed by our services.  Easter Anguston Farm will bring their popular farm shop and plants into the city while Craigton Grove, a residential setting where twelve adults with learning disabilities live as independently as possible, is bringing Aberdeen back to its childhood with a day of old fashioned races, like the egg and spoon.
"We've had turnouts of thousands in past years and expect even more this time – not just because of our increased offering but with Celebrate Aberdeen hitting town the day before, VSA Day will be the perfect way to bring the feel-good weekend to a close.
Elaine Michael, day care manager, runs several VSA services that will be represented on the day.  She said:
"It's a great opportunity for us to demonstrate what VSA is all about.  Each service can make their cause stand out and explain to the public exactly what they do. 
Our Friends for Life club, an informal weekly youth club creating bonds between like-minded children with additional support needs, will hold a sumo wrestling challenge and Maisie's Children's Centre staff are busy baking for their homebakes stall. 
Each year we have a walkathon too; a gentle challenge for both mainstream children and those with additional support needs.  This year we're adding an extra ingredient of fun with a fancy dress option.
"VSA Day is an ideal occasion for people in Aberdeen and Aberdeenshire to have fun and support their local community at the same time."
VSA is always looking for volunteers to help on the day.  VSA Day will be held on Sunday 10 June between 10am and 4pm at Duthie Park, Aberdeen.  Admission is free.  VSA, sponsored by Shore Porters, will also be part of Celebrate Aberdeen on Saturday 9 June.
For further information, photographs or to arrange an interview, please contact Claire McBain on 01224 358611 or e-mail claire.mcbain@vsa.org.uk