With thanks to Robin Li Laing.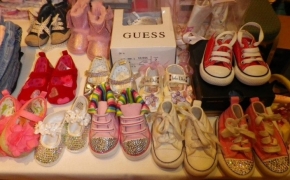 Faced with the ever-rising cost of bringing up a child, Aberdeen parents are selling and bartering in a bid to reduce the cost of raising children.
At last month's Aberdeen Jack & Jill Market, 423 savvy shoppers saved hundreds of pounds.
39% of sellers made £100-£200, 35% made £200-£350 and 8% made over £350,  with the top selling stall making a fabulous £519.50!
According to new figures released by Halifax, it costs £90,000 to raise a child up to age 11, an increase of 15% over the past 5 years which their economist, Martin Ellis, says have added to the already considerable strain on household finances during the economic downturn.
But just as the tough get going when the going gets tough, so an increasing number of smart money mums have beefed up their selling and bartering skills to make and save money as the cost of raising children soars.
A trend is emerging where mums and dads are now much happier to choose selling and shopping at local car boot sales and market days, as a cost-effective alternative to the high street for what their children need.  Over a third of parents now choose to buy and sell second-hand, according to recent figures.
One organisation Aberdeen parents have turned to is The Jack & Jill Market which runs monthly nearly-new baby & children's markets in Aberdeen and across Scotland, solely for local families, with the emphasis on quality goods.
The Jack & Jill Market is so swamped with demand from mums wanting to make and save money, that new locations are being set-up all the time in an effort to meet this demand.
Recent research has shown that UK adults can have up to £581 worth of useable but unused items.
For a two-parent family, for example, this can add up to more than £1000, with much of it locked up in buggies, bikes, cots, clothes, toys, all the all the rest that still have plenty of life left in them, so it makes smart money sense to release this money into the family budget.
80% of mums and families selling at the markets make £100-£350 in 3-hours of selling, with a significant number of mums making up to £550 and our top selling mum to date making £800.  This is money that can then be re-invested back into the family budget to help with the on-going costs of raising a family.
Many baby and kids items are barely, or never, used and are on offer at the markets at up to 90% off the retail price snd with over 13 million toys still ending up in landfill each year, it makes perfect sense to recycle and save money.
Commenting on the markets a couple of local mums said:
"We had a great time!  Hoping to do another one early next year." – Laura Letts
 "I got some great bargains that I am over the moon with" – Charlene McConnachie
The next two local Jack & Jill Markets will be held from 10.30am to 1.30pm on Sunday 14th April and Sunday 12th May, at the Hilton Treetops Hotel, Aberdeen.
For further details, visit: www.jackandjillmarket.co.uk