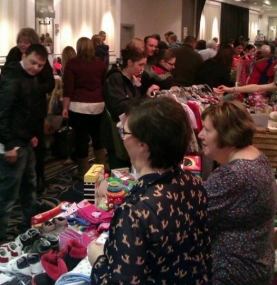 With thanks to 
Robin Li Laing
, Marketing & Events Manager.
The next Monthly Aberdeen Jack & Jill Market will be at the Hilton Treetops Hotel, Aberdeen on Sunday 12th of May, 10.30am to 1.30pm. This community organisation was set up to help Scottish families with the rising cost of raising children.
Faced with the ever-rising cost of bringing up a child, Aberdeenshire parents are selling and bartering in a bid to reduce the cost of raising children.
The last monthly Aberdeen Jack & Jill Market saw 415 savvy shoppers bagging some spectacular jaw-dropping prices on quality baby & kids gear.
53% of sellers made £100-£200, 21% made £200-£350, with the top selling stall making over £330
It costs £90,000 to raise a child up to age 11, an increase of 15% over the past 5 years, according to new figures released by Halifax, whose economist, Martin Ellis, says the figures have "added to the already considerable strain on household finances during the economic downturn".
But, when the going gets tough, the tough get going. As the cost of raising children soars, an increasing number of smart money mums have beefed up their selling and bartering skills to make and save money.
A trend is emerging where mums and dads are now much happier to choose selling and shopping at local car-boot sales and market days, as a cost-effective alternative to the high street for what their children need. Over a third of parents are now choosing to buy and sell second-hand, according to recent figures.
One organisation Aberdeenshire parents have turned to is The Jack & Jill Market which runs monthly nearly-new baby & children's markets in Perth and across Scotland  for families, with the emphasis on quality goods.
The Jack & Jill Market is so swamped with demand from mums wanting to make and save money, that new locations are being set-up all the time in an effort to meet this demand.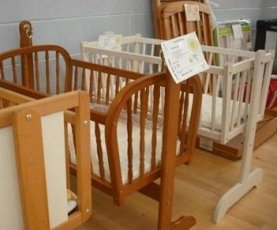 Recent research has shown that UK adults can have up to £581 worth of useable but unused items; for a two-parent family this can add up to more than £1000, much of it locked up in buggies, bikes, cots, clothes, toys, all the all the rest that still have plenty of life left in them, so it makes smart money sense to release this money into the family budget.
Several of these community events are now fully-booked up to 3-4 months in advance for sellers, and are now seeing up to 1000 mums and families through the doors in a 3-hour period, looking for high quality items, at a fraction of the retail price.
There has definitely been a cultural shift in attitude. Thrift is the new cool as mums look for ways to reduce the cost of raising children. The change is especially obvious in first-time mums who have traditionally opted for predominantly new items when setting up for their new baby but are now looking for a smarter alternative.
The next monthly Aberdeen Jack & Jill Community Market will be held on Sunday 12th May, at the Hilton Treetops Hotel, Springfield Road, Aberdeen 10.30am – 1.30pm. Then again on Sunday 16th of June.
For further details, visit: www.jackandjillmarket.co.uk