Jack and Jill Markets are holding an indoor community market at the Hilton Treetops Hotel at 10.30am on Sunday 12th August, 2012.  With thanks to Vanessa Smith.
A new rival to boot fairs, internet auction sites and newspaper advertising has arrived in Aberdeen. Parents now have the opportunity to buy and sell quality, used baby and child products helping each other to make and/or save money for their families.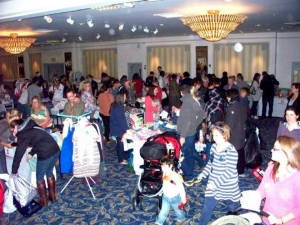 The Jack and Jill Market is a not-for-profit Scottish Social Enterprise dedicated to helping reduce the cost of raising a family while facilitating recycling. 
By organising large scale indoor markets, Jack and Jill helps parents buy and sell a huge range of quality, nearly new maternity, baby and child products in one place, on one day.  Parents can book stalls and keep 100% of the profit they make on the day, with most mums making £100 – £350 during the market. 
Our top selling Aberdeen mum, however, made £800 in one day!
Shrewd shoppers, on the other hand, can handle and compare the goods for sale while collectively enjoying up to 90% off the retail price, making big savings on their favourite brands.
Launched in Edinburgh by local mum and entrepreneur Nicole Diamond, the markets are steadily growing to cover the whole of Scotland.
Mrs Diamond said:
"The feedback from parents after every market is fantastic!   The savings to be had are great and most parents have quality, lightly used clothing and equipment which they no longer need. 
"In the current economic climate it makes perfect sense to get a return on your investment and, by selling on to other parents, we are all helping each other."
The Aberdeen community market is being promoted by Milltimber mum of three, Vanessa Smith, who said:
"Like so many parents in the current economy, I am committed to being money smart, getting the best I can for my family on a budget, so I knew I had to get involved in establishing Jack and Jill in Aberdeen.   It's very exciting to be a part of such a worthwhile initiative."
Research has found that the average person in the UK is hoarding £581 in unused, but workable, everyday possessions.  For a two-parent family this adds up to more than £1000, much of which is locked up in toys, buggies and other equipment which is no longer being used.
Consequently, parents are increasingly turning away from buying used goods over the internet as the description of the goods often does not match up with the reality or, more commonly, they do not have the time to waste chasing up sellers and buyers.
The percentage of parents that buy nearly-new is now nearly 50% and this is driven by both a current awareness of the impact land-fill has to the environment and the need to recycle.  There is also a recognition in the current economic climate that thrift is the new cool and this has resulted in many new and experienced parents asking themselves – why spend more, when you can spend less?
If you have kids or grandkids aged 0-9, these monthly Jack and Jill Markets are a great resource.  With thirty two stalls bursting with brilliant bargains from cots, car seats and buggies to clothes, equipment and toys, they can help to make a real difference to the family finances and are a great bonus in the current economic climate.
The next market is being held between 10.30am and 1.30pm on Sunday 12th August, 2012, at the Hilton Treetops Hotel, Springfield Road, Aberdeen.  Adults £1 entry.  Children go free!
A further market is being held on 9th September with others being held monthly thereafter.
To sign up for market alerts and make sure you don't miss out see the Jack and Jill Markets website at www.jackandjillmarket.co.uk