By David Innes.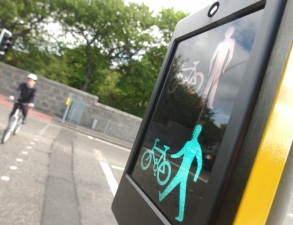 The weather may not have improved much, but with the NE enjoying fourteen hours of daylight, many hardy commuters and leisure riders are adjusting their derailleurs, looking out the Lycra and getting into a decent pedalling cadence again.
Aberdeen Cycle Forum brings us its latest news.
On road schemes which have been of concern to ACF, it's a bit of a mixed bag news-wise.
The Council has finally agreed that the missing Advance Stop Boxes at the new signalised junctions on Stronsay Drive and Eday Road/Kings Gate and at the junction near the new Tesco on Rousay Drive should have been installed. They've not yet confirmed that all arms of these junctions will have an ASB so it is still possible that there will be some missing.  If you use these junctions please keep us informed.  And if you spot other new signalised junctions without ASBs, let us know.
The Council continues to refuse to widen the narrow section of the Westhill path adjacent to the new Prime 4 development at Kingswells. The Forum wrote to all members of the Development Management sub-committee when they were considering phase 2 of the development, but councillors backed the planners who are giving priority to the narrow tree belt.
Our view is that this section of path is not up to a safe standard although it is expected to serve this major new development.  An upgrade shouldn't cost the council a penny if it was willing to tap some of the substantial developer contributions available. We will continue to press the case but if this affects you, please write to your councillor.
The straight ahead lane closure from Virginia Street to Guild Street has now been made permanent by the Council.  The Forum has met Council officials and we've suggested a demand responsive system at the junction to let cyclists press a button to activate a cycle phase in the traffic signal sequence.
We believe this can be integrated to the existing signals with minor impact on traffic flows.  We're awaiting a response to a promised investigation by the Council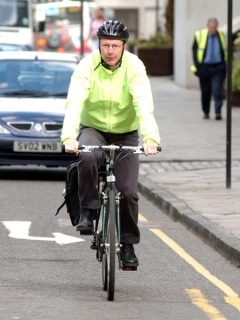 The
Morrisons development at Lang Stracht
, where we had serious concerns about the planned new junction, has hit various legal issues. If it is to go ahead, a fresh planning application will have to be submitted and ACF will try again to get a junction design that is cycle-friendly.
Better news is that work upgrading the pavement to shared use, on the north side of Great Northern Road and Auchmill Road, is underway.
A long section of uneven paving slabs is being replaced with tarmac and lining and signing will take place over the coming weeks. Two Toucan crossings have been installed, one to link to the airport path and the other to help cyclists integrate with Great Northern Road near Bank Street.
Elsewhere, Cycle Law Scotland is working on Strict Liability for vulnerable road users.  See more about this on our website http://aberdeencycleforum.org.uk/index.php?pf=news.php&nid=159
Pedal on Parliament is just over a month away on 19 May at the Meadows, Edinburgh.
POP requests
Proper funding for cycling
Design cycling into Scotland's roads
Slower speeds where people live, work and play
Integrate cycling into local transport strategies
Improved road traffic law and enforcement
Reduce the risk of HGVs to cyclists and pedestrians
A strategic and joined-up programme of road user training
Improved statistics supporting decision-making and policy
We already know of five members of the Forum who intend going – are you? Let us know so we can represent Aberdeen at POP2. See more information at http://pedalonparliament.org/
This month's forum meeting on 30 April is the Annual General Meeting.  ACF will meet in its usual location – Committee Room 5 at the Townhouse (use the entrance on Broad Street/Queen Street, but at the earlier time of 19:00 to allow the AGM to finish before the usual Forum business.
Councillor Ross Thomson, who was selected by the Council to be the Cycle Champion, will speak during the AGM as well.  If you only make it to one ACF meeting this year, this would be a good one!
All elected positions are up for the vote, so if you'd like to take on an official Forum position, why not stand for election?  For more information about elected positions in the ACF, you can e-mail the secretary at sec@aberdeencycleforum.org.uk
As always, let us know if there is anything you see of concern or encouragement regarding cycle infrastructure in Aberdeen.
Encourage your friends to join ACF- it's easy http://aberdeencycleforum.org.uk/index.php?pf=join_up.php
Comments enabled – see comments box below. Note, all comments will be moderated.