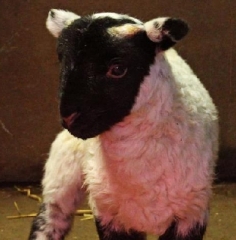 By
Suzanne Kelly.
Some weeks ago, a lamb was brought to Willows Animal Sanctuary near New Pitsligo. It had been found nearly dead, half drowned in a stream.
Tender loving care by the person who found it nursed it back to a state of health, and it continued to recover at Willows, all the while being hand fed and tended to frequently.
It recovered, and is now an adored pet for the many people, especially children who benefit from the Animal Assisted Therapy which Willows offers.
This should be the end of the story; the animal was saved, helped to recover, and has a home for its life being adored at a sanctuary.
However, if one local farmer has his way, the lamb will be seized, and Willows charged with theft and hauled to court.
Outraged animal campaigners and users of Willows' facilities are appealing to this farmer.  After all, there is absolutely no proof where the animal came from.  It was found in a stream far from any farms.  It had no marking/brand/dye.
Court action will mean cost for Willows.  Appealing to this farmer's better nature seems like a slim hope however.
As the Aberdeen Voice  Editor Fred Wilkinson reacted:-
"I think the idea of a sanctuary for rescued animals handing over a rescued animal to someone who has no more interest in the creature than how much fat and growth hormones he can stuff into it and sell it purely for it's weight as a corpse is quite disturbing. "
It is hard to believe that anyone would claim a lost animal is theirs without any evidence, threaten and intimidate a charity with court and police, all to remove a rescued animal from emotionally vulnerable people who have bonded with it – but that is what is happening.
Footage of the lamb playing with a rescued dog, and other information can be found on Willows page on Facebook where you will also find related information.
The Facebook page also has a photo of the sheep; anyone who is opposed to the removal of this animal is urged to share the photo on Facebook to increase awareness; the campaign is called 'Spam This Lamb'.
Aberdeen Voice is in touch with a variety of animal welfare organisations on this matter as well as the Blackface Sheep Association; we hope to report a happy outcome in the days to follow.
Comments enabled – see comments box below. Note, all comments will be moderated.