With thanks to Claire McBain.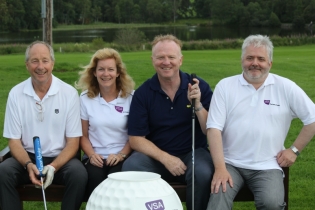 N.E. charity VSA, with principal sponsors Brewin Dolphin and Munro's Travel Group, and Golfers Scotland have launched the 2013 VSA Tartan Pro-Am golf day, encouraging local businesspeople to sign up for a day of golf and entertainment that will keep VSA's desperately needed Family Contact Centre – the only one of its kind in Aberdeen – running.
The VSA Tartan Pro-Am, part of the PGA Professional Tartan Tour, will take place on Thursday 15 August at Aboyne Golf Course, followed by a prize giving dinner at The Marcliffe.
Anna Garden, general manager of VSA's Children and Family Services, said:
"Our Family Contact Centre is a volunteer-run facility where children from separated families can spend valuable time with the mum or dad who no longer lives with them.  Just think what that would mean to a child.  And for parents, it means they don't have to meet, so there's less chance of hostility in front of the children.  It's actually a really happy environment to be in."
Bruce Angus, divisional director for Brewin Dolphin Aberdeen, said:
"The Family Contact Centre is an amazing local facility.  But it depends entirely on voluntary income.  It's thanks to the success of fundraising events like the Pro-Am, and the enthusiastic, generous local people who attend, that VSA can continue to provide much needed facilities like this in the north-east."
Murray Burnett, managing partner at Munro's Travel Group, said:
"The Pro-Am is an opportunity to be part of a fantastic golf day and entertaining evening but more importantly, in supporting the event you are playing your part in helping the VSA bring vital assistance to families across AberdeenCity and Shire.  The charity and the Family Contact Centre in particular provide an invaluable service to the local community and we are delighted that through our participation in the event we are able to help ensure that VSA can continue to carry out its outstanding work."
Former footballer Alex McLeish attended last year's event:
"The atmosphere was brilliant and the course was in excellent condition.  The prize giving and fundraising dinner was a great end to a fun-filled day.  The entertainment was second-to-none and a welcome change from your usual after dinner speakers.  I'm already practicing my swing for this year."
Debbie Fotheringham, events co-ordinator at VSA, said:
"As well as supporting a really important cause close to home, the Pro-Am is a great opportunity for companies to treat clients and staff.  I've re-launched the corporate sponsorships this year, with an extended range of cost-effective ways to get involved.  It's the perfect way to promote your brand to some key north-east businesspeople."
For more information about VSA's Tartan Pro-Am, or to book a place at the golf, dinner or both, contact Debbie Fotheringham on 01224 358617 or e-mail debbie.fotheringham@vsa.org.uk