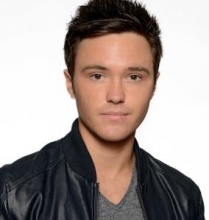 Declan Michael Laird has gone from the outskirts of Glasgow to Hollywood, via River City.  Since Aberdeen Voice's
Suzanne Kelly
last spoke with him, things have been happening.
This year's Oscars might be over and done with, but Laird's career is just starting.
Declan's in a car heading to a friend's house when I get him on the phone. It's been 8 months since we last spoke, during which he's been busy.
"I'm just coming from an audition. It was for a pilot for a network on CW. I think it went well.  It's pilot season just now; all the new series are being made.  I get scripts and then just give it my best"
It is pilot season; studios are testing out new actors to be in new shows.  Some will never make it to the screen at all; some will be given a test run, and the lucky shows will be televised.  CW network has come up with some long-running shows, some of which exceed the usual seven season maximum, including Supernatural, a cult classic with a huge following, and conventions.
It's a warm sunny afternoon in California; it's after ten at night in Aberdeen, and considerably colder.  Still Declan mentions that there's a bit of a chill in the Hollywood air.
"I should be ashamed of myself for saying how cold it was."
I agree with him, and rather undiplomatically I bring up the fortunes of his club, Celtic, which lost 3-0 to Juventus.
"It wasn't a good week.  I watched it with another Scottish friend."
I ask if he's still playing in the Allstars, a team captained by Vinnie Jones.
"My football season starts next week, it stopped for the winter. I'm centre mid-field or right back."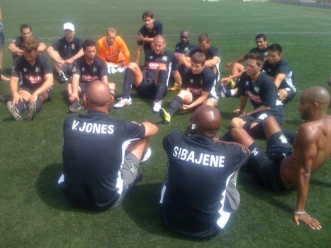 He jokes that he's 'a lot younger' than some of his team mates.  Laird spent most of his childhood pursuing a career in football before the acting bug bit.  A show reel of some of his work can be found here:-
http://www.youtube.com/watch?v=MKxeRsOINOg
This includes work from RiverCity, and the short film 'The Lost Purse' which won a number of awards.
He and I were to have spoken when he came home to Scotland recently.  The glamour of Tinsel Town can't compete with home.
"It was so nice to be back and see family again and have a bit of normality.  When you're here (LA) everything is geared around the industry – acting, movies, scripts… It was nice to be home and have my mum call me 'eejit'".
So – what work exactly is going on for him?  I asked about the pilot that he was rumoured to have filmed.
"I can't say much, but I can say the director is Guy Norman Bee.  He directed ER, Criminal Minds, Revolution and Arrow.   I taped in mid December   – it was great to get that and have a pilot under my belt.  The head of my school [The Stella Adler] can't believe I got a pilot after having my 01 visa for four months.  I used my American accent which I've worked really hard on.  I can jump between the two accents now.  I have to go in and do my voiceover.  In this pilot the main character is my brother.  I'll know in early June if it will air"
There is a trend at present for established actors to favour television roles over films.  Dennis Quaid,  for instance, is in the new series Vegas.  I wonder whether Declan's got any preferences.
"Right now in my career anything that gives me a platform would be great.  But the way people might be looking at it, a movie is two hours; a show can go on for many seasons; and a character can develop over the course of time.  You can be on it [a series] for years and put your own stamp on it."
How are things at the Stella Adler School?
"When I got my work visa, I still had a year of my course left.  The head of my school said 'you've got a year left, your visa is for three years; drop from the full-time school and go part time.'  So I'm in class and not getting rusty and am going on auditions.  When I got the pilot they said, 'we thought you'd get work', and this justifies it.   I'm on their website with all these great, great actors, which is amazing."
"My visa is for entertainment. It was good getting it because I don't think many people my age get it.  To get the visa I got lots of support from Milton Justice, Mark Ruffalo  [AKA The Incredible Hulk from the Avengers], Ross King, Vinnie Jones: they were pretty great." 
He's not the only Scot around.
"Funny story. I was in Stella Adler and the lady in the office said there's some Scottish group in doing a workshop. I think they left a few minutes later, I think that must be them.  I see this guy walk past, and it was one of my old school teachers! We both just looked at each other. He'd looked me up on Google, and he had me come into Hutcheson Grammar in Glasgow, and I did a talk to the school and later the drama department.  We talked about how I got into acting.   I think I managed to convince a few of them that moving out here was a great choice."
"I'm very lucky that I have parents that support me; a lot of people don't have that.   I think my mom will visit. Both our birthdays are at the start of April."
"My best friend out here is from Aberdeen. I was getting my hair cut and suddenly this boy comes in; I hear Scottish and we determined he was from Aberdeen, and I was in Glasgow.  There's a shared sense of humour, not everyone here gets sarcasm."
"We do a lot of theatre. If you can do theatre, you can walk onto a television set because you're never under more pressure than when you walk out onto a stage and have hundreds of eyes on you.  We do Arthur Miller, Tennessee Williams. When you read a Nickelodeon script it's not the same.  With TV it's often about a certain look, there's so much about looks and rejection.  Theatre is much less of a beauty pageant."
Laird's car journey and our interview time are over.  I wonder where he's heading now.
"I'm going to the gym, working on some school work and then maybe relax at a buddy's with a movie or some Xbox."
At 19 years old, Declan is in a very unusual, exciting situation. It bodes well that he'd prefer the gym and some relaxing over wild partying and 'sleb-filled clubs.  He knows he has a lot of studying and work to do, and he's staying level-headed and appreciative of his luck and those who have helped him.
"I'd like to thank John Jack Rodgers, the Head of the school – he's so understanding about auditions and trying to get work while studying and getting the most out of you."
Not that he needs it, but I wish him well.
Keep up to date with Declan on twitter at @DMLactor