In a particularly callous crime, given that we're in the season of goodwill to all men – and, presumably, animals – thieves have struck at a Forfar animal sanctuary. Suzanne Kelly reports.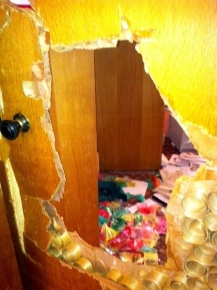 Thieves have dealt a heavy blow to Mountains Animal Sanctuary, taking goods and cash worth thousands, and vandalising the premises in the process.
The theft took place on Sunday night 9th December – following a successful Nativity play fundraiser.
Thankfully no animals were harmed; this was a huge worry as there has been a spate of animal woundings in Aberdeenshire, possibly linked to the sale of pellet guns sold in pound shops on Aberdeen's Union Street.
"My blood ran a bit cold." said Pam Taylor of Mountains in Forfar.
Winter is the hardest time of year for any animal shelter.  Food costs for grazing animals doubles (or more), heating and lighting costs need to be reckoned with.  In our current economy people are abandoning domestic and farm animals – even ponies and horses – leaving them exposed to danger abuse and death.  Our area shelters do a great job in protecting these innocent animals, and Mountains Animal Shelter is no exception.
Pam explained that after a successful fundraising event, cash was left overnight on the premises in a padlocked cupboard in a locked office. CCTV should have identified the thieves – but the entire system was stolen.  It certainly seems that whoever organised this theft and property destruction knew this was a good time to strike, and knew that there was CCTV to be reckoned with.
Pam commented:
"It was a terrible shock on Monday morning. We've lost about £2,500 in cash. They stole stock from the shop, worth as much as another £3,000. The CCTV system was worth some £2,500."
"Apart from anything else we no longer feel secure; you're kind of left wondering what might they might do next."
The police are already investigating leads and considering the value of the goods and money taken, it's no surprise the CID is involved. This was a callous theft, and anyone with information is urged to contact the police on 0845 600 5700.
Pam added:
"The theft is bad enough, but the thieves kicked a hole in the office door and made a big mess, tipping out drawers. They deliberately flooded the visitor's centre. There is a broken window in the staff room. I hope the insurance will help, but cash has a limit on it for insurance claims."
In response to this particularly cruel theft, however, a number of people turned up yesterday to help sort out the visitor's centre; someone kindly put up a new office door.
Mountains would like to thank those who have come forward to help for their overwhelming support.
To offer practical help or financial assistance to Mountains, please contact them via their website below:
http://www.mountainsanimalsanctuary.org.uk/index.php
The website details their work with horses and ponies, with a link to PayPal for donations.
Aberdeen Voice will update readers on any developments.
Comments enabled – see comments box below. Note, all comments will be moderated.