By Andrew Watson.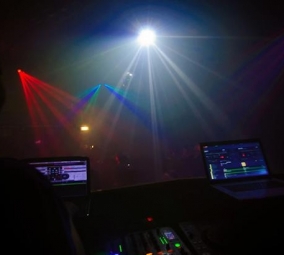 Not only was this my debut inside what is regarded as hipster central, Korova, but it was also my first taste of stand up comedy.  I'd never seen a live comedian in my life, and I ended up seeing eight of them – for £3!
Compere and all-round angry New Deer resident
Scott Ironside
introduced each of them with a mixture of hollering and urging audience members onto the stage to make noises of animals in various levels of distress.
Take for example the unfortunate giraffe with his shoe laces tied together, falling upon a tinfoil Ford Fiesta.
Before all that, though, he warmed up proceedings with his own set, only to be infuriated by the lack of knowledge within his relatively young audience regarding Eighties silver screen staples like The Karate Kid.
It was to be a night whereby the participants got just as many laughs for jokes that fell flat on their proverbial  as they did for their comic genius.  Thankfully they were self-deprecating enough to have a laugh at their own expense when unsuccessfully plumping for the latter.
First up was Peter Wood, who endeared himself to the audience declaring his diagnosis of Borderline Personality Disorder (BPD).  It made things a tad awkward, but mercifully much of his material was pinned upon this without seeking sympathy.
The biggest laugh came when recounting his stint in a boy band, based in – his words! – "minky" Logie, which he told the audience was like Torry, but worse.
Having put together a masterful first verse for their Northsound demo tape, they clubbed together their poetic ingenuity for a second.  They perfected a dance routine, complete with a question mark drawn through the air in adage to unrequited love, and headed off to Northsound studios only to be told to piss off by security.  And leave vehicles in the car park alone.
Next was Wray Thomson, who sought kinship with fellow men and women of Fraserburgh and found none.  Nevertheless, the Brocher ploughed on with a hilarious anecdote on the dangers of solitary exercise.  What he meant, of course, was the frenzy a man works up within himself when he doesn't masturbate for a week.
Anyway, in a bid to avoid his mother catching a glimpse of the semen in his eyes, he turned over only to expose the screwdriver lodged up his backside.
Carrying on in the same vein, he nearly brought the house down with a smutty one-liner
A representative from a far off land called Milton Keynes stepped on the staged afterwards, a man by the name of Jason Murphy.  There were some laughs, but most of the routine was unremarkable and largely fell on deaf ears.  I suppose it didn't help that his final act was thwarted by an out of tune guitar.
Then when I saw Neil Skene being motioned towards the stage by a helper, I thought that perhaps he was nervous.  Turns out he's blind, though this vulnerability belied a wicked, often caustic sense of humour.
Not one to be patronised, he set off by beseeching the audience regarding widespread attitudes to blind people, yet to have a little sympathy when the girls are in skimpy clothes during summertime and he can't see a damned thing.
Carrying on in the same vein, he nearly brought the house down with a smutty one-liner.
When his wife, whispering sweet nothings into his ear and describing, sensuously, herself from top to bottom, spoke of her "shaven haven" he had only one thing to say.
'So that's the plug blocked again, then?'
A tough act to follow, Gregor Wappler did his best.  He was a bit of a bastard, really!  His routine concerned one night stands and all things non-committal.
The best bit was when he recounted an argument with an ex-long-term girlfriend regarding kitchen condiments.  This raged on for days, and, likening the two of them to a 'real' couple, they didn't even talk when shopping for groceries.
Sick of the tension, he combated it the best way he could.  Disarming the hostility, he thought, would only require a simple question.
'Is this about the vinegar?'
Silly man.  Cue instantaneous dropping of baskets and dead eye stares not only from the missus, but from other henpeckers in solidarity against chauvinist pigs.
Grabbing the main support slot was Robin Valo, a strange chino-wearing chap whose own appearance was the butt of his own jokes.  A good chunk of the audience enjoyed his stand-up, though I found it – to be particular! – only mildly funny.  Some of it was very clever, though, so it was humorous in that respect.
Finally came Andrew Learmonth.  This guy simultaneously brought half the house down, whilst leaving the others cringing with their heads in their hands.  Was he for real?  Was it calculated, or, like the 'screwdriver incident', was it true?
His hatred of all things Kilmarnock (bad gig, you see) and his fervent desire for his best mate's wife combined in a set that was as much funny as it was the masterstroke of an accomplished actor.
Perhaps he was a parody of himself, one partly based on reality?  The best actors share a likeness to their roles.
Verdict: A brilliant night, and excellent value.