Suzanne Kelly, Chair of campaigning group 'Democracy Watch' called upon UK and EU regulatory agencies to investigate details of the proposed City Garden Project today. Citing both past invoices paid by the public worth hundreds of thousands of pounds and the revelation that leading businessmen plan to add £15 million towards the project's estimated £140 million costs may have conflict of interest issues.  The project is subject to a vote of the Full Aberdeen City Council on Wednesday 22 August.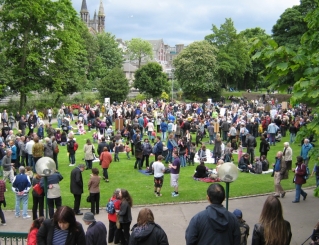 Sir Ian Wood will 'give' £50 million to the City if it agrees to borrow £92 million more via Tax Incremental Funding to build a 'Granite Web' over the existing Victorian Union Terrace Gardens.
The subject has been voted down in a previous consultation, but narrowly passed a non-binding referendum exercise.
Labour promised that it came to power it would end the scheme; Labour duly gained a majority in the May elections
In correspondence today to regulatory entities and leading political figures, Kelly writes:-
"I would ask for an investigation into the situation in Aberdeen concerning the potential development of Union Terrace Gardens with regard to procurement issues and potential conflict of interests.
"I am not a legal professional, but it certainly seems to me that people who have or had influential posts on publicly-funded quangos might have used their roles to further their own interests – this should be investigated before any moves to proceed with the 'City Garden Project' are approved.  The entire situation needs to be looked at in detail.
"Stewart Milne and Tom Smith have been actively pushing this scheme via their memberships and positions of influence in the publicly-funded Aberdeen City and Shire Economic Future quango, ACSEF.  Milne owns the 'Triple Kirks' site next to the proposed area of development.  His land at present would be hard to develop or even access.  If the development of UTG goes ahead, the Triple Kirks area could only increase in value; this is obvious. 
"Milne would therefore likely stand to gain financially.  How he has been permitted to act within his ACSEF role to further a scheme which seems set to enrich him – largely at the taxpayer's cost – should be investigated.  I did ask ACSEF to comment and they replied it was a matter for his conscience.  When millions of pounds of public money and common good land are at stake, this is not nearly good enough.
"Tom Smith likewise has used his position in ACSEF to further the plan to build a 'granite web' over the gardens.  He and Colin Crosby were the original directors of an entity set up named Aberdeen City Gardens Trust.  The Trust would apparently wind up managing the garden development and be in a position to handle millions of pounds – yet Smith has been allowed to pursue a role in ACSEF which directly impacts on his ACGT entity. 
"For reasons unclear to me, this Trust has been granted automatic rights to perform these valuable services without any tender exercise whatsoever being done.  I cannot help but think this is against UK and EU procurement policies and laws.
"In the end, we have a situation where common good land, owned by the people of Aberdeen, is being considered for development simply because Sir Ian Wood will 'give' the city £50 million towards a building project there.  He will not let us use this 'gift' on another site (the now vacant St Nicholas House would be one alternative); he will not entertain alternatives of any kind. 
"This scheme will take a green park and its 250 year-old trees and turn it into a turfed-over concrete jungle – with an outdoor theatre directly in front of another theatre.  The Aberdeen taxpayer is already subsidising two entertainment venues; using public funds to create a third is unacceptable.  Wood may call this a 'gift'' I would personally call it 'coercion.'
"I would also ask the relevant regulators to look at the various personnel overlaps between public and private sector groups influencing this scheme – a scheme which will still cost the taxpayer £92 million at current estimate – a scheme which does not yet have a timetable, actual budget or scope."
Kelly campaigned as chair of 'Democracy Watch' in the local referendum, and had this to say:-
"Labour were sceptical over agreeing to a referendum; and having participated in the exercise, I see they were right.  There was an unofficial group campaigning for the City Garden Project; and they bombarded the public with literature which I personally found misleading.
"I did try to complain to the Electoral Commission and to Advertising Standards, but neither could intervene in a referendum.   There were glossy brochures, newspapers, print and radio advertising placed by this group which far exceeded the value that the official groups were allowed to spend.  There were problems with the official material as well; the Green Party's statement was cut off in the paper brochures for instance. 
"But to tell the public that the web would create 6,500 new jobs as this literature did seems highly unlikely.  I am told that some of the people behind this 'unofficial' group are also members of ACSEF and/or Aberdeen City Gardens Trust – possibly people who stand to gain financially from the project proceeding.  This makes the entire referendum exercise a mere 'he who spends the most wins' exercise.  I would ask the authorities which might look into my other concerns to look into this as well."
Kelly concludes:-
"The vast sums of public money spent on PR, consultants and advertising to push this scheme could have gone on education and community projects.  This city does not need to borrow £92 million to turn its green park into a construction zone and a potential 'trams fiasco.'  This city does need its existing buildings occupied and unused brownfield put back into use.  Businesses continue to operate here because of our industry. 
"Unnecessary, grandiose building projects detrimental to the environment seem to me designed to enrich the rich at public expense:  this scheme must be scrapped and the roles and actions of its powerful supporters examined."
Comments enabled – see comments box below. Note, all comments will be moderated.