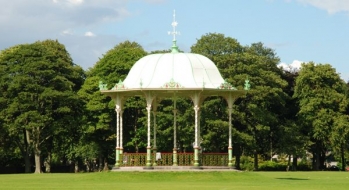 The BiG Partnership's
Dave Macdermid
advises Aberdeen Voice readers on the upcoming open day and other developments.
Friends of Duthie Park host their second Open Day this Sunday having received a boost with financial support from influential local group 'Aberdeen 1st'.
Commenting on the support, Friends Chairman Tony Dawson said:
 "While many of entertainers are giving their time for free on Sunday, it does cost a fair bit to stage an event such as this as we are so grateful to Aberdeen 1st for this wonderful gesture. Sunday will be a fantastic day and we're keeping our fingers crossed that the weather will be kind to us."
Aberdeen 1st's Jeanette Forbes added.
 "Aberdeen 1st is delighted to support the Friends of Duthie Park open day this Sunday.
"All those involved in Aberdeen 1st are determined to encourage the residents of Aberdeen to take pride in this wonderful City.  The work going on in Duthie Park at the moment will bring this area up to a tremendous quality which will be enjoyed by all in the future"
Sunday will see festivities running between 12 noon and 4 pm with musical entertainment from The Twa Pipers, Megan McQueen, and Leanne and Estrella,  plus horse and cart rides, football coaching with AFC, fitness demonstrations, children's entertainment, gardening workshops and many other stalls and attractions.
'Spike' the talking cactus, the park's most popular resident, will be there too, following his reappearance at last year's open day after being absent for a decade.
Further information from:-