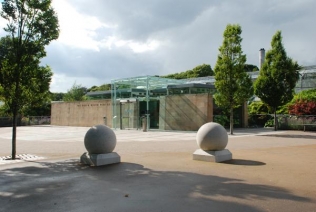 With thanks to
Dave Macdermid.
Major restoration work that will see the return of many original Victorian elements to the North East's most popular visitor attraction is progressing on schedule. And the 'Friends of Duthie Park' group is hosting its second open day next month.
Sunday 19th August will see festivities running between noon and 4 p.m.
As Friends Chairman Tony Dawson explains, there will be something for all of the family.
"Last year's inaugural event attracted more than two thousand people and we will be looking to go one better this time around! I think most people are aware that there are major works going on at the park, without necessarily knowing the details. This will be an opportunity to see at first hand the progress that is being made as we'll be organising tours during the afternoon.
"In addition, we'll have plenty of entertainment, including live music throughout the afternoon, horse and cart rides, football coaching with AFC, fitness demonstrations, children's entertainment, gardening workshops and many other stalls and attractions.
"And of course 'Spike' the talking cactus, the park's most popular resident will be there too, after making his reappearance after a decade at last year's open day."
A full timetable for the day will be available on www.friendsofduthiepark.co.uk from the beginning of August.
For information contact Dave Macdermid on 07805 436988. dave.macdermid@bigpartnership.co.uk