With thanks to Kenneth Watt.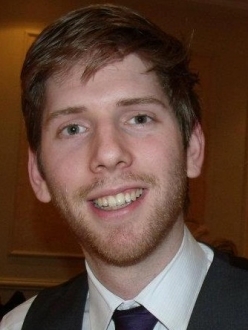 Members of the Scottish Youth Parliament (MSYP) Kris Chapman (Aberdeen South and North Kincardine) and Justin Rheiner (Aberdeen Donside) have challenged
First Bus
over the consultation that is currently taking place on the proposed bus routes.
Meeting with First Bus Representatives at the Douglas Hotel during the recent public drop-in, MSYPs Kris Chapman and Justin Rheiner highlighted serious concerns over the lack of public awareness of the proposed bus route changes and the absence of public engagement to allow the public to positively engage with the consultation process.
Following the meeting, newly elected MSYP Kris Chapman ( pictured ) said:
"I was pleased to see First Bus recognising their failures in the consultation process and have taken on board our suggestions in which the proposed changes to the bus route will be being made public available from the First Bus shop on Union Street in the near future.
"Young people rely heavily on their local bus services and make up a significant proportion of First's customer base.  It is therefore essential we work with First Group in order to address concerns that our constituents' voices are listened to in order to ensure vital services are changed in a way that works for as many people as possible."
MSYP Justin Rheiner, who is also LGBT Officer at Aberdeen College, commented further:
"It is important that as these changes to the bus routes are only proposals they can still be changed and modified to suit the needs of regular bus users and this is why we want to see more people engage with the process to ensure these changes work for everyone across Aberdeen."
MSYPs from across Aberdeen, along with Aberdeen City Youth Council, will continue to engage First Bus to ensure that the public's concerns are being heard.
Kris who is a full-time Researcher with Subsea UK and was elected in a by-election in June is making the First Bus consultation his first campaign in Aberdeen.
Comments enabled – see comments box below. Note, all comments will be moderated.