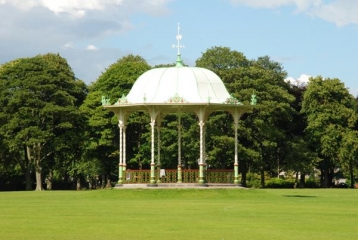 With thanks to
Dave Macdermid.
The Friends of Duthie Park group is looking for a part time fundraiser to assist with ongoing funding to improve the park, following the completion of the current major restoration work.
This will see the return of many original Victorian elements.
As 'Friends' Chairman Tony Dawson outlines, there are potentially some tremendous opportunities for local organisations within the confines of the Park.
 "There are specific projects that do not come within the remit of the restoration work, including both winter and summer planting. Additionally there are initiatives we would love to be able to afford, such as the installation of a water harvesting system for the glasshouses, or the development of a Duthie Park smart phone application. The Friends also has its Annual Open Day which would, I believe, be an excellent community 'fit' for a local company, with this year's event next month on Sunday 19th August.
"We have produced a selection of potential packages that could be available and what we are looking for is someone who could spend time speaking to local businesses persuading them to become involved, in return for a commission on any funds secured."
Anyone interested in the position should, in the first instance, contact info@friendsofduthiepark.co.uk including full contact details.