Old Susannah tries to get her head around the Council's secrecy and finds them much more transparent than they had thought they were.  By Suzanne Kelly.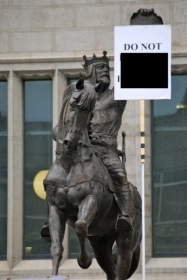 Firstly, I trust we are all excited about the discovery of a giant wombat's fossil in Australia!
This lumbering, hulking, ungainly creature could not move with the times, and so faded into history. Its great big head only had a pea-sized brain which was useful only for more primitive functioning. It spent its time hoarding nuts and drinking at its favourite watering holes.
Any relation to Councillors K ♦♦♦ D♦♦♦ or N♦♦♦ F ♦♦♦♦♦♦ is curiously coincidental.
While I may have spent most  of this past week enjoying the sun as well as well as a pleasant afternoon or  two in Brewdog, I've not been oblivious to the things that the City Council,  local institutions and mainstream press want me to be oblivious to.  While I enjoyed champagne and plenty of Pimms  with my friends ♦♦♦♦♦♦♦♦♦♦♦♦ and ♦♦♦♦♦♦  in the great outdoors, I've been informed of a few developments.
Despite the summer sun, there are shadowy  figures behind the scenes, keeping secrets, denying facts, and trying (with  little success) to keep people and stories quiet – some innocent, some not so  innocent.
'No news is good news' – so  the saying goes, but whoever came up with this particular phrase probably had  too much of Brewdog's 'Sink The Bismarck' ultra-strong beer.  Here in Aberdeen 'no news' seems to mean the local,  mainstream press have decided to play things down.  So – listen very carefully, I will say this  only once…
Redacted: (adjective) – obscured,  covered up, deleted, censored.
Some months ago, I attended a special meeting of Torry Community Council at which  the Friends of Union Terrace Gardens presented their case, and a very nice lady  named Jan represented ACC (Gordon McIntosh  had been invited, but was having dinner instead).  Jan told us how everything was going to be  wonderful, and how the entire matter was going to be handled 'in a transparent  manner'.
In fact, she used the word  'transparent' half a dozen times.  I left the meeting with a warm, fuzzy feeling that if something were going on about  the gardens, it would all be transparent.  What a relief.
How very strange it was  then to open up a P&J this week and find our new Council Leader McCaig asking why the minutes of one of the Garden-related groups (and there are many  I can assure you) has been redacted.  Over the weekend I'd emailed him asking why the text had been redacted; he's not slow off the mark, our Mr McCaig.
But what group is this redacting its papers?  It's the City Gardens Project Monitoring  Group.  What do they do?  According to the City's website,
"The role of the Project Monitoring Group is to oversee the City Garden project's progress and ensure that Council's interests, and  that of the majority of Aberdeen citizens, are protected as the project
progresses".
I take it that makes it  quite clear why they must act in secret. It's not a question of whether or not something will be done with the gardens – they are overseeing progress.  So – the Council's interests are not the same  as the interests of Aberdeen citizens (minority or majority).  In all my years I never would have guessed  that.  Perhaps they should have redacted  this mission statement as well.
Who is in this group?  Who attends the meetings?  If you go to the city's website, you can  download the minutes and reports – where you will see that all the names of  attendees have been blacked out, or in council-speak 'redacted', together with  lots of text.
The City was trying to keep this top secret information a closely guarded secret.  Perhaps the Monitoring Group is made up of  MI6, the CIA, Lord Lucan and Spiderman?  Whoever it is, I bet they have a dual identity, a good cover story – and probably a costume with a cape.  I hear they all meet at midnight and each have limos with blacked-out windows.
 From now on I hear that anyone in a Council committee which discusses  Union Terrace Gardens will sign the Official Secrets Act, be security-vetted,  be given a cover identity and undergo survival and torture training.
Mr McCaig has no  recollection of agreeing to this group's identity being protected, and he wants  some answers.  Let's hope he gets  them.  Why on earth would this be secret, and what do they wish to hide?  Answers  on a postcard please (preferably in a secret code).
Alas for our poor Council:  their secrets are out.  That nice Danny Law over at STV has announced that a simple bit of cutting and pasting reveals all.  Visit STV for further information.
http://local.stv.tv/aberdeen/news/261573-council-blunder-means-concealed-minutes-from-union-terrace-gardens-meetings-can-still-be-read/
You might also want to visit the (excellent) blogspot Other Aberdeen:-
http://otheraberdeen.blogspot.com/
It's hard to imagine that  the City didn't give due care and attention to this life-or-death matter of who's going to meetings and what they are saying about our gardens.  I am stunned.  From now on I hear that anyone in a Council committee which discusses  Union Terrace Gardens will sign the Official Secrets Act, be security-vetted,  be given a cover identity and undergo survival and torture training.
For my part, one of my trusted sources told me how to spy at the hidden text a while ago, and I was sworn to secrecy – which I kept.  My secret hope was that the Council would continue to keep thinking it had successfully blacked out text that could actually be read.  We could have been onto a winner with this one.
My sympathies to the Garden Monitoring Group at this unfortunate point in time, and in particular to one of those in the group:  our very own old friend, Ms Aileen HoMalone.  Not only is the debacle an embarrassment in itself, but my very own spies tell me that since the balance of power shift, this and other committees will be re-arranged over the summer, shedding a few LibDems in favour of SNP councillors along the way.
Gag:
1.  noun – a joke or stunt designed to cause laughter or possibly embarrassment.
2.  Verb – to make another remain silent via coercion or force. 
A gag can  be a stupid remark, like John Stewart's saying Aberdeen needs a monorail, or a  stunt — like holding a design competition for 'transforming' a cherished  garden into a car park/mall.  On the more  sinister side of the coin, this week both Aberdeen City Council and Robert  Gordon University stand accused of gagging their staff.
Now, obviously the opinion  of staff at ACC is held in the highest esteem by management, and at an institution of higher learning such as RGU, nothing can be held more important  than the right to free expression and intellectual debate.  There is absolutely nothing 'Big Brother'  about Aberdeen City Council rounding up four of its less-than-grateful staff as  it did this week to tell them off.
What had the four done?  They said mean things about the City and their bosses on something called 'Facebook', which apparently all the young people are using.  I hope these four ingrates have apologised for having opinions.  I do know that they have been issued with a set of guidelines as to what they can or can't say.  Sounds like a great move.
In fact, back when the cuts were being  proposed in 2008, the City very wisely told its staff that they should in no way protest against the City's school and service closures.  Many of them did so anyway.  You might think such people are brave in standing up for education and health services, but you must remember, when you take a job for the City, you lose all your human rights.  Fair trade, I'd say.
I hope these four people are at home right  now, reading their new behaviour guidelines and composing letters of apology.  I'd certainly hate to think they'd be sending  me copies of the city's newest Kafkaesque policies.  Or even worse – they might be creating anonymous Facebook identities so they can continue to keep us posted with City developments and dark doings.
As to that bastion of higher education, Robert Gordon University: they are also gagging for it.  You may have seen the news that RGU want the Trade Unions to go away and stop bothering them. 
This institution of higher learning has announced that since the unions are now 'smaller', they shouldn't have to recognise them at all. Quite right.  Just because the University has shed a few jobs and has a few less people, there is no reason the unions should have shrunk as well.  Staff and educators alike are overjoyed by this move on RGU's part, as they won't have to go to any more tedious union meetings.
The staff won't publicly say how happy they are, because RGU is, according to STV "accused of 'gagging' staff as dozens protest over de-recognition decision".  I know staff who have been asked to take on more work with no pay, who have had pensions cut, and who work weekends with no extra money to show for it.  I'm sure union representation is the furthest thing from their minds.
RGU wanted the whole episode to be treated as Top Secret:  staff were told not to discuss these special Trump security arrangements
It might be worth mentioning that RGU held its staff's safety particularly important during Donald Trump's visit for his honorary degree.  RGU management were so concerned about the safety of its people who would be in the same building as 'the Donald' that they let Trump's private security people search bags, set up security checks, and made sure no one left the building until the great man himself had gone.
Some people say that their mobile phones were looked at, and they weren't allowed to take any photos (which would have been the first thing on my mind), but this remains unconfirmed.
Those who did get in touch told me that RGU wanted the whole episode to be treated as Top Secret:  staff were told not to discuss these special Trump security arrangements.  I would be happy for the RGU administration to confirm or deny that private, American security was given power over its staff.
Maybe they could have done what Robert Gordon's College did, and simply lock any bothersome people up in cupboards (congratulations to Ms Michie for winning her case against the College where she was indeed locked in a cupboard.  I await news of the dismissal of the person who did this, but it hasn't appeared yet).
News Blackout: (modern English phrase) – to deliberately ignore or censor news events. (See also 'P&J')
The local press simply  don't have the time and space to tell you the entire goings on.  The P&J may have covered the story of the City Council's 'redacting' text (see below), as Cllr McCaig came forward with the story.
However, if you put 'Robert Gordon University' into the Press & Journal's online search feature, you'll see a collection of innocent PR stories about boat races and an RGU student appearing in something called 'Glee' (whatever that is).  No RGU bashing in the P&J; they don't want to upset that nice Mr Wood and his friends.  No word of gagging staff or staff being kettled by American private scurity.
You might also search the P&J website for the story of guitar hero Richard Thompson's honorary degree from Aberdeen University granted  on the 5th July (congratulations by the way). 
I'll give you that Richard Thompson is no Donald Trump (who got his degree from Ian Wood's RGU for services to money).  Thompson has only enjoyed a successful international musical career since the 1960s, released award-winning albums, and made a particularly important collection, '1000 years of popular music'.  I doubt the man even has his own jet.
Don't bother searching for news of his honorary degree award in the local rags – it's not there.
Just as Anthony Baxter never got any newspaper coverage for his documentary 'you've been trumped' about Trump and the Menie Estate (it was held over twice and had unprecedented demand at the Belmont), the local press are making life easier for us by deciding what's newsworthy and what isn't.
I for one am far more interested in petty burglaries, minor football matches and cute baby photo competitions than the workings of secrecy in local government and the schemes of our local millionaires.
It is the editors at the local papers who decide what goes in (or possibly a few of the city's richercitizens), not the reporters.
At least we don't have a 'News of the World' situation.  Several newspapers stand accused of hacking mobile phone conversations – of murder victims and their families. Potential evidence has been lost and Milly Dowler's family wrongly believed she might still have been alive since her voicemail was being accessed.  If you can think of anything lower than this, don't let me know.
PS – the Murdoch Empire isclosing the News of the World after Sunday!  Result!  However, Murdoch is looking to take over BskyB completely.  If you somehow think this might lead to a  monopoly over news coverage, speak now.
RGU, millionaires, the  future of our Gardens, quangos, dodgy deals, secret deer cull plans:  somewhere the truth is out there.  Just don't hold your breath waiting for it. 
Speaking of holding your breath, I'd best go  close the windows.  The wind must have changed, and the scent drifting through my open windows in Torry is decidedly not roses and violets.   Old Susannah is off for a short but much needed holiday.  I am going to turn 50 on ♦♦♦♦♦♦ and will fly to  ♦♦♦♦♦♦♦ on ♦♦♦♦♦ and will stay with ♦♦♦♦♦♦♦♦♦♦♦♦ where I hope very much to see ♦♦♦♦♦♦♦♦My best wishes to ♦♦♦♦♦ ♦♦♦♦♦♦♦♦.