By Dave Watt.
Democracy – The belief in freedom and equality between people, or a system of government based on this belief, in which power is either held by elected representatives or directly by the people themselves. The Cambridge Online Dictionary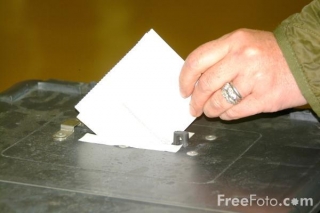 Democracy is one of our modern society's buzzwords and we all nowadays accept it as a given that stable communities should be free and democratic.
Democracy to us is a positive concept but in our history it is only in the last hundred and fifty years or so that Britain has embraced the idea of democracy.
Previous to this it was regarded, particularly by our rulers as being neither more nor less than rule by a howling mob.
It is, in fact, less than eighty-five years since women over 21 were allowed to vote and less than 100 years since august journals such as the Times' editorial announced that:
"The suffragettes are a regrettable by-product of our civilisation, out with their hammers and their bags full of stones because of dreary, empty lives and highstrung, over-excitable natures"
About the same time, the good bit less august Daily Sketch , declared that:
"The name of a suffragette will stink throughout recorded history"
Obviously tabloid journalism was alive and kicking the underdog even back in 1912.
One might think that having achieved universal adult suffrage in 1928 that Britain had been a full modern democracy since then. However, there were still such corrupt anomalies on the go as the businessman's vote whereby a business owner was given a vote for each shop or establishment he owned as well as a vote for his home address.
In addition, the gerrymandering of votes in Northern Ireland by the Protestant Establishment ensured that the native Catholic population was continually on the wrong end of the electoral process. In fact, one Protestant businessman actually had forty-three votes and although this was an extreme case, many of Ulster's ruling Protestant elite had multiple votes until the Irish Civil Rights Movement of the mid 1960s.
However, here we are in the twenty-first century with universal suffrage for those over eighteen, nobody asks your religion when you turn up at the polling station and we would regard anyone campaigning to curtail women's voting rights as being something of a loose screw.
In addition, the candidate will spend large chunks of their working week in Parliament and nowhere near the constituency in question
So, do we live in a democracy where one person's vote is worth the same as another's? Unfortunately not. If you live in a key marginal constituency – you will get an inordinate amount of media coverage, assorted party leaders will turn up and tell you and you fellow voters what a fine, discerning, intelligent electorate you are.
Your vote will be sought after by phone and occasionally by canvasser and you will be generally coaxed, cajoled and pleaded with to vote for Party A over Party B or vice versa.
However, if you live in a firmly committed area where they simply weigh the vote for Party A or B you will be largely ignored apart from the usual leaflets and the odd party political broadcast. The committed voter, like the poor, is always with us and, like the poor, can be safely ignored by any astute politician on the make.
Voting Systems – There are several types of voting system. The most common in Britain is First Past the Post (or FPTP). This is where a people in an electoral constituency vote for one candidate to represent that constituency. While this is ostensibly fair it is deeply flawed, as the list below will show by a specimen election result.
Aberdeen East
Total Electorate in Constituency 50,000 voters
Candidate A (Longer Sticks on Lollipops Party) 13,000 votes
Candidate B (Shorter Sticks on Lollipops Party) 12,000 votes
Candidate C (Don't Waste Precious Wood on Lollipop Sticks Party) 10,000 votes
Candidate D (It's a Bloody Shame the Poor Can't Afford Lollipops Party) 5,000 votes
Turn out 80%
As you can see from this, although the Longer Sticks on Lollipops Party have won the seat they represent less than a third of the votes cast and in parliament will actually be representing the wishes of just over one fifth of the electorate despite a massive 80% turn out.
this is not much cop when it comes to electing people who are willing to represent the public's interests
Consequently, bearing in mind that it would be a bold back-bencher indeed who would stand against the wishes of his political overlords (and their pet lobbyists) it looks like the poor voters in Aberdeen East better get bloody used to having longer sticks on their lollipops for the foreseeable future.
The defenders of this system frequently mump on about how important it is to have constituency member of parliament who will be dedicated to that area alone and will be accessible to its residents – obviously forgetting that candidates are more than occasionally parachuted in as a constituency candidate from outwith the area and that most MPs or MSPs will actually be able to answer a phone, read a letter or an e-mail while the brighter ones will even have learned how to read texts on their Blackberry.
In addition, the candidate will spend large chunks of their working week in Parliament and nowhere near the constituency in question.
The next style of voting system is the Single Transferable Vote (or STV) which I have been obliged to do the tedious arithmetic for on several occasions and the details of which I will not go into here, as you would be fast asleep by the time I had finished (if you aren't already). Suffice it to say that each voter gets several votes and lists them in preference order and the lowest voted candidate is removed then the next etc. until one of the top few are elected.
This is probably more democratic than first past the post but is probably best suited for choosing your student representative when you're at university than a political contest. This is used in local council elections, so you can see by recent events in Aberdeen that this is not much cop when it comes to electing people who are willing to represent the public's interests but mainly keeps the same old faces in power while pretending to be a bit more democratic.
There was a move afoot after 2003 to have this system replace the Parliamentary List System – presumably by those in Holyrood who objected to having their cosy little club invaded by a crowd of Greens and Socialists in that year.
The Parliamentary List System (or Regional Ballot) is probably the most democratic of the systems at present in use in the UK but is only used in Scotland and Wales.
It's democratic and it's simple and most countries in Western Europe use it and have been using it for over fifty years
The principle behind the list system is that the voters second vote is for a political party within a larger electoral area known as a region. (A region is formed by grouping together between eight and ten constituencies.) There are eight Scottish Parliament regions and each region has seven additional seats in the Parliament.
The MSPs chosen to fill these 56 additional seats are known as regional MSPs. Regional MSPs are allocated seats using a formula which takes into account the number of constituency seats that an individual or party has already won.
However, the outright winner in any serious democracy contest would undoubtedly be Proportional Representation (PR), which is remarkably simple whereby every one in the country votes and all the votes are added up, and each party is allocated seats in the parliament according to the percentage of the votes they have been given. It's democratic and it's simple and most countries in Western Europe use it and have been using it for over fifty years.
Why don't we? Mostly it is more of the previous objection to the aforesaid cosy little club being invaded by those pesky troublemaking Green and Socialist radicals who are presumably closed to the blandishments of the lobbyists, who infest the corridors of power like poisonous termites, busily undermining the democratic process for big business interests.
Voting
Despite the title of Ken Livingstone's 1987 book pointing out:'If Voting Changed Anything They'd Abolish It', Should you bother to vote? Yes, you probably should, ideally. An awful lot of people fought an awful long time to get you a vote so you should probably get down there and stick that cross down. You never know.
From their point of view an oppressive Conservative government got into power in 1979 and has stayed there ever since
One day the electorate might get it right and we might find ourselves with a government that cares for the old, sick and impoverished, has everybody in a house and a job, doesn't send poor kids from depressed areas off to kill other people's kids for oil and profit and cares for the environment. You never know.
Who does vote and who doesn't vote?
Affluent people tend to vote and the poorer people seem not to. Figures in Scotland show that there can be up to a 15-20% difference in voting figures between poorer and richer neighbourhoods even within the same constituency on occasions.
Why is this? Basically what the underprivileged have seen for the past thirty years is an ongoing attack on their quality of life by a succession of right wing free market supporting governments. From their point of view an oppressive Conservative government got into power in 1979 and has stayed there ever since. Consequently, their disenchantment with government and the democratic process has meant that this has taken a back seat to the struggle for a decent life.
In addition, with the advent of the Poll Tax, which was effectively a Sod-The-Poor-Tax many people on the poorer end of society became disenfranchised and simply dropped off the electoral roll by simply being unable to afford to pay the Poll Tax. Its replacement by the almost-as-unfair-Council Tax has obviously not induced these people to get back on the electoral roll.
From an electoral view the parties which have traditionally suffered most from this, have been the socialists who have considerably more support within the poorer sections of society but owing to this disillusion and the aforementioned virtual disenfranchisement have been consistently punching below their weight at election time. Even when they are doing well (and don't have their hands round each other's throats, vigorously choking the electoral life out of each other as the SSP and Solidarity are doing at present) this factor reduces their electoral impact.
Who pays for a political party's election funds?
There is a strange sideways jump in public morality about election funding. To keep it simple: large financial concerns of various kinds will bankroll political certain parties election funding on the expectation that when the party gets into power then the large financial concern can reasonably expect the party in government to enact legislation which will increase their profitability. They are seldom disappointed in this.
Needless to say, whereas this would be regarded as mere bribery and corruption in everyday life, in politics it is just regarded as the norm. For example, Abraham Lincoln, on being elected back in 1861, discovered his Republican party had promised enormous and unrealistic concessions to so many business concerns that, being quizzed a few weeks after the election as to why he was looking so glum, famously replied that "There's just too many pigs for the teats".
The Last Word on Democracy
When I was a kid there was a series on TV about an idealistic young US senator which had an impressive voice over at the start, which said:
"Democracy is a bad form of government…but all the others are so much worse".
Something to think about anyway.