By Suzanne Kelly.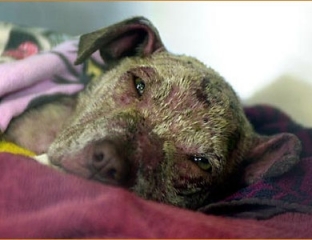 The Council said organised dog-fighting is not happening here (at least they put that in writing to me a few years back).
The Scottish Society for the Prevention of Cruelty to Animals, the BBC and the police are not so sure.  Back in 2007 there was an allegation that men were deliberately hunting the streets of Aberdeen with Staffordshire type dogs, looking for cats for the dogs to attack.
There was the recent incident in Seaton where a pet cat was held down by two men so a dog could savage it. Unfortunately, the police don't seem to have found anyone for this crime yet.
Dog-fighting equipment and dogs were found in several areas north of Aberdeen not long ago as well. Two swans were recently found badly injured near Bridge of Dee (they are recovering), and on 14 February a swan was found in this same area – dismembered.  While this last crime (injuring wild animals is a criminal offense) must have been done by a person, it was in the same general area that the dog-injured birds were found. Given these incidents it seems we do have a problem. The problem can be solved if people come forward and let the authorities know (anonymously if they wish) who is involved.
It is bad enough that there is such a visible increase in the number of dogs which could be classified as 'pit bull cross breeds' or 'fighting type dogs' under the Dangerous Dogs Act. In addition, many of the dogs in the 'dangerous' category which we see on the street are not on a lead and a few seem to be owned by people who are simply not interested in the dog's welfare. The Dangerous Dogs Act was intended in part to counteract the proliferation of types of animals which were frequently involved in incidents where people were injured.
The psychological makeup of the people involved in dog fighting makes them a danger not just to animals, but to people as well
A dog ring in England was broken up not long ago; the dogs were trained to exhaustion, given live cats and other animals to tear to shreds alive and were made to fight in a pit in a woman's back garden.
Dog-fight attendees are known to film the dogs torturing cats on mobile phones – the purpose of the cats is to rile the dogs up to fight.
If the dogs would not fight (and frankly, any well-treated dog does not normally want to attack another animal), they were tortured with electric shocks.  In one case which involved nationals of several European countries, an English woman in was eventually jailed and fined. Dog-fighting is (obviously) illegal, and penalties include jail and fines – but some say the existing law is not strong enough.
The psychological makeup of the people involved in dog fighting makes them a danger not just to animals, but to people as well. They are detached from suffering, concerned only with money the dogs earn for them;  have abnormal emotional development that make the fights seem 'thrilling' and such people are completely 'beyond the pale' of what is acceptable behaviour. Getting these people identified, and hopefully convicted will make animals as well as people safer.
The Dangerous Dogs Act saw four types of animal outlawed – but there are now so many cross breeds, it is virtually outdated to say that the fighting is limited to any one breed at all.  As far as breeding goes, a bitch will be bred constantly to produce puppies, kept in complete confinement. One day the exhausted bitch will be so weakened that she and her last litter will be killed, and another bitch takes her place.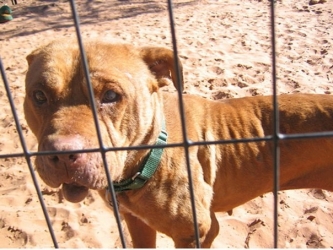 This 'killer instinct' is drilled into the pups from their first hours.
They are treated with great cruelty, forced into gruelling exercise regimes (which kills some of them in the process), beaten, starved, tortured and 'rewarded' by being given live animals to maul.
There is absolutely no place for dog-fighting or for anyone involved in this inhumane, illegal crime in a civilised society.
It is important to remember that even well-treated dogs have 'turned' – and attacked, mauled, and killed people – and statistics for these types of attacks are rising year on year. Dogs that have been treated cruelly to deliberately make them vicious are a serious threat to everyone's safety.
A massive raid in 2007 in Merseyside saw twenty-eight dogs rescued from this fighting culture, and dozens or arrests, brought about by the public confidentially contacting police and animal welfare organisations.
When to call the authorities:
Do you see any dogs bearing obvious scarring?
Are dogs, cats or other small animals in your neighbourhood disappearing?
Do you hear the sounds of animals in pain?
Neighbours acting suspiciously and keeping either dangerous dogs or large amounts of dogs?
Has a neighbour with a dangerous dog suddenly not own the dog any longer?
Suspect something however tenuous?
Scottish SPCA Chief Superintendent Mike Flynn said:
"We believe that any dog, regardless of its breed, can be made aggressive through an owner's lack of training or through deliberate encouragement of bad behaviour.
"The breeding, trading and owning of a dog banned under the Dangerous Dogs Act 1991 is not only extremely irresponsible and reckless but is also a criminal offence. Anyone caught doing so can expect to face prosecution and a court may order the destruction of the dog.
"We rely on members of the public contacting us as soon as they become aware of any information relating to dog fighting and urge them to contact our animal helpline on 03000 999 999. We can assure people that all calls are dealt with in strictest confidence and information can be left anonymously."
Just to get the message home:  anyone with information or with any possible tips – however large or small about animal cruelty should call the SSPCA animal helpline on 03000 999 999.  You don't have to give your details and any information just might stop animal cruelty.