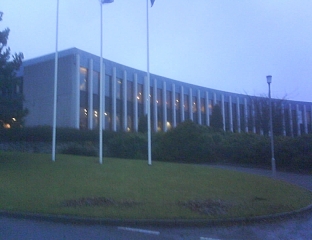 By

Cllr

Martin Ford

, Aberdeenshire Council
Next Thursday (10 February), Aberdeenshire Council will formally set its revenue budget for the financial year starting in April. Despite Aberdeenshire Council facing the worst budget cuts in its history, I do not expect the budget meeting to be especially lengthy or dramatic.
This is because the bulk of the cuts the Council will make in 2011/12 were voted through by the ruling Liberal Democrat/Conservative coalition – with SNP support – at the full council meeting on 25 November.
(see: Council Tax Freeze and Many Cuts Decided, Aberdeen Voice, 26 November 2010).
The cuts the Council will decide on next Thursday will be small in comparison to the cuts already voted through. What the Council has to do is to agree some further budget reductions to balance its planned revenue expenditure with its expected income – an income that has effectively been decided for it by the Scottish Government (see: Horrific Scale Of Council Cuts Becomes Clearer, Aberdeen Voice, 19 November 2010).
The position immediately after Christmas was that the Council needed to identify further savings of over £4 million to balance its revenue budget for 2011/12 (see: Grim Reality Of Aberdeenshire Budget Cuts, Aberdeen Voice, 31 December 2010).
Since then, Council officials have reviewed some of the budget provisions made for increased expenditure arising from changes in government policy. Finance officers are now advising that only £4.01 million need be included in the budget to address these pressures, instead of the £7 million originally estimated.
The amounts Aberdeenshire Council will be paying towards the funding of Grampian Police, Grampian Fire and Rescue Service and Grampian Valuation Joint Board have also been set at less than expected – by a total of £1.13 million.
On the other hand, it has become clear some new responsibilities given to the Council by the Scottish Government need an additional budget allocation of £1.335 million.
The net result of these various developments is that Aberdeenshire's budget gap has come down to £1.461 million. Further spending reductions totalling that amount will need to be approved on 10 February to produce a balanced revenue budget for 2011/12.
Council officers are recommending the 2011/12 budget is brought into balance by bringing forward savings and service cuts planned for financial year 2012/13 into 2011/12. While it is always risky making predictions – and a week is a long time in politics – I expect the Council's coalition administration to accept the officers' recommendation.