As the end of the growing season approaches, Frank Taylor warns that allotment holders in Aberdeen may shortly find themselves in a quandary.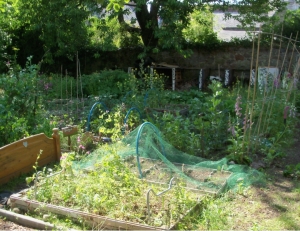 It has become public knowledge (as confirmed by the council to the local press) that Aberdeen City Council does not have and never has had any regulations for the management of its allotments that have been formally confirmed by the Scottish Parliament at Holyrood – or indeed at Westminster. Obviously, the most contentious factor arising from this situation relates to allotment rents.
In response to a parliamentary question lodged by Dr Nanette Milne to John Swinney, the Scottish Finance Minister, confirmed that local authorities are not entitled to collect allotment rents under regulations which had not previously been formally confirmed by the Scottish government. As Aberdeen City Council have no such regulations that have been formally confirmed, it follows that the allotment rent demands issued by the City Council are not legally binding.
Allotment holders who refuse to meet these illegal rent demands may be concerned that they may be sued for unpaid rent or be evicted from their allotments for non payment. However, they can rest easy, as regulations which have not been confirmed are therefore not legally enforceable.
There are also other problems for an allotment holding local authority without established regulations. The commonest complaint raised by allotment holders relates to the condition of plots neglected by their tenants, giving rise to weed infestation which rapidly spreads to adjoining plots.
The apparent lunacy of not having such confirmed regulations can presently be seen on the Sclattie Quarry Allotment site in Bucksburn.
Mr Swinney, in response to another parliamentary question lodged by Dr Milne, confirmed that such tenants cannot be evicted from their plots if they do not cultivate them unless there is in place a regulation stating how plots should to be cultivated.
In addition, without such a regulation, local authorities cannot recover from outgoing tenants the cost of returning ill-kept plots to a state of good cultivation and fertility. With proper regulations, the Council would be in a position to fund the clearance of vacant allotments in order that new tenants were taking on clean plots instead of the more common situation where the plot allocated is a weed infested jungle.
The apparent lunacy of not having such confirmed regulations can presently be seen on the Sclattie Quarry Allotment site in Bucksburn. Aberdeen Forward, using a grant provided from the Climate Challenge Fund and using labour provided by volunteers and by people under community service orders have spent a great deal of time clearing a couple of derelict allotments on the site. However, immediately adjacent to these allotments, are another two which are head high in rosebay willow herb and other noxious weeds. Unfortunately, the tenants who have allowed these plots to get into that state cannot be evicted or obliged to clean them up.
Of course, Climate Challenge funding would not have been required if the requisite regulations were in place and enforced to keep allotments in good order both during and at termination of tenancies.
Bucksburn allotment holders have tried to engage the Council in order to resolve these matters but the Council a) refuses to accept that it has made any regulations at all and b) refuses to reply to communications despite direct contact with the Chief Executive.
One would think that central government might give a lead to local authorities but getting replies to correspondence from there is equally difficult. A letter sent to Environment Minister Roseanna Cunningham, on the same subject on 18th December 2009 presently remains unanswered.
The whole situation beggars belief.
For further information :
The parliamentary questions and answers referred to can be accessed on: http://www.scottish.parliament.uk/Apps2/Business/PQA/Default.aspx Questions & Answers Search and by typing in "allotments" at question text.
The situation regarding councils being unable to enforce unconfirmed regulations is covered in section 1(1)(d) of the 1922 Allotments (Scotland) Act Allotments (Scotland) Act 1922 (c.52) and also in section 6(1) Allotments(Scotland) Act1892 Allotments (Scotland) Act 1892 (c.54).
The exact wording of the Act is : 'Provided also, that all regulations made under this section shall not be of any force unless and until they have been confirmed by the Secretary for Scotland, after such publication and inquiry, and with such modifications (if any) as the said Secretary shall determine.'
If you wish to contact the Bucksburn Allotments Association the site can be accessed on: http://bucksburnallotments.co.uk/default.aspx