Voice's Old Susannah casts her eye over recent events, stories, and terms and phrases familiar as well as freshly 'spun', which will be forever etched in the consciousness of the people of Aberdeen and the Northeast.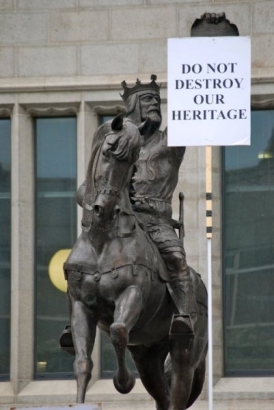 And what a week it's been in Aberdeen; does the excitement never end?
Overhead the skies are filled with gold-plated private jets. On the ground, a mere sixty-five million pounds later, we have what we all wanted:  a completely gutted Marischal College, scrubbed clean, if perhaps too small for all the staff it was meant to hold.
How exciting it will be to work in this open-plan haven!  Now that we've ripped out the interior wooden panelling, replaced the ceiling, cornices, moulding and plastering, and got rid of those pesky ancient books (many were thrown in a skip per my sources), the place is now perfectly preserved.  Result!
As befitted this monumental opening ceremony, a press conference was held.
My invitation never arrived, which I will discuss with my postman tomorrow.   What made this occasion particularly heart-warming was the presence of so many local citizens, eagerly trying to catch a glimpse of our celebrated councillors.  In fact, a number of the crowd of council fans seem to have been members of the vocal minority group, The Friends of Union Terrace Gardens.  At least I guess it must have been them, as some of them had inconspicuous lapel pins or flyers.
The Friends were not very vocal on the day, and spent some time in quiet contemplation of the beautiful, £125,000 statue of Robert the Bruce, before taking a leisurely stroll down Union Street.  Council staff who had remained in St Nicholas House waved and cheered for the Council members.
This cheering coincidentally took place as the Friends of UTG were walking past.
Some of the Council personnel must have felt overcome with emotion for one reason or another.  In fact one woman, a  Ms Watts, had positively flushed orange.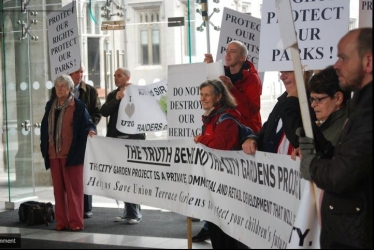 Isn't it nice that special interest groups like the FoUTG, however small  (but vocal) they are, go out of their way to pay our city fathers (and quite a few mothers) the respect that they deserve and have earned?
I thought you might like to see some photos from the Marischal College opening day celebrations.  See if you can spot any of the Friends of Union Terrace Gardens dotted around in these lovely photos by Renée Slater, whose work I hope to see more often in Aberdeen Voice.
Finally, Old Susannah will be putting on her dancing shoes and joining the Friends at this Friday's Ceildh at the Hilton Treetops, and hopes to see you there.  But now it must be time for a few definitions.
Trophy Wife:
(noun) woman married to a wealthy, successful man, prized for her physical appearance. (see also totty, gold-digger, talent)
Firstly, apologies – I normally try to keep these definitions relevant to the week's news stories, but somehow this phrase just slipped into this week's column.  A man may be wealthy, but what does it profit him unless he's photographed in public with some impressive arm candy?
The rich and powerful man, whether in Aberdeen or the wider world, would do well to ensure he's always well dressed and accessorised.  No one will notice if your hair is messy (or even missing), if you've got a great bird walking around with you.  She may be so delicate and special that staff are required to hold her umbrella over her if it rains.
It is crucial to trade in the trophy wife every few years, rather like making sure your motor car doesn't have too many miles on it or its upholstery doesn't get creased.  Do make sure that you've got the pre-nup in place first. Trophy wife material can be found at philosophy symposia, and  Oxbridge or other universities.  If you have any degrees (perhaps the odd doctorate or two), do work that into your conversation.
When selecting your trophy wife from the hordes of adoring women chasing you for your personality, it's best to set a maximum age limit.  You'd certainly not want her to be over 30.  Your age won't matter a whit, as she will love you for who you really are (which is an ageing, insecure man with a massive bank balance, and preferably a cough).
Pre-nuptual agreement or not, once your first child comes along (if you stay together long enough), then you will happily share all that is yours with her (the courts will see to that).  Before you know it, you will be in your 90s, and your child will be about the same age as your grandchildren by previous trophy wives.
This age difference may not be ideal for a game of football in the park, but there it is.  Love conquers all, and love of money is trumps.
Philanthropy
(noun) charitable acts, from late Latin, originally from Greek philos – love and thropos – man.  An act or gift made for humanitarian ends.
Isn't it funny how language evolves.   In the old days, a philanthropist was someone who helped others with no wish for recognition of the deed and with no wish for personal gain.  In fact, to help others or offer assistance to get personal gain is often called bribery or coercion.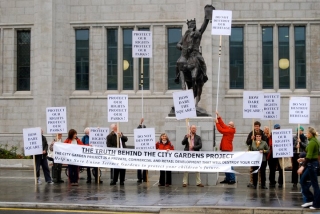 The words 'bribery' and 'coercion' may be unfamiliar to the residents of Aberdeen, and I may well have to define them at some future point.
I hope we've all read the article in Thursday's Press & Journal about philanthropy.  It is illustrated by a large photograph of one Mr Wood.  He does a lot for charity, as is evidenced by numerous press releases and media reports.  If your memory needs refreshing, I previously explained how he wants to 'give' the City £50,000,000.
This gift is to turn Union Terrace Gardens into something other than what it is.   This is much the same as when I 'gave' my hairdresser a gift of £20 to cut my hair.  In fact, the hairdresser and I had a consultation, and I got to say what happened to my head, as it was mine.  But I digress.
Since we live in such a prosperous society where the needs of all children, elderly, and specially-abled people have already been fulfilled, it must be hard for Mr Wood to figure out what to do with £50 million.
All things considered, perhaps Ian should just keep his money.
Next week:  deer update, and more definitions.