With thanks to Dave Macdermid.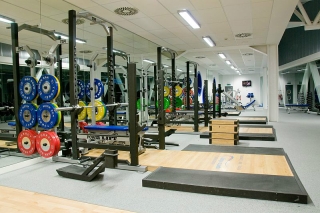 The world class facilities and services at Aberdeen Sports Village (ASV) have been given a big thumbs up by users.
Results from a recent survey of over 1,300 users have now been analysed, and the results are extremely positive for ASV, which since opening  in August 2009 has attracted over 1.5 million users.
The survey asked customers to rate their own individual experiences of ASV's facilities and services, and the results are used to help develop products and services that will enhance the user experience.
ASV aims to provide all users with the highest quality of customer service, and 88% of respondents rated this as 'excellent' or 'good'. The exercise class and fitness services offered were also rated as 'excellent' or 'good' by 82% of users, a massive 18 percentage point improvement since the last survey.
On the facilities front, the indoor pitch received a 100% rating and every ASV facility was rated as 'excellent' or 'good' by at least 8 out of 10 respondents.
Chief Executive David Beattie said:
 "To receive such excellent feedback from our users is testament to the passion and commitment of every member of staff, and further underlines the quality of facilities we have on offer to everyone in the local community. We will now use this valuable feedback to help shape our services going forward and identify any areas for improvement."
ASV Chairman George Yule added that:
"The quality of facilities and services at ASV is not only being recognised locally, but we are now able to attract international sports stars with the  arrival of the Cameroon Olympic Team in July and the  Celtic Games International Athletics in August. The commencement of work on the aquatics centre, due to open in 2014, will give us the impetus to keep on improving on the high standards we have set ourselves."
Aberdeen Sports Village (ASV) is a partnership between the University of Aberdeen, Aberdeen City Council and sportscotland and opened to the public in August 2009.