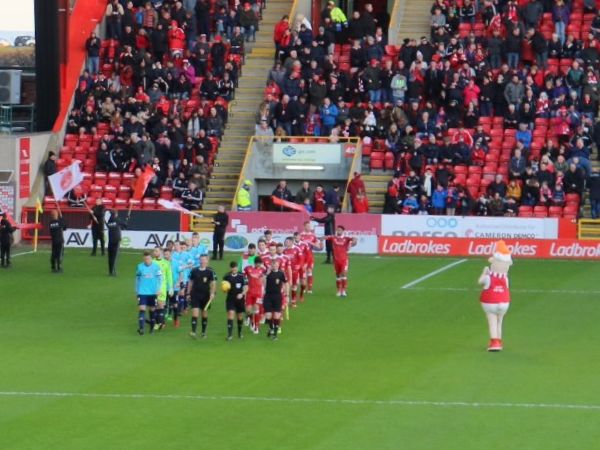 By Red Fin Hall.
The last home game for the Dons before the winter break, saw Hamilton make the trip north.
Having only won two games this season, one of which was a 1-0 victory when Aberdeen visited back in October, they were hoping to snatch at least a draw today.
The Dons, whose recent form has been, to say the least, erratic, fielded an team unchanged from that which beat Motherwell away from home last Friday.
Referee Andrew Dallas got the game underway on a crisp, cold but sunny day, with the underfoot playing conditions ideal.
Three minutes in, Aberdeen had their first free kick, swiftly followed by their first corner. It was from this corner that Mark Reynolds had the ball in the back of the net. But this brought about the first of many debatable decisions when he ruled that a foul had been committed and disallowed the goal.
Minutes later a sharp looking Jonnny Hayes won a second corner.
With 15 minutes gone Hamilton went looking for their first goal and a snapshot from Darian McKinnon from 25 yards out, caused Joe Lewis to do his job and divert the ball around the post for a corner.
Hayes was at it again, when he picked up a loose ball and fired it forward for Adam Rooney to chase, but it was too long for him to reach it.
Just after Kenny McLean and captain Ryan Jack had their shots blocked, a goalmouth scramble ensued when McLean, Andrew Considine and Reynolds also had shots blocked.
In 22 minutes Hamilton were scrambling about in the Aberdeen goal area, trying to make a breakthrough.
Meanwhile The Dons were winning corner after corner as they kept the pressure up on a poor Hamilton team who were getting away with foul after foul as the pace of the home team was proving too much.
After Rooney held the ball up, he found Graeme Shinnie, whose shot just went wide. Moments later the same player made Accies keeper, Gary Woods pull off a vital save.
Hayes, still causing the opposition grief, was fouled by McKinnon, who protested his innocence. Taking the free kick itself, he found the head of Ash Taylor, who had made his way forward from the centre of defence. His perfectly timed leap on the 33rd minute, directed the ball into the back of the net to give Aberdeen a well deserved lead.
1-0
Dallas was deservedly criticised when two minutes later he awarded a penalty, indicating that Lewis had brought down Danny Redmond. Dougie Imrie took the spot kick and buried into the back of the net.
1-1
The Dons, fans and players, were again decrying the referee moments later when Rooney was pushed over in the box. The referee awarded another free kick to Aberdeen when Shay Logan was brought down. Hayes again took the kick, and again he found the head of Taylor. This time the keeper saved it, resulting in another corner.
Just before the halftime whistle blew, number seven for the visitors, Imrie received a yellow card.
Another claim for a penalty thereafter when Considine was held in the box..
The half time whistle blew and both teams went into the tunnel knowing that a draw at this point was extremely flattering to the visitors. But if the men in red had more guile and a killer touch, then the score would have been more.
Half time 1-1
No changes at half time for either side.
Aberdeen started the final 45 minutes as they finished the first 45 when McLean found Shinnie whose attempt was blocked by a resilient Lanarkshire defence.
Hayes again looked threatening after receiving a good pass from Rooney, but as seemed to be the way of things, his attempt to score should have been better.
Aberdeen took off Considine and replaced him with James Maddison.
Immediately, Lewis pulled off a fine save after a breakthrough from Rakush Bingham, whose pass set up an Ali Crawford shot on goal.
With 20 minutes left on the clock, Logan passed to Maddison whose shot was parried by the Hamilton keeper. Rooney did what Rooney does best, and cleanly put away the rebound.
2-1
On minute 90, Maddison was booked for diving – a decision that not many can argue with. This is the second game in a row that the loan player didn't start the game, and the second comfortable victory. Will we miss him if he returns to Norwich in January?
Let's leave that hanging there.
With 2 of the 3 stoppage time minutes gone, Hayes was yet again brought down just outside the box and a red card was shown to the perpetrator, Scott McMann.

Full time came soon after. 2-1
The score should have been much higher and if Aberdeen want to seriously challenge for second place, then they are going to have to find a way to get more goals against teams of this ilk. With three yellow cards and a red awarded to the visitors and more corners than I could count, they will be in a dogfight to remain safe from relegation.
Next home game. 21.01.17 Scottish Cup v Stranraer.
Comments enabled – see comments box below. Note, all comments will be moderated.