When Aberdeen clawed one back it looked to be an exciting game ahead, but they went on to lose heavily to St Johnstone, reports Voice reporter Andrew Watson.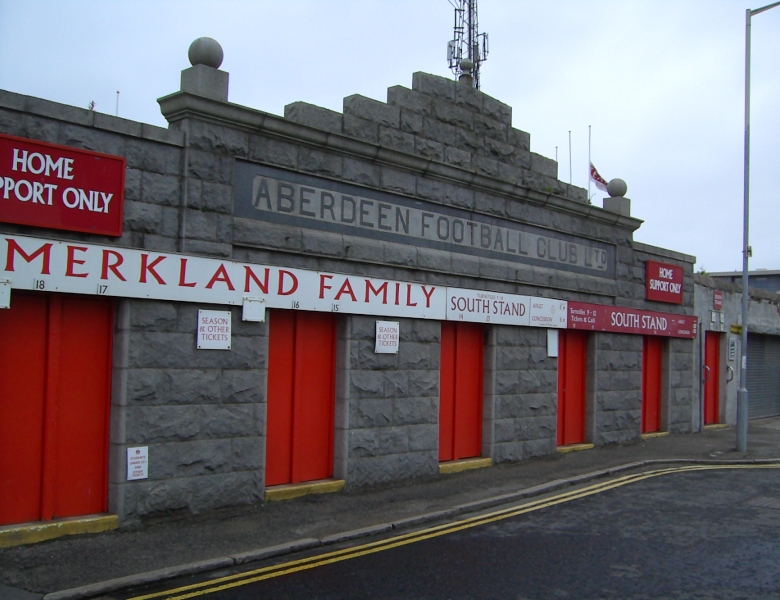 It was notable that ex-Don Joe Shaughnessy didn't receive a frosty reception when his name was called out for the starting eleven. Maybe he enjoyed a level of anonymity only finally unveiled when he scored that second goal, mind.
The first came only after five minutes. To be fair, it was a good diving effort by keeper Danny Ward.
He dived full body, the goal seemingly passing between his two outstretched hands.
0-1 (Brian Easton).
The aforementioned shocker delivered by ex-Red Shaughnessy came only five minutes later. It was from close range and unceremonious, amidst a busy penalty box.
0-2.
Thankfully Aberdeen quickly got one back, and all didn't seem so lost anymore. Saints' keeper fumbled the ball for a corner. Big man Ashton Taylor leapt for a powerful header 12 minutes in.
1-2.
After this both teams came close to scoring, and just over fifteen minutes later the Perth men capitalised on yet another chance.
1-3 (Liam Craig) after 30 minutes.
It's around about this time that the game began to get a little bit bad tempered.
Aberdeen captain Ryan Jack was seen in a spat with a couple of Saints' players, who were doggedly setting about play when the ball had already gone out for a throw in. Then there was a free kick.
The Pittodrie side just couldn't cut it. The opposition, if defending in their box, were the first to every ball; out of any danger.
There'd been a lot of action, so this necessitated an extra minute's play at the end of the first half.
During the interval it was telling the Red Army were in no singing mood, and the expected response of Peter Pawlett Baby to Human League's Don't You Want Me Baby never came.  Instead, they were immersed in the walking football half time entertainment.
They also had little truck for Danny Cool, adapted from Boney M's Daddy Cool. Apparently this is a tribute to the cool head of Danny Ward. Maybe lack of reciprocation was to do with the fact he was having a stinker.
And it was to get worse, too.
The Dons defence had barely kicked off for the second half when ex-Dandy Steven MacLean was allowed to sneak a weak header which only just bobbed over the line.
1-4 two minutes into the second half.
Aberdeen made their first change 49 minutes into the game, with Pawlett replaced by David Goodwillie.
Probably the most satisfaction the Pittodrie faithful had was when the McDiarmid Park men blootered the ball for a rugby conversion.
That was short lived when MacLean nicked his second of the game. The crowd had already given up a goal prior, but this was now desolation.
1-5 after 51 minutes.
The away support were in raptures, even cheering every successive pass their team made.
To rub salt into the wounds Aberdeen then missed a sitter.
Aberdeen made their final change 67 minutes into the game, with Barry Robson replacing Kenny McLean; and Jonny Hayes replaced by Scott Wright.
These changes made little difference and Aberdeen would've had the fans going absolutely ballistic at them for their lack of urgency, had one of the Saints' not had to be taken off.
There were further derisive cheers from the home crowd when St Johnstone's Simon Lappin was booked.
Goal number six almost arrived when Ward spilled the ball, but he was saved embarrassment.
It was actually surprising the lack of response there was when ex-Aberdeen MacLean came off to be substituted. Perhaps they were now beyond caring. Aberdeen had one last close chance, and that was it. Finished.
The only other incidents of note were Graeme Shinnie gesturing to the linesman about a perceived infringement, and a very frustrated Robson booting the ball off the roof of the Main Stand at the final whistle.
Final score:  1-5.