Voice's Old Susannah comments on current events and enlightens us with definitions of some tricky terms with a locally topical taste.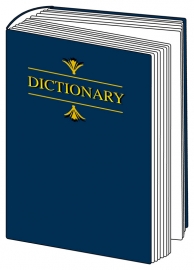 A week is a long time in politics so they say (NB – for some of you Councillors out there, a week is 'about' seven days), and poor old John Stewart, our fearless Council Leader, is having quite a week.  Not only are people refusing to do as he says (the Church of Scotland are being very mean indeed), but people are also actually questioning him.
Yes, really!  He is head of our Council, after all: who are we to question him, whether it be about killing – sorry culling – deer, building stadiums, service cuts or Council job losses?
Old Susannah is against anyone hitting anyone, but a woman has apparently smacked our John when he was out with his partner Neil having a lager shandy in the Kirkgate Bar.  Violence is no answer, but the question is what provoked it?  I am told she was a council employee. Maybe she just likes parks, deer, schools, services and clean air?
The truth is out there, someone please fill me in … on second thoughts, please, don't fill me in, just enlighten me.
But my sympathies lie with those brave souls who would try and park at Golden Square.  There are about 3 versions of how long you can stay and how much it costs.  You would need a lawyer and an accountant to avoid getting a ticket, and our Kate's been in the news assuring us that the contradictory signs will be looked at some time, and that fines already given out will stand. How much better run the parking is now than a year ago when the meager funds collected for parking in Golden Square went to a deserving charity.  The Council shows its usual compassion and logic yet again.
ASBO: (Noun) UK, modern acronym coined under the Blair Government signifying 'anti-social behaviour order'.
These were given to persistently badly-behaving people (loud music always blaring at night, aggressive or offensive behaviour, what have you) and it was believed an ASBO would shame the wrongdoer into becoming a model citizen.  Unfortunately the ASBO instead 'became a badge of honour for CHAVS ('Council-Housed and Violent') and NEDS ('Non-Educated Delinquents). Acronyms all round then.
Our very own Leader John Stewart says that the Church of Scotland should be given an ASBO.  Why you might rightly ask?
This great modern, imaginative look would be so very wonderful in Union Terrace Gardens, I am sure.
Well, the Church did not behave as John wanted it to.  That itself is enough to convince me an ASBO is deserved, but for openers, the Church of Scotland would not lower its selling price for Greyfriars Church next to Marischal College to the level John wanted, and the City could not therefore buy it.
As we all know, Aberdeen City Council will sell property to you (if you are a multimillionaire developer) for far less than the market value, so why wouldn't the Church do the same for the City?
But the Church had gone even farther – it would not clean its granite facade, and it charged the City for swinging a crane over the church when it made the glorious remodeling of Marischal College.  I am sure we all agree that with its newly cleaned Granite, Marischal looks splendid.  It does not remotely look at all like a sterile, antiseptic giant wedding cake of a building out of sync with its environment.  Its loveliness is enhanced by the removal of any trace of greenery (so far anyway) and the addition of a concrete pavement. This great modern, imaginative look would be so very wonderful in Union Terrace Gardens, I am sure.
The Church should have been forced to likewise spend hundreds of thousands of pounds to remove any trace of dirt from its building, even if the dirt makes the architectural features stand out and adds character (antique metal pieces are cherished for their 'patina' – and cleaning such an antique lowers its value).
I am sure those people opposed to the deer kill – sorry, I mean cull – are most glad that vast sums of money were spent cleaning Marischal College (not to mention the £80 million allocated to the project in total) and understand that the City cannot find £225k anywhere for fences or plastic for the trees, so will quite rightly kill, I mean cull, the deer.
Funnily enough, it is standard practice to charge a builder for swinging cranes over the top of existing buildings.  However, the Church should have known the Council would never have permitted anything to go wrong, and should have waived this usual fee.  An ASBO is the least the Church should receive for being mean to John.
we can count on her going back to the Press & Journal to publicly set the record straight.  She would, of course, not want to mislead P&J readers
An ASBO can also be used to make a bad neighbour keep their property in good order.  So if you know of any person or entity in Aberdeen which fails to maintain property they own – such as pavements being crooked, dangerous and litter-strewn, roads covered with potholes,  – do get in touch with your Council and ask for an ASBO to be doled out.  Tell them John sent you.
Email: (Verb) To send communication via electronic means to a specified recipient or recipients.
I hear that all the young people today are using email rather than putting pen to paper, but it should be remembered that email does not always get to its desired location (unlike snail mail, which never goes astray).
It is also easy for email to be accidentally 'deleted'.  Such an unfortunate thing happened to our own Councillor Aileen Malone, who accidentally deleted email (including one from me), which showed people living in Aberdeen were opposed to the deer kill -I mean cull.  Ms Malone went to the press last week, saying 'about one' email from Aberdeen residents were sent to her about the deer slaughter.  Now that she knows she had received more, we can count on her going back to the Press & Journal to publicly set the record straight.  She would, of course, not want to mislead P&J readers.
It also looks like an electronic communication sent by MSP Richard Baker to object (goodness knows why) to building the Loirston Community Arena Stadium thingy never was received by our planning geniuses.  It certainly was not mentioned in the report prepared by the Council for the Loirston hearing, which did manage to quote MSP Adam's support for the stadium.  Reports are reaching Old Susannah that a senior Council official says Richard Baker did not submit an objection in time /did not submit one.  I know whom I am inclined to believe – watch this space for further developments.
In summary, email is used to send communication – but if you receive any email you do not want to have or which is inconvenient, just delete it and deny it.  No one will ever find out.  Simples.
Blackmail: (Verb) To threaten to use force or expose information unless money or other compensation is delivered.
The problem with giving into the demands of blackmailers is that once you start, they will keep on blackmailing you forever
Blackmail is illegal of course.  A kidnapper may threaten to kill – sorry, cull – an innocent hostage unless demands are met.  A City Council may threaten to kill – sorry cull , a number of tame, blameless, innocent, beautiful deer in order to plant trees (which could be planted anywhere) unless animal lovers come up with £225K by a deadline.
Personally I think this is the most innovative thinking to come out of the Council in ages.  The City could start using this tactic elsewhere.  Maybe they could threaten to close schools, shed jobs and services unless they get more money.
The problem with giving into the demands of blackmailers is that once you start, they will keep on blackmailing you forever.  The problem with giving a wasteful institution more money is that they will keep wasting money on frivolous, self-aggrandizing projects (squares, shopping malls, grandiose offices with new state-of-the-art features and new furniture) while the people whose needs are greater suffer.
Does this Council need more money – or does it need more common sense, compassion and humility?  (At least we will take comfort knowing that whatever is going on, Kate Dean still finds time to attend a dozen or so shows at the AECC a year.  I am still thinking what a night it must have been for Neil Young when she attended his show – did he get a chance to meet her I wonder?  What are her favourite Neil Young songs?  Top must be 'Proud to be a Union Man').
If the shoe were on the other foot and a population grew weary of its bungling elected officials, blackmail could also be used:  'Represent our views, give us decent services and clean, safe streets – or we will vote you out of office'.  Not a pleasant thought, is it?
Diversion (1): (Noun) A re-routing of traffic to enable emergency works or repairs to take place.
A diversion should take in as many side roads and eat up as much petrol and time as possible, and should not distract a driver with unnecessary signage – they will eventually figure out where they are.  A diversion say from one end of Berryden to the other might take in a few hospitals and be routed on narrow back streets.
Diversion (2): (Noun) To deflect attention or resources from one area to another, often to cover up any error or bad practice.
Only the worst kind of cynic would suggest that recent press announcements concerning Sir Ian Wood pledging £400k or so towards a Union Terrace Gardens Trust (of some sort or other) and Scottish Enterprise pledging likewise towards turning UTG into a much-needed parking lot are a diversion.
What would Sir I and SE want to divert attention from?  Surely not the emerging story that money, which had been earmarked for the Peacock project – some £375k – was actually spent on the rival plan backed by ACSEF, Stew Milne and Sir I?  No – I am certain SE, ACSEF, Sir I and Stew all want to find out and bring to light just how this money was diverted from Peacock – they do not want to divert your attention from this little matter at all.
Truth will out; even if ACSEF still refuse to hand over its meeting minutes to me.  I could send them another FOI request, but banging my head against the wall or talking to a lamppost would be more fruitful.  If any readers out there would like to contact ACSEF or SE and ask for copies of meeting minutes where Peacock, UTG, and funding were discussed, please do be my guest.