With thanks to Mark Beresford.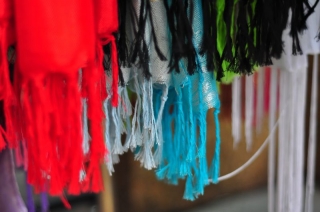 Canny fashionistas will be in their element on 15 March at Aberdeen Forward with a chance to trade unwanted and unworn garments for something fresh and new.
This free event is open to anyone with clothes to swap and fashion professionals will offer advice on nails, jewellery and makeup to help complete your new outfit.
The Swishing event will run from 6-8pm on Thursday 15 March at 2 Poynernook Road. All guests will receive a free glass of bubbly on arrival.
Aberdeen Forward is an environmental charity and social enterprise supporting local waste minimization and sustainability projects.
Its Volunteer Manager, Gillian Marr, said,
"This is a great fun way to refresh your wardrobe and get some top tips on how to accessorise your new look. We're running the event as part of our Zero Waste Club and it's a really great example of how we can encourage people to reduce waste whilst having fun and saving money."
The event is supported by The Body Shop and Saffron Settings who will have a presence at the event. Zero Waste Scotland, which works with businesses, communities, individuals and local authorities to reduce waste and use resources sustainably, is funding the evening. www.zerowastescotland.org.uk
Anyone interested in coming along can call Aberdeen Forward on 01224 560360 or e-mail admin@abzforward.plus.com and should bring along at least one item of clothing no longer wanted but in good condition.
Swishing events are gaining popularity across the country and are best described as clothes-swapping parties for women. More information about swishing and other events around the country can be found at http://www.swishingparties.com/
Image credit:  © Jordan Tan | Dreamstime.com