Exhibitions:
The Black And White Show – Various Artists
Preview Friday 9 September, 6 – 8pm, all welcome!
A monochromatic medley of prints. Enzo Mari, Mike Giant, Scottie Wilson, John Byrne, Ian Hamilton Finlay, Donald Urquhart, Adam Bridgland, David Shrigley, Kenny Hunter, Rob Churm, John Bellany, Jock Mooney, Shepard Fairey and Alan Davie. Not to be missed.
Exhibition runs 10 September – 22 October 2011
Inchoate Landscapes – Toby Paterson
Preview Friday 9 September, 6 – 8pm, all welcome!
Toby Paterson's Inchoate Landscapes draws around his newly completed suite of seven prints, creating an exhibition that sets them in the broader context of his practice and interest in the built environment.
Exhibition runs 10 September – 22 October 2011
Events:
Peacock @ Multiplied Art Fair, London
Friday 14 – Monday 18 October –  Christie's South Kensington, London 
Peacock are one of only 40 galleries from around the world that are going to be exhibiting at this the UK's first and only fair devoted exclusively to Contemporary Art in Editions, Multiplied Art Fair at Christie's. Peacock will be showcasing Inchoate Landscapes, a new seven-piece suite of prints by award winning artist Toby Paterson, as well as works by Kenny Hunter, Donald Urquhart and Adam Bridgland all recently completed in our printmaking workshops. 
Opening Hours –  Fri & Mon 9am-5pm, Sat & Sun 11am-6pm.
FREE entry – all welcome!
IMP Presents SOUND @ PVA
Fri 28 – Sun 30 October (Fri 7.30 – 11pm, Sat and Sun 3.30 – 11pm)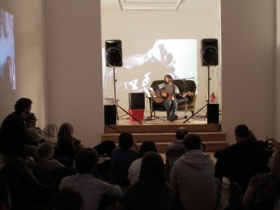 A festival within a festival. Not so much boutique as 'guest house'.
Some of the best new music in Scotland (and some from further afield) over 3 days in the intimate surroundings of our gallery.  
Tickets available from One-Up Records (01224 642662)
& Aberdeen Box Office 01224 641122/ 
boxofficeaberdeen.com
Hurricane Lamb at Duff House
Ongoing until  31 October at Duff House, Banff.
Hurricane Lamb is a collaborative project from Gray's School of Art (RGU) and Peacock Visual Arts. Inspired by Duff House and its history, the exhibition features new work by Michael Agnew, Andrew Cranston, David McCracken, Georgia Russell, Lennox Dunbar, Paul Housley, and Donald Urquhart.
Exhibition runs until 31 October 2011
 Get Creative

:
Peacock VIsual Arts – Summer Animation Classes
October 12, 19 | 10 – 4pm | age 10+ | £35/session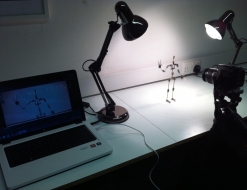 Ever wondered how Wallace and Gromit move? Or what makes Pingu go?
Well this summer we're planning some animation workshops to show you just that!
Each class is £35 and a one off – but if you're keen to keep coming back, you're more than welcome to book on as many as you like!
Call 01224 639539 for more information or to book a place.
Open Submissions – The Winter Exhibition at PVA
It's back! After a 2 year break, we would once again like to invite artists to submit work for the
Christmas show
. Previous years proved to be hugely popular, attracting many visitors and making it is a fantastic opportunity to have your work seen. And this year there are prizes on offer so even more reason to submit. Visit 
www.peacockvisualarts.com
 for more details.
Submission deadline Saturday 5 November 2011
Note:

Aberdeen Voice updates Peacock info periodically, but there may be recently added events not included in this post. Please contact Peacock direct for the latest information.
Peacock Visual Arts

21 Castle Street

Aberdeen

AB11 5BQ
Tel: 01224 639539

Mob: 07947 490626