Blink 182 plus support at AECC. Review and photographs by Craig Chisholm.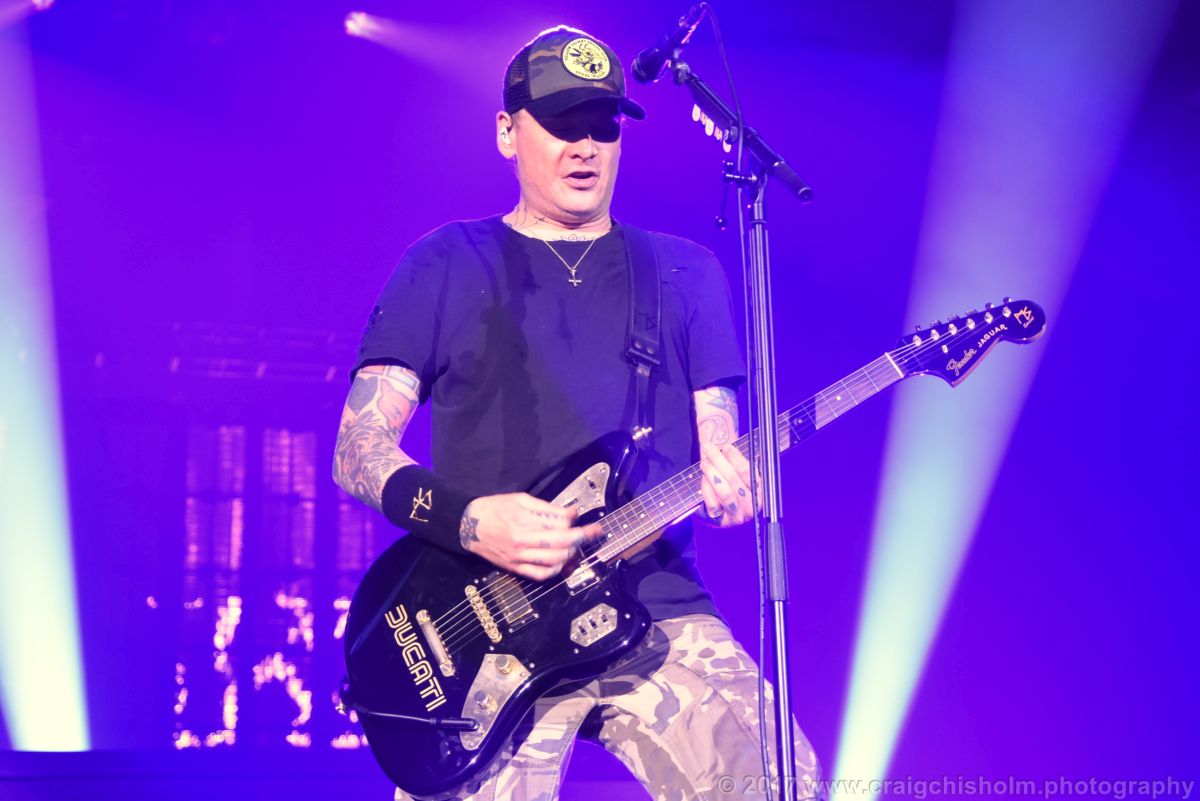 US pop-punk veterans Blink 182 returned to Aberdeen with a slick arena show filled with confetti canons, pyrotechnics and flamethrowers which pleased their fans old and young alike.
First band up on the three-band bill, however, were New Jersey band The Front Bottoms.
Despite the Viz-like nature of their name, which has you suspecting they are less than serious proposition, the band play an introspective, but goofy, indie rock that is appreciated by the early arrivals in the arena.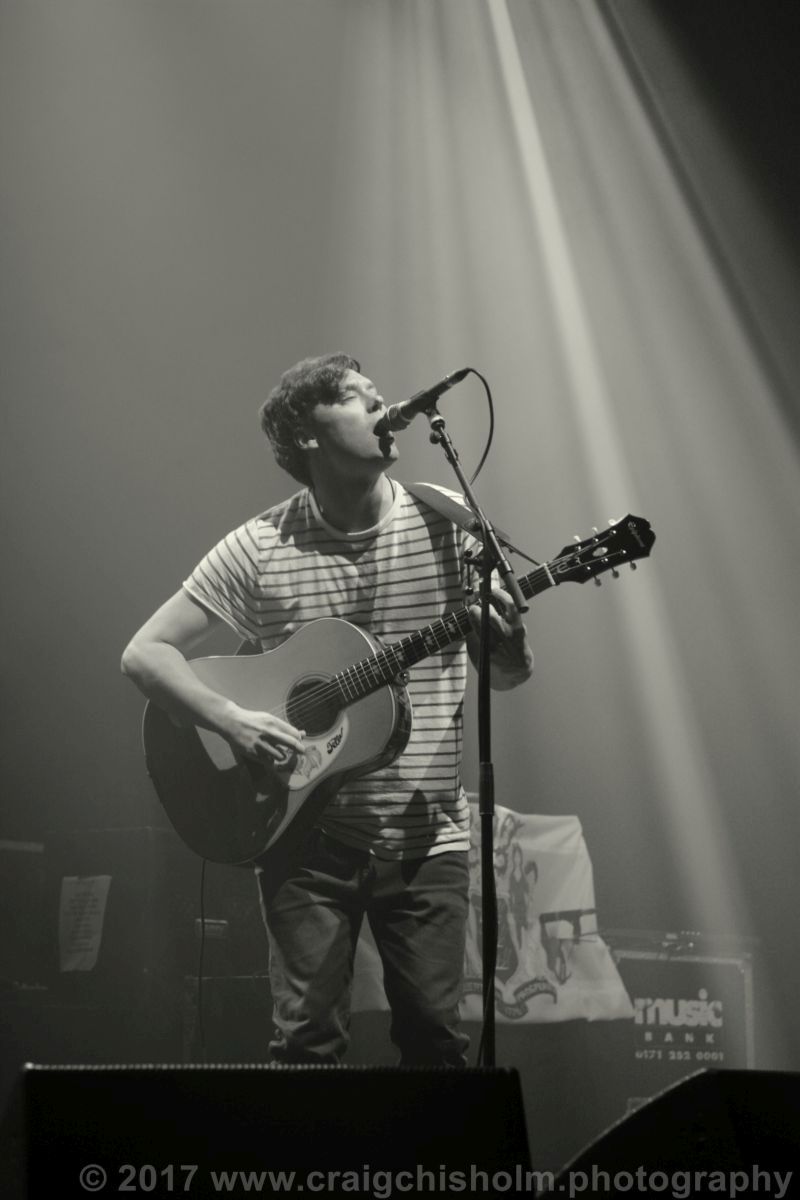 Frontman Brian Sella formed the band nearly 10 years ago.
He stands stage front, strumming an acoustic guitar.
He engages with the crowd and endears himself with comments of wishing he could have lived his life in Scotland and a tale of getting hit by a golf earlier ball that day.
Flanked by his bandmates there is also the somewhat unusual spectacle of a couch on stage on which a couple of guys are sitting.
Their contribution to the set seems to involve nothing more than tapping away on their mobile phones and taking swigs from bottles of beer – nice job if you can get it, it must be said!
There are no couches or mobile phones on stage for the next act however as Frank Turner and The Sleeping Souls take to the stage.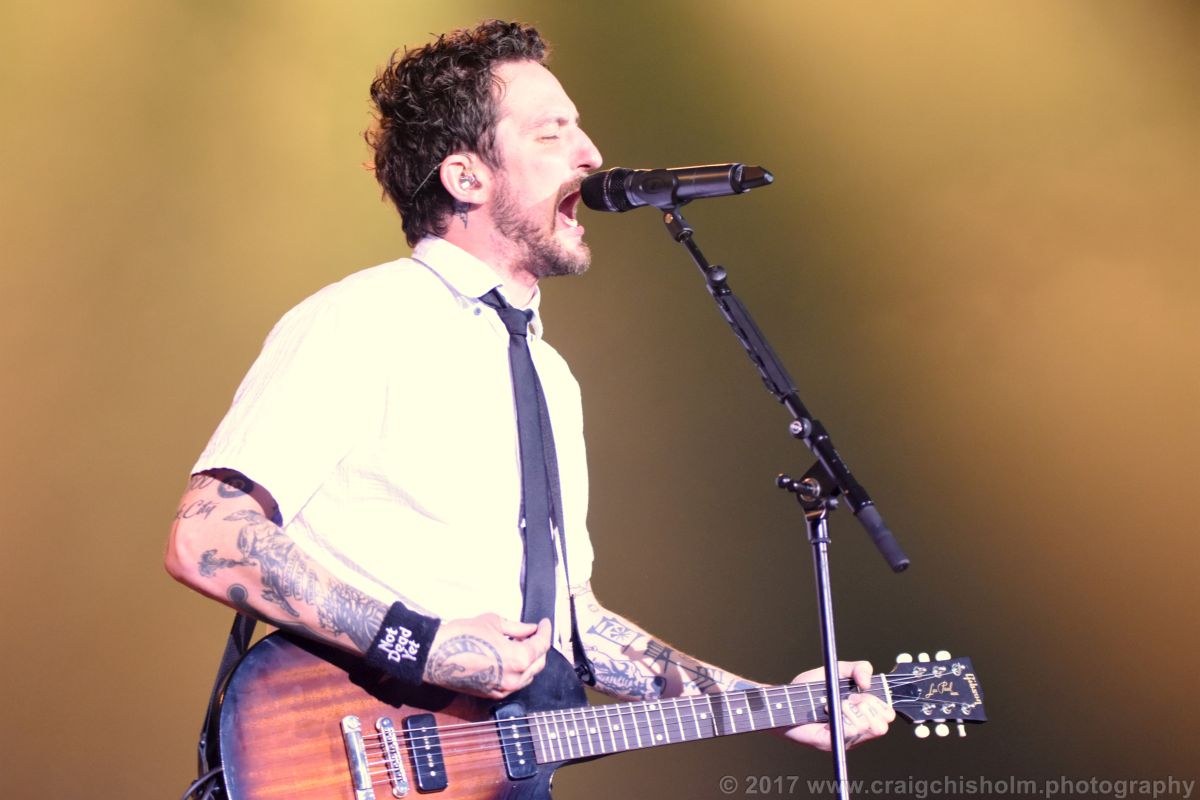 Bahrain born Turner had a seemingly un-punk upbringing – the son of an investment banker who went to Eton and studied alongside Prince William; his grandfather – a "Sir" no less – was the former chairman of high street store BHS.
But despite this privileged upbringing it's hard to deny that Turner has paid his dues, moving from small toilet venues to arenas over the years whilst playing a socially conscious and politically charged brand of folk-punk that has gained him a loyal band of followers.
He commands the audience well tonight.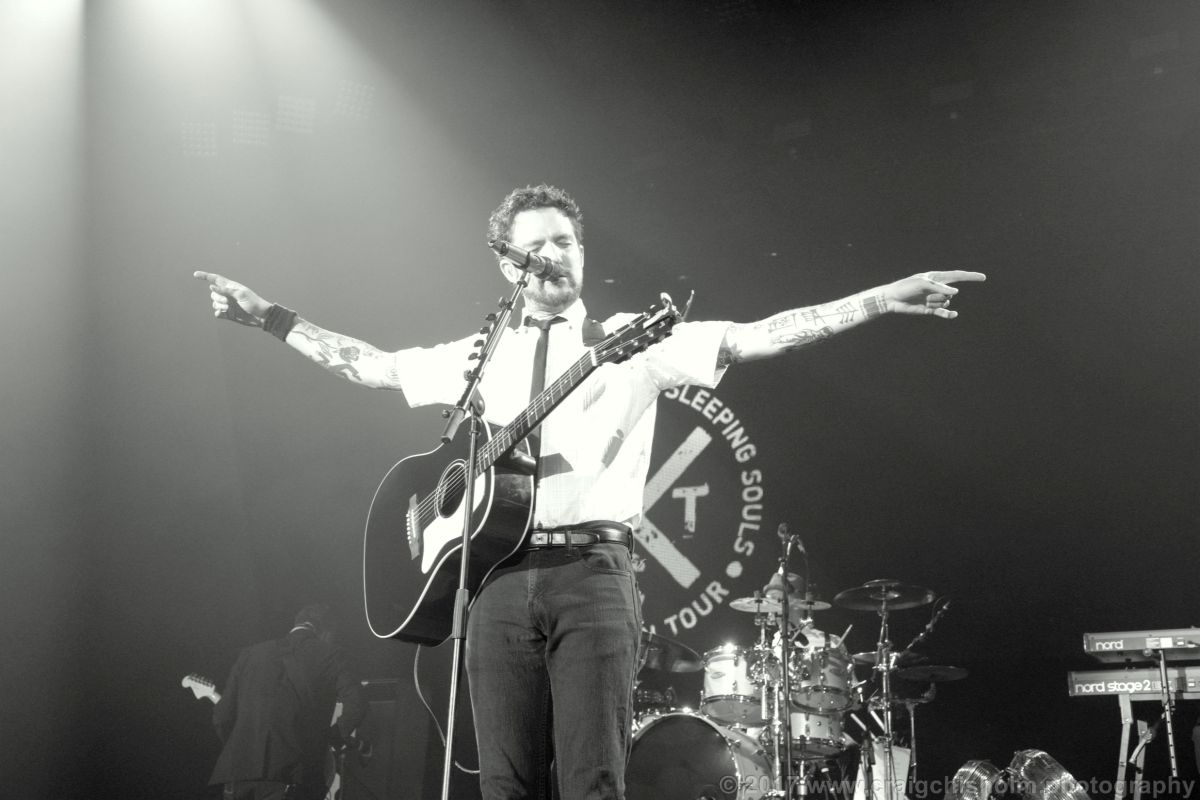 The sight of him getting the crowd to sit down and jump up in unison was quite exciting and he also brings one lucky young fan out of the audience, hands her a harmonica and has her play a mouth organ solo during one track.
He ends his set by crowd surfing in the audience which has security scrambling to get hold of him as the crowd go wild. It would be fair to say he would have won over a few new fans this night.
Finally, at 9pm sharp, Blink 182 take the stage. Starting the set behind a curtain with a picture of their logo imposed over a Union Flag, whilst the haunting electronica of the Stranger Things theme tune plays, it drops to rapturous applause and pyrotechnic explosions as the band blast into opener Feeling This.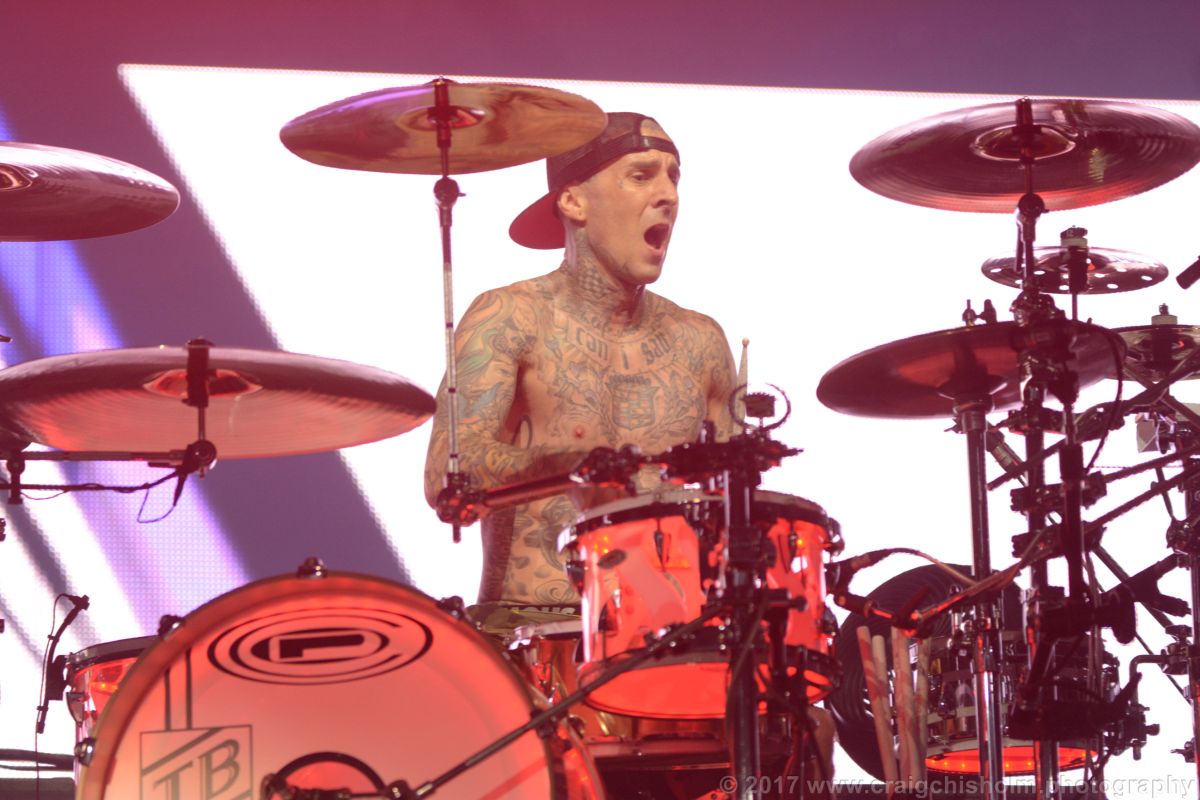 The backdrop at this point is the rather unsubtle word FUCK in huge flames at the rear of the stage.
But, let's be honest, Blink 182 are not in a band that deal in subtly much.
There are fleeting moments of introspection though – the cello-drenched and catchy I Miss You is a touching tale of lost love and the title track of last year's California album is a nostalgic missive to their home state.
It's the unsubtly of the show that provides the arena rock experience though and there is plenty of spectacle and show that has the crowd in raptures – a huge screen flashes behind the band, flame throwers spit high into air from behind the drum riser, confetti canons fire and drown the crowd in ticker tape whilst pyrotechnic explosions bellow smoke into the venue and test the fire alarms to their limits.
And this day-glo stramash of sound and vision isn't just on the odd occasion – it's in almost every song the band perform.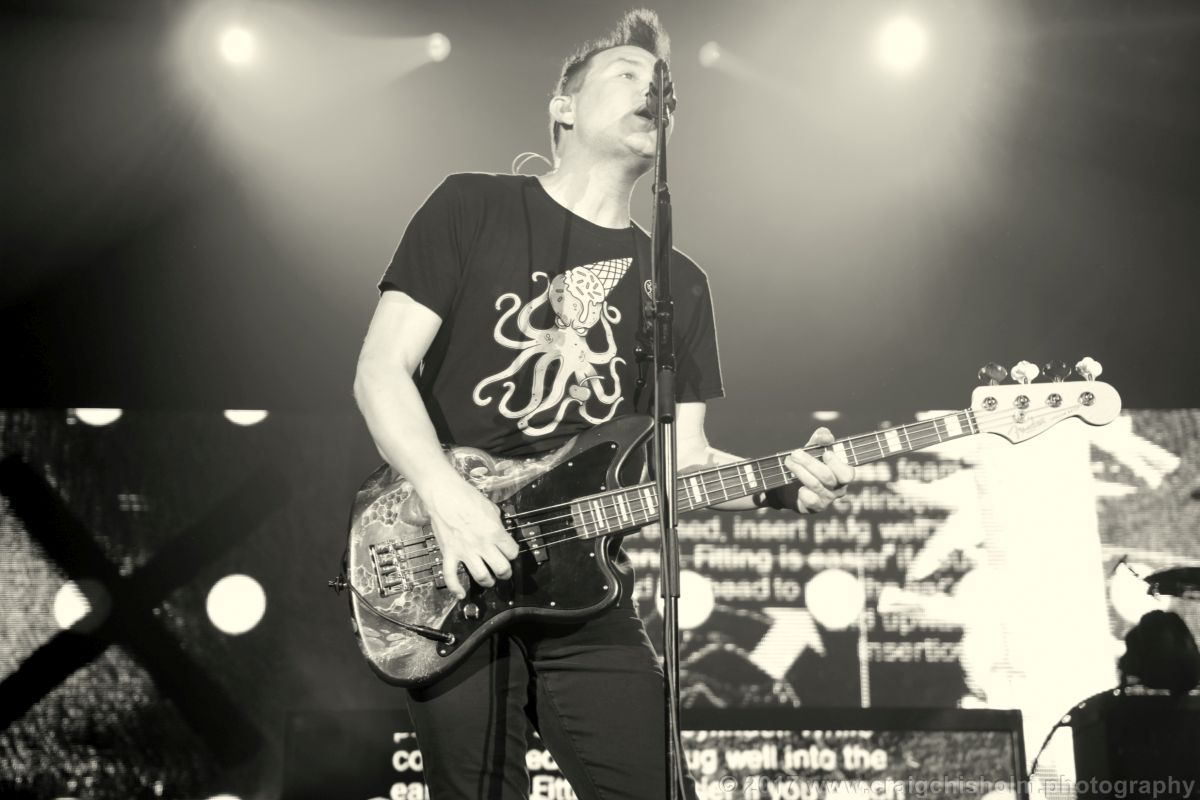 There is another exception to this sensory overload though as they perform one track in the dark, lit only by hundreds of mobile phones in the crowd.
Highlight of the set for the crowd is first track of the encore their big hit and probably best known song All the Small Things. Released over 17 years ago, it is older than a good proportion of the crowd here tonight, all of whom go wild to the raucous, three-minute classic of the US pop punk genre.
And then, after a couple of more tracks, it's over – 22 songs in a compact, and slightly short, 75-minute set. All that's left is for drummer Travis Barker's teenage son to play out as the crowd head out into the early evening.
As was said, Blink 182 are not a band that deal in subtlety but if high adrenaline, slightly juvenile, slick, over the top arena shows are your thing then this would have made you very happy indeed.
Comments enabled – see comments box below. Note, all comments will be moderated.