OK, perhaps the link to Aberdeen Voice for this London show is a tenuous one. However, the Temperance Movement have a large, loyal fan base here who have seen the band in The Tunnels, The Lemon Tree, and the Beach Ballroom. If you're one of those fans, here's an account of the London acoustic show and a few comments from the band. By Suzanne Kelly.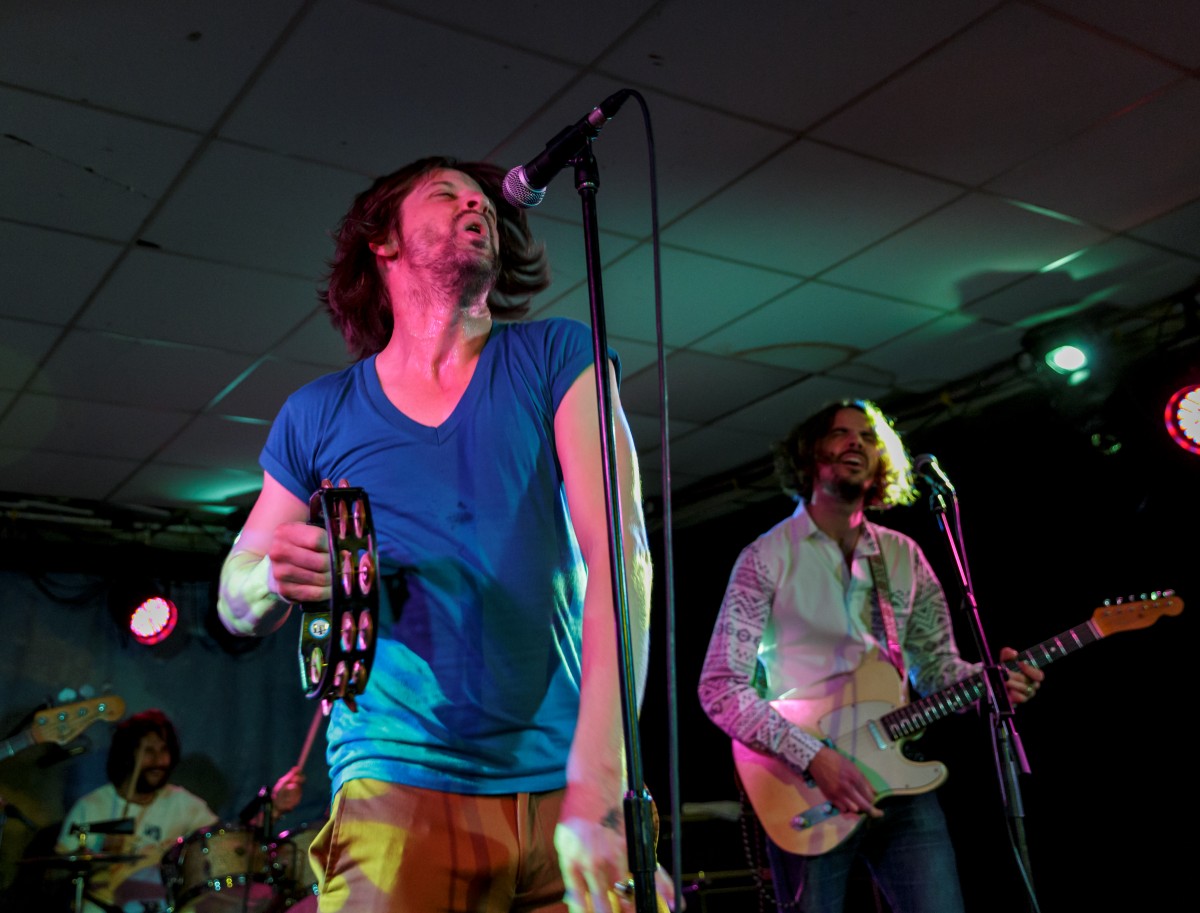 The Temperance Movement always impressed from their first small shows through touring with the Stones and their current, seemingly endless world tour. Class, sincerity and promise are the heart of their rock, southern rock, blues and ballads. Quickly winning and deserving a fiercely loyal fan base, TTM must be among the hardest-working acts around. I am one of the lucky 300 to see them in London.
They've also kindly answered a few of my questions. For a start, knowing how busy they are, I wondered how and why they arranged these acoustic shows:
"Just that we wanted to do something a bit different with the material we've been touring over the last year or so, and more importantly we wanted an opportunity to play some more intimate UK shows and reconnect properly with our fans here having been away for most of the year."
Fans on the band's mailing list were alerted to three acoustic dates with one at London's Bush Theatre. In order to outfox the ticket touts, fans had to earn a certain number of points to prove they were genuine and not scalpers. One of these 'tasks' involved watching a wild, wacky, stunning, fun video for Get Yourself Free. It was a case of earn your points, order your tickets and download them on a bespoke app, and you got in – if you were quick enough.
Arriving at the Bush, you were struck by its small size (only 300 tickets were available) and beauty it is a proper old-fashioned theatre with an ornate high ceiling just screaming out for some proper music to use its acoustics and that's what we got. Next you might have noticed that peppered around the crowd were managers, Earache Records and other industry folks, and the band's friends and relatives. It almost felt like we were crashing a private pre-Christmas thank you party from the band – and in a way we sort of were.
Out they came – Phil Campbell at a concert piano. And off we all went.
They took us to the Mississippi Delta. They took us to the San Antonio river walk, to dance palaces, to dirt roads in Tennessee. They took us to the 1920s, 1950s, 60s, 2016, and into the future. We got ourselves free.
A bit of an obvious question, but with so many different musical flavours, influences and genres that The Temperance Movement craft into their own unique works, it seemed prudent to ask them what some of their influences for this acoustic show were.
"Well there wasn't a specific conversation in regards to these shows in particular, but we're all fans of a lot of artists that are connected to this kind of show – Ryan Adams, CSN&Y, The Band, Bon Iver, Ray Lamontagne etc. "
It wasn't surprising that they mentioned both Crosby, Stills, Nash & Young and The Band – these are acts that come to mind when you see TTM live. The CSN&Y harmonies and beautiful acoustic playing, and The Band's energy at their live shows in the day, and their cornerstone pure American rock are definitely springs TTM has drunk from.
With a reputation for genuineness and a complete absence of artifice, The Temperance Movement and its guests had a night no one will forget anytime soon. Those vocal harmonies – not least on Chinese Lanterns. That beautiful guitar work – well – on everything – with such range and depth.
If you closed your eyes while listening to Only Friend, Lovers and Fighters, White Bear, you could be forgiven for thinking this was an all-American band composed of the finest blues and rock seasoned veterans and that you had to be in the US. The Temperance Movement dressed the part as well, most sporting jackets – all nicely suited and booted.
The venue had delicious acoustics for this night; the room was filled with golden harmonies, each note of the piano was heard, and I could go on. I really hope someone's recorded these acoustic sessions; I'll be first in the queue to buy a copy.
Phil remarked about how things seem different when you return to the UK after being in the USA for a long time. He altered the lyrics on I Hope I'm Not Losing My Mind; the song as recorded seems more an indictment of a selfish partner. At the Bush he'd turned it around into a kind of apology which certainly seems geared towards his partner and family.
Life on the road seems a likely cause for both versions of the piece. The band were asked how life on the road was treating them.
"We're very aware of how lucky we are to be able to tour and make music, but it can also be hard at times, especially being away from kids etc. There are ups and downs like any job, but maybe they're more extreme!"
This band's only on its second album – but we got a look into the future when Phil performed a song that I'll call 'Children' for ease of reference. It starts out with insinuations of disloyalty and neglect of loved ones, and then 'I never want to write a song like that' is the refrain. It was a homage to home life – something they must all be missing greatly. Behind these great musicians must be some great lovers, friends and family to keep them going.
Rejoice! Here's a Christmas present for supporters – there will most assuredly be a third album:
"The 3rd album is definitely becoming the thing that we are all most focused on doing next, but as far as a direction or sounds for the album, it's probably a little too early to say."
Sadly, percussionist Damon has bowed out. One song Phil dedicated 'to everyone who's ever been in The Temperance Movement'.
Asked about this departure the band said:
"At the moment we're just focused on playing the shows we have booked in for the remainder of this year. We've met a load of great musicians over our respective careers and we're just looking at this as an opportunity which can help us shape the next phase of TTM."
There were two cover songs in the evening were hugely enjoyed You Do It To Yourself (curiously dedicated to management – if I have that right) and Blur's Tender which was another earnest rendition.
The only minor event to mar the night was swiftly brushed over. Is it easy to start a song on stage? Hell no. Possibly a song like Serenity – acoustically in particular – must require concentration as well as intuition. Alas – someone decided to use the first few bars to shout "Put that camera down!!" loudly. The band continued and full marks for that. It's easy to understand the frustration some people have who come to experience a show like this, not to record it on an iphone.
A little later Phil made a very gentle rejoinder to the interrupter – another man might have been more angry. Problem solved swiftly, elegantly; problem forgotten.
Serenity was as ethereal as Chinese Lanterns had been – such beautiful songs! I wondered how they'd deal with the crescendo in the acoustic format; the answer was very gently, but my mind seemed to still hear the electric guitars and emotion-packed vocals from the album. These songs, White Bear, A Pleasant Peace I Feel – in particular – these are songs which still create an emotional response however many times I hear them.
Here's a youtube video to give you an idea.
Hearing them in a completely new way was something I wouldn't have missed, and again, is really something that needs to be recorded and released. I want.
As the night drew on the enchantment grew. Everyone around me was silently soaking it in, smiling all the while.
Final encore? A pleasant Peace I Feel. Even if you ignore the moving lyrics, the music alone makes it one of the most uplifting, energizing, feel-good songs you'll have heard in years. When the house lights went up, it went up on some seriously happy people.
Asked whether there was anything TTM wanted to say to their fans whether about the acoustic show or otherwise, they said:
"Just thank you for the support over the last few years, which is what these shows were about for us really. We tried to really make sure that tickets got directly to the fans, and we wanted to play some intimate venues to feel that connection."
Here's to their Aberdeen return. http://thetemperancemovement.com/