North-east property and construction professionals and their families came together recently for the sector's annual summer social event and to raise funds for local charity Cash for Kids. With thanks to Ian McLaren, PR account manager, Innes Associates.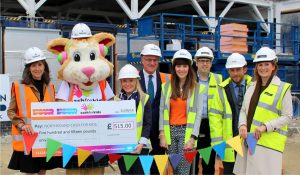 The Aberdeen Association of Civil Engineers, Aberdeen Society of Architects, Chartered Institute of Building, Royal Institution of Chartered Surveyors, Royal Town Planning Institute and Women In Property held the joint event at Woodbank House on Sunday, 28 August.
Over 100 people attended the afternoon event that featured a barbecue, children's entertainment, a range of family activities and a raffle, for which a number of local businesses had donated prizes. 
Proceeds from the raffle were once again donated to north-east children's charity Cash for Kids.
The organising committee selected Cash for Kids to benefit from its fundraising for a second consecutive year after learning about the broad range of funding requests that the charity supports. This year, the raffle raised £515, bringing the amount donated as a result of the last two summer social events to £950.
Cash for Kids supports sick, disabled and disadvantaged children and young people under the age of 18 living in Aberdeen and Aberdeenshire. Alongside its annual Mission Christmas gift appeal and Coats for Kids appeal, the north-east charity operates a quarterly grant programme that provides funding to improve the quality of children's lives across Aberdeen and Aberdeenshire.
One of the event organisers, Michelle Forth of Safety Scotland, said:
"Our annual summer garden party is a chance for those who work in Aberdeen's diverse property and construction sector to get together and network.  The afternoon was well attended and we are very pleased to have raised over £500 for Cash for Kids.
"Our organising committee has noted the superb work that Cash for Kids does month in, month out and were keen to support the charity again this year.  The quarterly grant giving programme is a wonderful initiative that benefits a diverse spectrum of children. Each of the associations involved are proud to assist families across the north-east through this scheme."
Cash for Kids continues to see strong demand for its grant funding, with the value of applications outweighing the amount donated by the public and the business community.
Michelle Ferguson, Cash for Kids charity manager, said:
"We are very grateful to the organisers for choosing Cash for Kids to be the recipient of their fundraising. Donations such as this enable us to make a positive, valuable contribution to the lives of sick, disabled and disadvantaged children and their families who live in Aberdeen and Aberdeenshire."
Cash for Kids is Northsound Radio's listeners' charity. It makes grants to individuals, families, children's groups, organisations and projects throughout the Northsound transmission area. All money is raised locally and spent locally to benefit local disabled and disadvantaged children and young people under 18.
More information on Cash for Kids can be found at www.northsound1.com/cashforkids, or telephone 01224 337010
Comments enabled – see comments box below. Note, all comments will be moderated.