Two and a half years ago, proud father John Laird, told me about his two sons over a beer in Aberdeen's Café One Stefan is now coaching Aberdeen FC Ladies team (interview with Aberdeen Voice coming soon).  Declan Michael moved to Los Angeles to pursue an acting career which is taking off, but there's much more to him than that.  Here's what Declan's up to now.  By Suzanne Kelly
Declan Laird 's just returned back to his LA flat; he's a few minutes off the time we were going to speak, and is apologetic. I tell him there's no need.  He's his usual energetic self on the phone; I still wish this kind of enthusiasm could be bottled and sold.
"It's way too hot"
he tells me; I ask him jokingly if he was out chasing Pokemon and that was why he was delayed.
"Pokemon?! – God no, I have a life. I don't understand it.  I played it growing up, but I don't see where people get the time."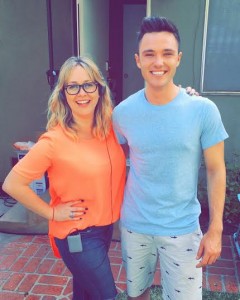 When it comes to time management, I can't think of anyone in their 20s who manages to pack as much into a week as Laird does. There is a constant stream of auditioning; there's workouts including boxing; there are commercials to shoot – and recently he was at the Homeless World Cup in Glasgow (more on that shortly).  I think I can more than forgive him being a few moments late in phoning me.  We joke about people playing Pokemon Go who walk into walls, off of piers, and agree it's probably lots of fun – in moderation.
I wasn't going to mention the 'T' word, but it's the first subject Declan brings up. He knows Donald Trump is one of my key subjects.  I'll be interested to hear what a Scot living in LA makes of the whole Trump phenomenon now that Trump is the Republican candidate for POTUS.
"It's scary. They were saying the other day if the election was today, he would win – which is nuts.  Brexit, the whole world is just madness and I don't really talk about politics but Trump – he manages to be looking at up the wrong way.  He's the worst guy ever I watched the convention – I just don't understand it."
Well, no argument is fortcoming from me on those points.
"I think half of America might move to Canada." Declan adds.
I don't think I've told him, but I'm looking at Nova Scotia's Cape Breton which said it would welcome American citizens.  I ask Declan how his brother's doing.
"Stefan –am so happy for him he's worked for so long and it's a great break. As brothers we have a close relationship.  We talk every day both; we're in difficult, competitive industries.  We support each other and keep each other in line."
If it's Stefan's influence that keeps Laird grounded as his success is taking off, it speaks well of their relationship and Stefan's coaching skills must be impressive.
The Homeless World Cup in Glasgow at the end of July was the last time Laird was in the UK. I was all set to go there to support the Scottish side and see Declan and his family – but I was called on another project. I had really wanted to be there – Laird's told me about the initiative [editor – insert link to HWC article thanks].  I ask Declan how it was.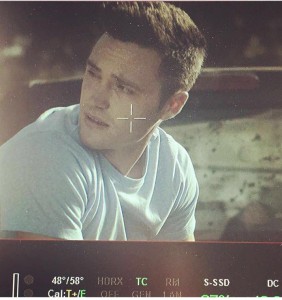 "The Homeless World Cup – it was amazing Suzanne. I could only go three days because I was filming 'Blood Brothers'.  I had to have a buzz cut but it went great – we're in post production now and hopefully the finished product will be out in January.   The tournament went really well and it was smooth filming.  It's so inspiring to see people change their lives – people with a reason to be unmotivated but who are still trying to get out of the hole they are in.  It is really amazing to see people from around the world.  I realise you can be homeless in Scotland and feel the world is against you; then you see people from Ghana who are trading socks and grateful to even have them."
"Glasgow was a fantastic host. Scotland seems to produce the goods for events when it matters.  People were coming out in their hordes to support everyone – all teams were cheered.  Vice have a 'VICELAND' where they produce documentaries and I'm in a co-production deal with Vice World of Sports.  I'll be in Italy early October doing a documentary I pitched to them and they'll finance it.  It's called Knights of the Alter on the Koa Bosco football team [https://www.theguardian.com/football/2015/may/05/koa-bosco-football-racism-italy].  Calabria, Italy is one of the places where African migrants travel into Europe from war torn countries  – People risk death to make the journey.  When they come in to Italy they enter Rosarno, now highest unemployment rate in Italy for factory, fruit picking jobs, etc., and Italy had racist problems already. 
There was a big revolt years ago – The Black community was in effect kicked out of town.  The local priest said to himself 'How can I integrate these people?' – and set up the football team. They won their league every year for the last 5 years; they simply can't afford to get to away games sometimes.  They have a lot of hate and racism hurled at them, and there are attacks on their camps.  I was working for 10 months on this with an Italian friend and we got it to Vice, and they want to do a one hour documentary.  It is so relevant right now – everyone is racially, religiously segregated – there is so much animosity – this will tell the story of these guy s just trying to live.  It's not a football documentary; it's a social, humanitarian documentary.  I'm really excited to go out there.  These guys come from nothing and just want their story told  – they thank us for doing it."
Laird impressed me with his dedication to the Homeless World Cup and the good it does promoting physical health, mental health and self-belief. I'm thinking of what he's just told me about this Calabria project, and realise it's the kind of thing that makes me think that it's not just the Donald Trumps who will shape the future, there are people who genuinely care about the less fortunate and will do something about it.  If I'm any judge of Laird since we first spoke two years ago, his family has engrained the importance of serving others in him.  'Good on you Dec' I think.  I wonder what kind of things he'll be doing in the future, and I'm determined to keep up with his on- and off-screen careers.
"Blood Brothers was inspired by the 100 years since WWI. The average age of the soldier was only 19.  Suzanne, I went paintballing and was terrified – I can hardly imagine what it was like for them.  Everyone talks about WWII and not WWI.  I was trained by the guy who trained Bradley Cooper for 'American Sniper'.  The sacrifices these guys made – even to be in the outfit with the rifle and gun adds 30 pounds to you.  I don't see how they did it, and then there is the heat.  I've seen some of the footage; it will do the festival circuit to start with its premier in three weeks' time."
We talk more about World War One. I tell him I have a photo from the local auction house of a WWI officer; this was going to go into the skip if no one wanted it – so I bought it.  I keep it as a reminder of how easy we have it, and what people like this unknown officer might have gone through.  On the lighter side I tell Declan that the new Gal Godot Wonder Woman trailer indicates the film is set at least in part in the WWI era – and that it looks absolutely fantastic.  This is on my must see list.
"I wrapped up 'The Ice Cream Truck' which is a tongue-in-cheek, nostalgic homage to '80s horror films – there's a huge audience for it – I play a supporting role. I'm one of leads in 'Blood Brothers – I channelled my inner Glaswegian and played a cheeky chappy who's up to no good.  It was a lot of fun.  I have a lot of funny one-liners. It's nice to play a bit of a dick – you have to be so nice to everyone all the time and then you get paid and praised to be an arse."
"I was meant to have a trip to see Conor McGregor's Vegas fight; I'd been looking forward to it for months – but my agent told booked an Adidas commercial – the exact same date."
"In the commercial I play a boxer. I'd advice everyone to go and learn a new skill, because you never know when it will help you get a role.  Add another string on your bow.  The director of the commercial Blake West directed big music videos for Oasis, etc – so it will be good fun.  It's just a one day shoot but big exposure."
"I was getting stressed out – I couldn't believe these two things were the same day. My friend brought me back to reality when he said 'You're literally having a problem about not being able to go to Vegas?.  Relax!'  That was good advice from a friend."
I guess Declan's not going to be Pokeman hunting anytime soon.