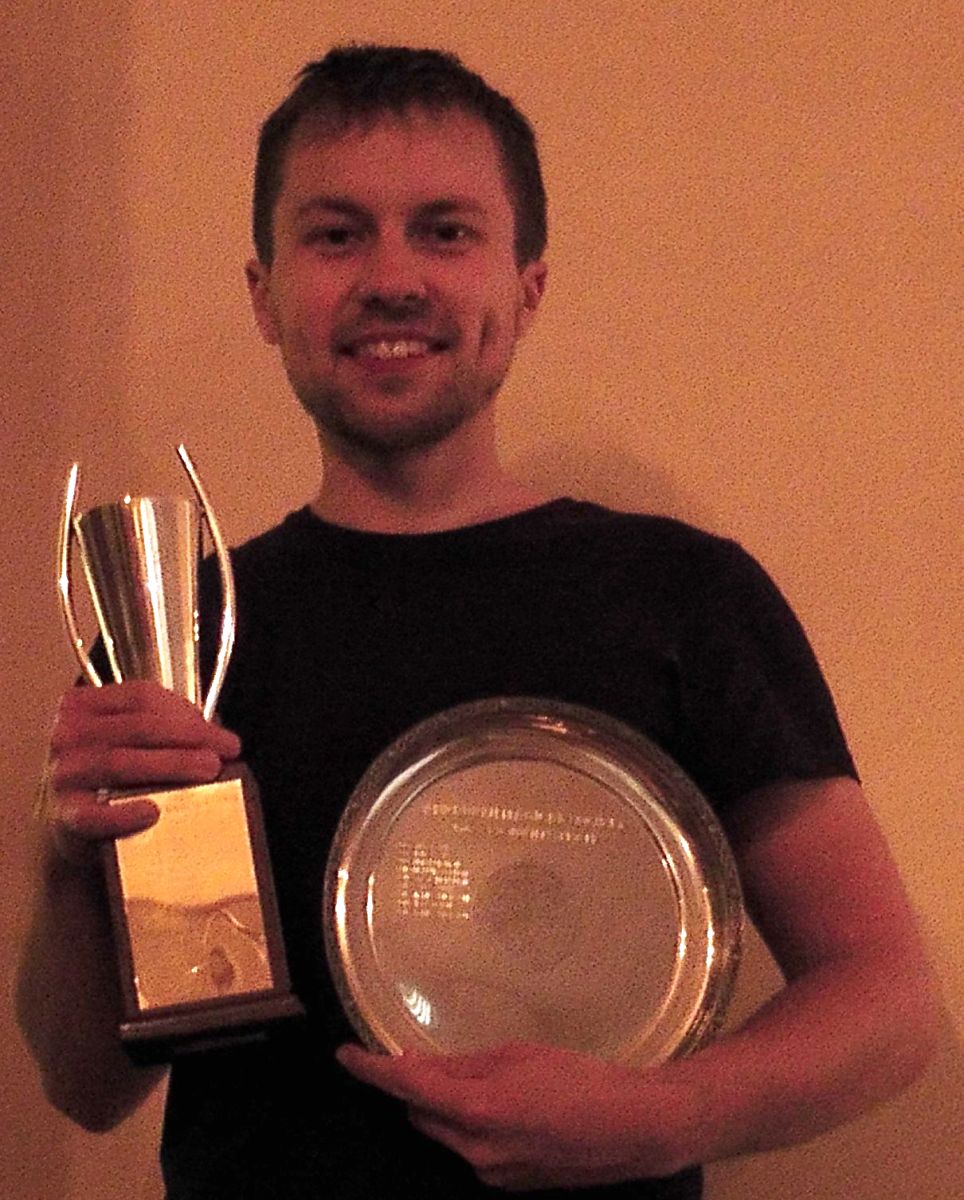 With thanks to Aberdeen Magical Society Media Team.
An Aberdeen-based magician has scooped two prestigious prizes in a hard-fought magic competition. James Dickson was awarded the Ulster Cup for Close-Up Magic and the President's Plate by a panel of his peers at the Aberdeen Magical Society.
James, a prolific magical inventor whose tricks are used by magicians around the world, triumphed with a creative act which culminated with a signed coin appearing inside a sealed tin of peas.
He says,
"Magic is an art form that has helped me find my place in the world. Competitions are an opportunity for me to create and collate ideas, and it means a lot to me when other people like one of my performances."
The Ulster Cup is presented to the magician who displays the best technical skill and entertainment value in Aberdeen Magical Society's annual close-up magic competition. The President's Plate is awarded by the society's current president to his favourite act of the competition.
Although James has won the President's Plate on two previous occasions, this is the first time he has lifted the Ulster Cup as he wowed the judges with his creative magic and comedic timing. He says,
"Magic is an art form at its heart and all art is an expression of the individual. The more I perform and study magic the more I end up learning about myself.
"When I create a trick I do not sit down and think what I can do that is unique or individual to me; instead I explore ideas that I find interesting and it can lead to some unusual places.
"Even if it means investing two years of work to find a solution to a problem I am willing to go that far – and what's more, I have. This open approach to magic and commitment has allowed my work to be picked up by others who can see the value of my efforts.
"I have no idea where magic might take me but if the experiences, travel, friendships, discoveries and fulfilment that I have experienced so far are anything to go by, I am looking forward with excitement."
James, who cites his early influences as TV stars Paul Daniels, David Copperfield and David Blaine, has always been fascinated by the challenge presented by magic, likening it to the finest 'whodunit' mystery. But it was joining Aberdeen Magical Society that he feels really allowed him to hone his craft.
He explains,
"Before I joined Aberdeen Magical Society I was happy self-studying magic, but upon joining I discovered why being part of a magic club is so important for a magician.
"Aberdeen Magical Society has a library of magic that covers many topics, and has rare and out-of-print materials that can help conjurors advance in their magic. Moreover, the wealth of knowledge amongst the members is staggering and the advice I have received over the years has helped me tremendously.
"The society is established enough to attract many of the greatest magicians in the world to come and lecture, and at every meeting there is magic to see and opportunities to perform tricks that you are working on. And to top it all – it's fun! I have made great friends and it's fantastic that every couple of weeks I can hang around with people who share the same passion in life.
"I would recommend anyone with an interest in performing or studying magic – who can keep a secret – to join."
Aberdeen Magical Society was founded in 1926, and is one of the most active magical societies in the country. With a membership ranging from full time professionals to amateur hobbyists, all those with a genuine interest in magic are welcome to join. Providing a warm and welcoming environment for magicians in the north east of Scotland, Aberdeen Magical Society is dedicated to developing the art of magic. In 2016, the society celebrates its 90th anniversary.
For more information, visit www.aberdeenmagic.com or like Aberdeen Magical Society on Facebook at www.facebook.com/aberdeenmagicalsociety