With thanks to Clare Scott, Communications Consultant, CJS Communication.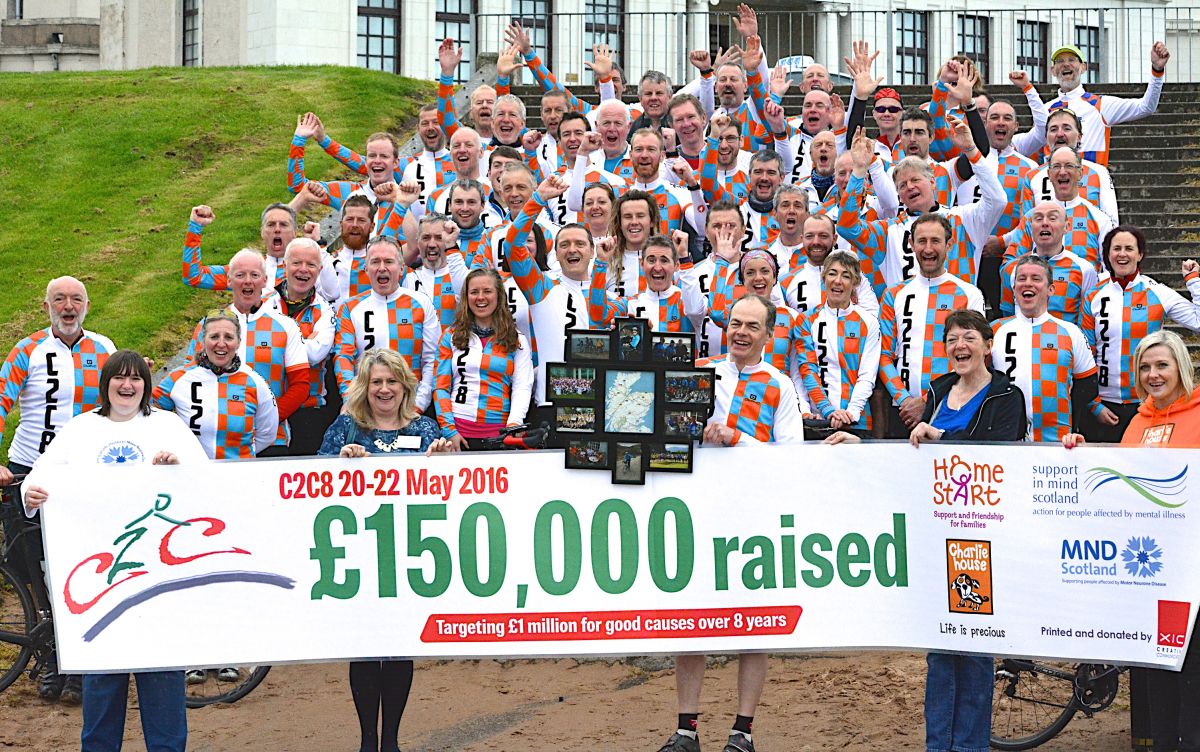 A Coast to Coast cycling challenge organised by staff from BP has raised over £1 million for good causes over its eight-year
lifespan.
The eighth Coast to Coast challenge, which took place from 20-22 May, was the organisers' largest yet with a firm focus on reaching the £1 million target.
Seventy current and former BP employees completed the 250-mile cycle, almost twice the amount who have taken part in previous years.
The number of charities who will benefit from the 2016 fundraiser was also increased from three to four, in recognition of the landmark year.
In its seven previous years, the challenge has raised £837,000, which includes matched funding from BP. The prospect of pushing the cumulative total into seven figures was a major driving force for the 2016 participants.
"Everyone really got into the spirit of the event, which was a vital ingredient for its success," says Jon Turnbull, who has been involved from day one.
"The scale of this year's challenge demanded considerable additional effort in terms of route planning, accommodation and transport.
 
"It was a wonderful team endeavour, involving hours of meeting time for our steering committee, in addition to the hours of training, preparation and fundraising that all of our cyclists commit to.  We also owe a debt of gratitude to our support drivers and ASCO Transport for their part in getting our bikes across Scotland."
Funds continue to come in for the 2016 challenge, which has already raised over £40,000 for each of this year's beneficiary charities.  They include MND Scotland, which supports people affected by motor neurone disease; mental health charity Support in Mind Scotland; children's charity Charlie House and family support charity Home-Start Aberdeen. The charities are chosen by BP personnel and all have a local or personal connection.
"Our selection as a Coast to Coast beneficiary charity means a great deal to Home-Start Aberdeen," says Georgette Cobban, scheme manager, Home-Start Aberdeen.
"We currently have a waiting list of city-based families who desperately need our support. These funds will be pivotal in helping us to recruit and train the additional volunteers we need to deliver this help.
"The Coast to Coast experience has also been wonderful in terms of allowing us to forge new links with the cyclists from BP and the other 2016 charities.  I hope very much that these relationships can be nurtured and grown.  Our thanks go out to everyone who has participated in or supported the 2016 challenge – and to BP for the incredibly generous matched funding."
Charlie House is a new, locally based children's charity which engages in activities and projects to support children with complex disabilities and life limiting conditions.
Lynn Batham, corporate and community fundraiser, Charlie House adds:
"We are extremely grateful to be one of the charities to benefit from this event. It will not only allow us to reach out to more families, offering them vital support when they need it, but it also gives us the invaluable opportunity of further exposure of Charlie House and what we do."
Donations, which are doubled by BP, can still be made to the 2016 Coast to Coast challenge by visiting http://uk.virginmoneygiving.com/team/c2c_8.
More information on the 2016 charities is available via their websites: www.mndscotland.org.uk, www.charliehouse.org.uk, www.supportinmindscotland.org.uk and www.homestartaberdeen.org.uk.
Comments enabled – see comments box below. Note, all comments will be moderated.