Part Three: The Scrapheap Challenge. By Mike Shepherd
A huge industrial undertaking is about to take place off the Scottish coast involving billions of pounds of expenditure; this is decommissioning.
As a result of an international convention for the NE Atlantic area, oil companies are obliged to remove most of the offshore infrastructure, including oil platforms and pipelines, once oil and gas production operations have ceased.
The scrap material will be brought onshore and disposed off accordingly. It will not be allowed to remain in place offshore unless there are good reasons to do so.
The scale of this operation is massive. Once the last drop of oil has been produced, it will have involved the dismantling of about 475 offshore installations, 10,000 kilometres of pipeline and 15 onshore oil and gas terminals. According to the industry body Oil and Gas UK (OGUK) decommissioning will entail £55 billion of expenditure by 2050.
Let's repeat that figure again – an industry that will spend £55 billion (and that's probably an underestimate) is about to hit our shores big time. The coastal cities and towns of the UK and Norway will provide the bases for this undertaking. Some of it has already happened, three of the Brent field platforms are being decommissioned, although the activity has been relatively small-scale to date.
Given the currently low oil price, it's possible that the volume of work involved could increase substantially from now on. OGUK have predicted that 79 oil and gas platforms could be abandoned by 2024; another estimate puts this figure as high as 146 out of the 300 platforms standing in the North Sea in a similar time scale.
The world of business is acutely aware of the opportunities involved and we may be on the cusp of a feeding frenzy as companies pile in to grab what is a large and guaranteed pot of cash. The big attraction for business in getting involved with decommissioning is that it is a major growth area. Not only is there an enormous amount of guaranteed work coming up; new technologies will need to be developed given the challenges involved.
Other offshore areas in the world will eventually become the focus of decommissioning and this provides the potential for any single company to become a major internationally-established corporation worth billions on the back of gaining experience in the North Sea. The prize is enormous.
Even at this early stage it's possible to identify trends likely to transform into future newspaper headlines. You heard them here first.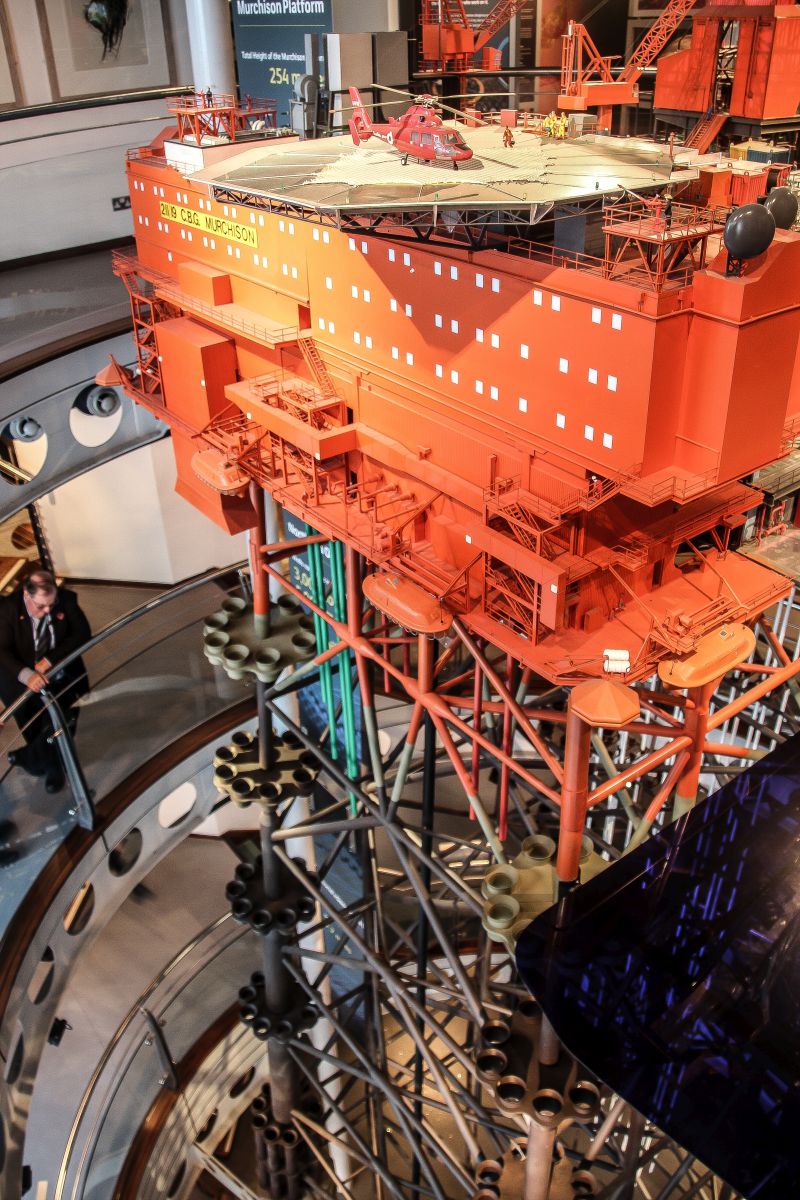 The Aberdeen versus Dundee rivalry over the spoils from North Sea oil has revived. Dundee has never particularly prospered from oil and gas and this is a source of discontent for the Tayside city.
Dundee is now repositioning itself to become a major centre for decommissioning. Forth Ports, owned by a private equity company, are spending £10 million on upgrading the eastern end of Dundee harbour for decommissioning and offshore wind projects.
Aberdeen Harbour Board, not wishing to lose out on a vitally important industry at a time when the oil companies will be finally leaving the city, intends to turn Nigg Bay into a deep-water harbour.
According to the details given with the Aberdeen City Deal this will enable Aberdeen to compete for decommissioning work.
The development of Nigg Bay is controversial; local residents have been less than impressed with pictorial representations of the future development, complete with cruise ships and the surrounding open green space shown rather improbably as being left intact. The business behemoth of decommissioning will be very difficult to stop however.
One other area that could fill future headlines is the scale of the government involvement. The government are committed to a part-funding of decommissioning through tax breaks although the legislation is complex and it is not clear as to how much money is involved. The Guardian reckons the percentage tax relief is between 50 and 75 per cent of the total expenditure.
OGUK have recently quoted an estimate that the taxpayer will be providing £16 billion for decommissioning work by 2050 although this figure looks on the low side. The tax breaks will prove a major future liability for the UK government (or a Scottish government should independence come).
One question begs to be asked. What happens if an oil company goes bust and it doesn't have any money to pay for decommissioning? I would anticipate there are contingency plans for this situation, although I suspect it's a hyper-sensitive issue in government circles. The issue dogs open-cast mining operations in the Central Belt of Scotland and in Wales where several mine operators have folded before the reinstatement of the land could happen.
The legal and practical issues involved have proved to be a nightmare.
There are also the environmental implications. The Aberdeen Voice has already been at the forefront of highlighting pollution problems caused by the dumping of material from North Sea oil operations. https://aberdeenvoice.com/2014/04/bleak-day-blackdog-beach/
It will be important to ensure that future decommissioning work is carried out in an environmentally circumspect manner and the Scottish Environment Protection Agency will have much work on its hands to monitor all of this.
Big money will come to the Scottish coastal cities and towns over the next few decades from decommissioning. Aberdeen will get a share of some of this work, although it remains to be seen whether the city can chase off the challenge from Dundee to become a potential national centre for the decommissioning industry. It's the scrapheap challenge.
Next week – the final part of the series: The long-term future for Aberdeen.
Mike Shepherd is author of Oil Strike North Sea, a history of North Sea oil. Join him in two upcoming sessions to discuss the impact of the oil industry on our shores:
March 9th 6.30 – 8pm – Aberdeen Central Library. Free, but booking essential. Contact the library on 01224 – 652500 or email Libraryevents@aberdeencity.gov.uk
March 17th 5-6pm – Blackwell's Book Shop, High Street, Old Aberdeen. 5-6pm. Free, but please reserve a place by phoning 01224 486102 or emailing erin.matheson@blackwell.co.uk.
Comments enabled – see comments box below. Note, all comments will be moderated.