With thanks to Jonathan Russell, Chair of Aberdeen and District Campaign for Nuclear Disarmament.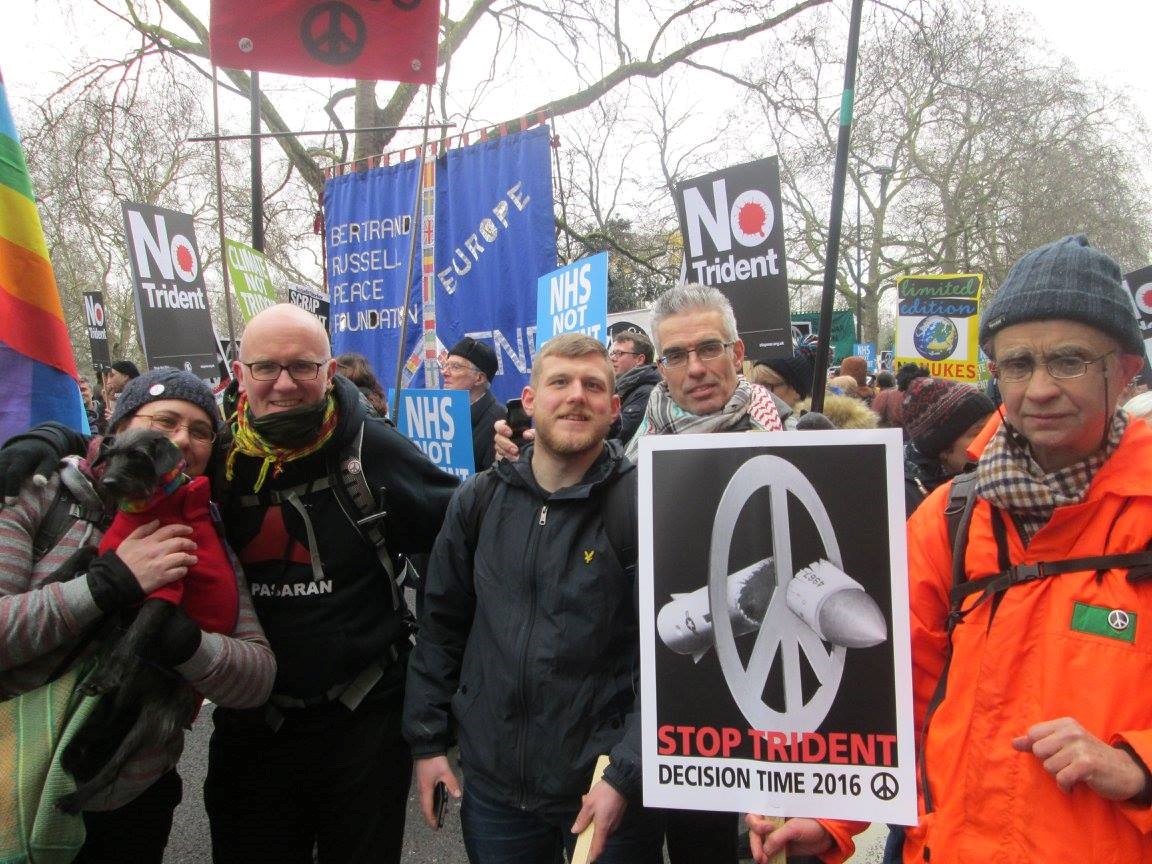 The Aberdeen and District CND's AGM takes place on Monday March 14th at 7.30pm in the Unite building 42-44 King Street Aberdeen. Please come along to find out more about our work and get involved.
Following the previous year's activity around the Independence Referendum we had expected a quieter year but no!!
The General Election led to a disappointing overall result but Scotland elected 56 SNP and 1 Labour MP all of whom oppose Trident.
Following the General Election there was the election of a new Labour Leader and the surprise result was the election with a large majority of Jeremy Corbyn MP who for years has been a major figure in both CND and Stop the War. Trident has rarely been out of the news since then as have the on-going conflicts in the Middle East.
We started the year with a well-attended and lively AGM with guest speaker Arthur West, Chair of Scottish CND, who spoke on the future strategy of CND. Among those in attendance was one SNP MSP and two future MPs.
Given the Westminster General Election we held a very successful 'Defence and Foreign Affairs Hustings' in partnership with Aberdeen University Politics and International Relations Society. We had speakers from the SNP, Labour, Conservative, and Green party with around 70 in attendance.
We held a weekly public stall leading up to the General Election which was well attended.
Local members attended the Bairns not Bombs demonstration in Glasgow on April 4th and the Faslane blockade on April 13th.
Also on April 13th Alan Mackinnon, the then Secretary of Scottish CND gave an interesting talk on NATO's Eastward March towards Russia which led to a particularly stimulating and wide ranging discussion. Alan who was the long term chair of CND and also chaired the Stop the War Iraq demonstration in Glasgow sadly died later in the year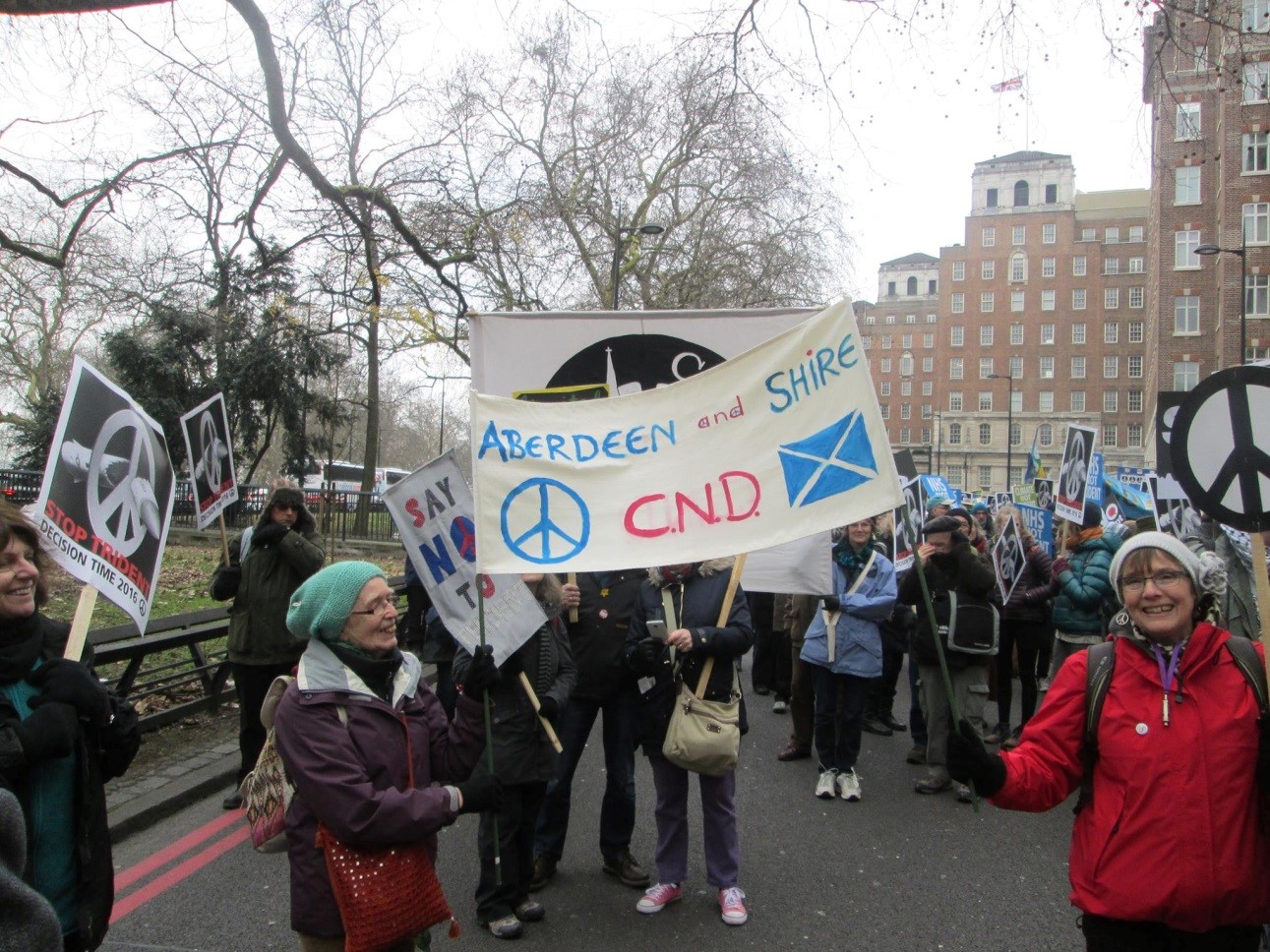 We have raised concerns through local MPs about the UK Government's plan to send back-up troops to the Ukraine.
We had a stimulating meeting on 24th July on 'The SNP's Strategy on Trident at Westminster' and how the local group would support this with Stuart Donaldson the new SNP MP for Aberdeenshire West and Kincardine.
Hiroshima Day on 6th August was well attended with speakers from political and Christian groups as well as poems and songs
We had a lively and informative meeting on 12th August on the theme of 'The Trident Whistle blower and the 'Safety of British Submarines' led by John Ainslie, the co-ordinator of Scottish CND.
On Friday 23rd October we showed the film 'We are Many' about the opposition to the Iraq war at Kemnay Village Hall. The film was very well attended and we had a panel with representatives from Scottish CND, the Aberdeen Trades Union Council, the Scottish Palestine Solidarity Campaign as well as Izhar Khan.
Our One World Concert held on 31st October had some great music, poems and dance. Unfortunately some performers pulled out and there was a very disappointing turn out.
We had a very enjoyable New Year Party
A major event started the year with many members and supporters travelling to the London Main Gate scrap Trident demonstration on 27th February. This was a great action and speakers at the rally at Trafalgar Square included Nicola Sturgeon, Caroline Lucas and Jeremy Corbyn.
We had our first of two planned meetings on the Middle East entitled 'Voices from the Middle East' in the form of an open discussion on the escalating Middle East Conflicts at which Izhar Khan gave a historical account of the background to the conflicts, Dr Khaled Bashir spoke about Libya and Murat Galem spoke on the Kurds.
We continue to send out emails to our supporters who have signed up to our Yahoo group collective and have a very active Facebook Page which has been liked by over 500 people.
Comments enabled – see comments box below. Note, all comments will be moderated.