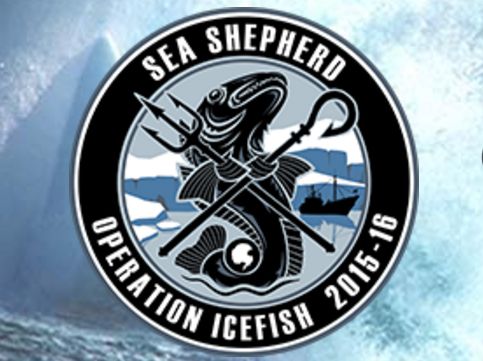 With thanks to Michelle Mossfield, Media Director, Sea Shepherd Global
Sea Shepherd's Flagship, the Steve Irwin, has departed Fremantle, Western Australia for the Southern Ocean. The ship's departure marks the official commencement of the organization's 12th Southern Ocean Defense Campaign, Operation Icefish 2015-16.
Led by returning Captain, Siddharth Chakravarty, Sea Shepherd will once again defend the pristine waters of Antarctica from poachers, with the aim to shutdown illegal activities in what is the world's last great wilderness.
Sea Shepherd will employ direct-action techniques to fill a law enforcement void that continues to be exploited by the Japanese whale poaching fleet and the two remaining illegal toothfish vessels, Viking and Kunlun (Taishan), which continue to threaten the survival of the fragile and wild Antarctic ecosystem.
Captain Chakravarty commented:
"The Steve Irwin will be the only proactive enforcement presence in Antarctica once again this year. The shadowlands of Antarctica are under threat and we are the only form of protection to the marine wildlife in these unregulated regions. Other than offering direct and immediate protection to the oceans, we intend to investigate and document the illegalities and work with law-enforcement agencies, once again, to aid and close out existing investigations worldwide,"
As Captain Chakravarty and the crew of the Steve Irwin depart for the Southern Ocean, Sea Shepherd has called on the governments who are responsible for upholding the laws that protect the Southern Ocean to intervene against these poaching operations.
"Sea Shepherd should not be left to defend Antarctica alone," said Captain Alex Cornelissen, CEO of Sea Shepherd Global.
"For the last 13 years our ships and crews have shone an international spotlight on both the illegal whaling and more recently on the illegal toothfish operations. Now it's time for governments to step-up and take serious action to address the issue of poaching in the Southern Ocean."
Managing Director of Sea Shepherd Australia, Jeff Hansen, said,
"Sea Shepherd needs reinforcements. 76.9% of Australians want the Australian government to send a vessel to oppose the Japanese whale poaching fleet. Australia has been commended for taking Japan to the ICJ, but now the government needs to take responsibility for enforcement by sending a ship to oppose the whale poachers."
Sea Shepherd Global:
Established in 1977, Sea Shepherd is an international non-profit, marine wildlife conservation organization. Our mission is to end the destruction of habitat and slaughter of wildlife in the world's oceans in order to conserve and protect ecosystems and species.
Sea Shepherd uses innovative direct-action tactics to investigate, document, and take action when necessary to expose and confront illegal activities on the high seas. By safeguarding the biodiversity of our delicately balanced ocean ecosystems, Sea Shepherd works to ensure their survival for future generations. For more information, visit: http://www.seashepherdglobal.org/
Comments enabled – see comments box below. Note, all comments will be moderated.