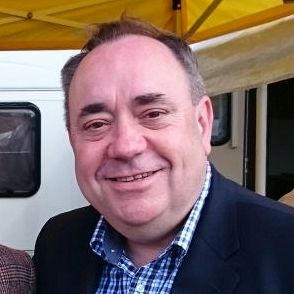 With thanks to Tom Collins, Press Officer, Rt. Hon. Alex Salmond MP MSP
Alex Salmond has responded to the latest comments from Donald Trump. Referring to Mr Salmond as 'an embarrassment to Scotland' and a 'stupid man', Trump defended his purchase of Turnberry golf course and issued scathing criticism of Salmond pertaining to his support of windfarms, and the early release of convicted Lockerbie bomber Abdelbaset al-Megrahi.
Mr Salmond said:
"The problem for Mr Trump lies not with his golf courses, but with him. The golf courses are excellent. 'The Donald' isn't.
 
"Unfortunately, his claims of the level of future investment in Scotland bear no resemblance to the reality of the last eight years. His ownership of Turnburry places it effectively out of The Open Championship circuit at a cost of £100 million to the Scottish economy. His legal objections to wind demonstrators in Aberdeen have thus far deprived the North East of Scotland of a vital £200 million diversification into offshore wind technology at a time of great difficulty in oil and gas.
 
"However, the real difficulty is his recent statements on Mexicans and Muslims, which go beyond the pale of acceptable comment and an association with him is increasingly damaging to Scotland. That is why over half a million people have signed the parliamentary petition seeking to ban him from the country!
 
"As far as his remarks to me are concerned, I have fought and won nine elections. Mr Trump has yet to win one.
 
"On his remarks about Abdelbaset al-Megrahi, he is out of date. Megrahi's release was in 2009. Since then, the SNP has won an overall majority in the Scottish Parliament and 56 seats out of 59 in a UK General Election. On Megrahi, Trump is like a cracked gramophone record playing in a digital age.
 
"Although, I have to admit it is very easy to issue statement after statement, tit for tat. I suggest instead Mr Trump calls into LBC next Wednesday at 16:00 (GMT), where he can ask me anything he likes. The number is +44 (0)345 60 60 973. If he has a beef I'll be happy to take his call. We'll see if debating here is as easy as debating over there!"
Comments enabled – see comments box below. Note, all comments will be moderated.
[Aberdeen Voice accepts and welcomes contributions from all sides/angles pertaining to any issue. Views and opinions expressed in any article are entirely those of the writer/contributor, and inclusion in our publication does not constitute support or endorsement of these by Aberdeen Voice as an organisation or any of its team members.]