By The Battle for the Bay of Nigg Committee
A group of dedicated volunteers have been out and about in Torry for the past few days delivering leaflets about the proposed Bay of Nigg development. We want to ensure that everyone in the area is aware of the impact that this project could have on their everyday lives. We hope to deliver leaflets to every house in Torry in the coming days.
If we, as a group of ordinary folk with limited resources can do this to get our message out to the local community, why hasn't the harbour board done the same?
The Bay of Nigg project is estimated to cost £320 million – surely some of that huge amount of money could have funded a leaflet drop to fully inform our local community of this major infrastructure project that is deemed to be of national importance?
For all those outwith the Torry area, here is our leaflet for you to view.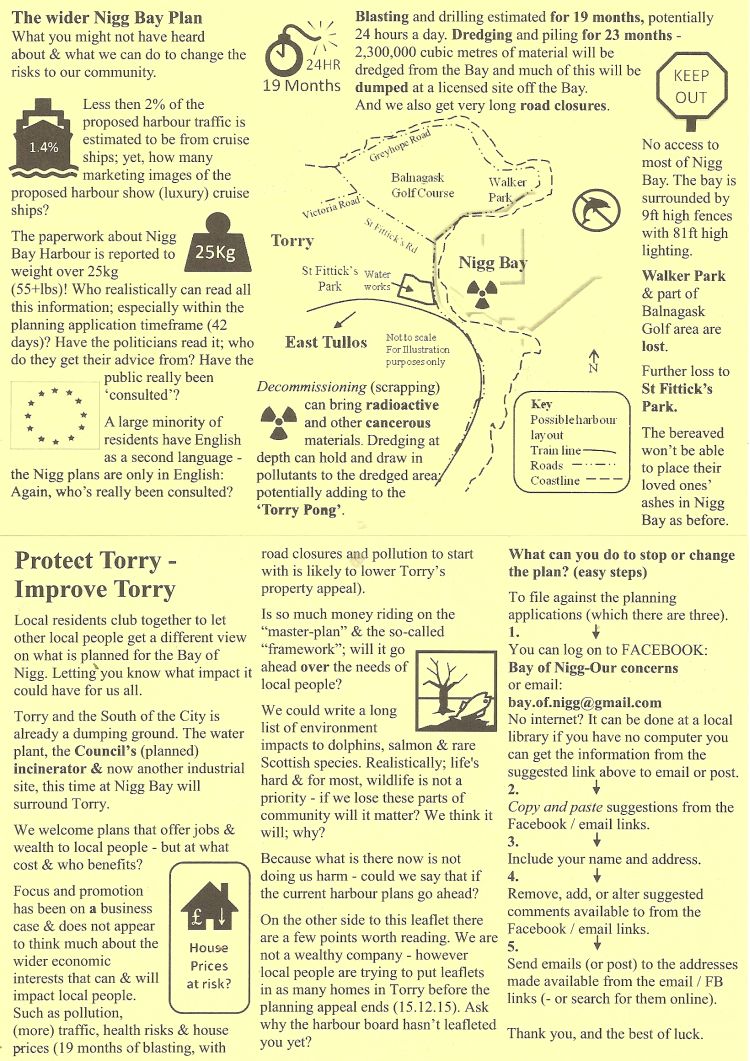 The Battle for the Bay of Nigg Committee is a group of Torry residents trying to save our Bay from this disproportionate development. We have no specialised knowledge or qualifications. We are ordinary citizens trying to make our voices heard by Aberdeen Harbour Board, Marine Scotland, Transport Scotland, Aberdeen City Council and the Scottish Government.
Our Facebook pages have already attracted a following of almost 700 people, predominantly residents of Torry. For further information, please contact us at bay.of.nigg@gmail.com
Comments enabled – see comments box below. Note, all comments will be moderated.