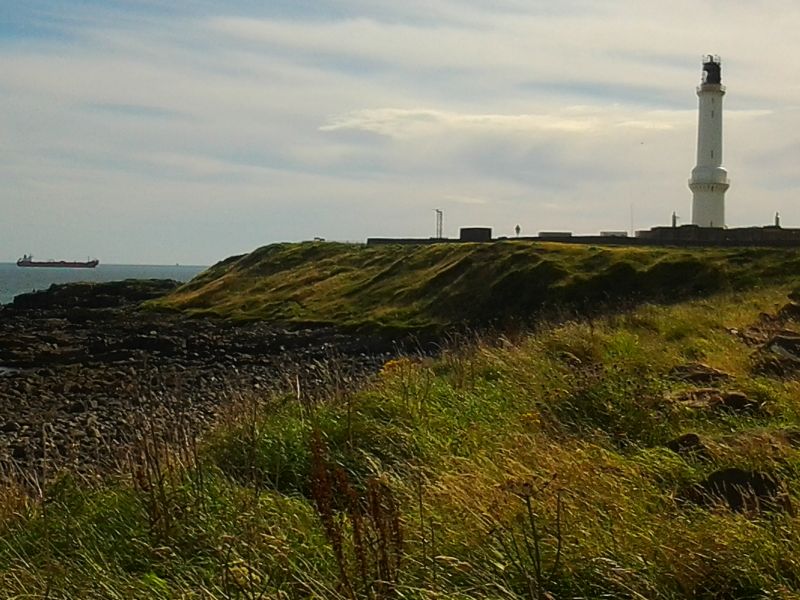 By Suzanne Kelly.
This Monday and Tuesday is your chance to see what's proposed for Torry's Nigg Bay: an extension of the industrial harbour into what is now public recreational coastal space and an important wildlife spot.
As per an announcement on Facebook:
"Aberdeen City Council, Aberdeen Harbour Board and Scottish Enterprise are preparing a Development Framework for Nigg Bay, Altens and East Tullos which will consider the long term development and regeneration opportunities arising as a result of the proposed new harbour at Nigg Bay. We are seeking your opinions on the future development of these areas and are holding a series of public exhibitions at which we would welcome your feedback.
"The next exhibition will be held at Old Torry Community Centre on Monday 15th September 1pm—7pm and Tuesday 16th September 12pm—5pm.
"For further information please contact Aoife Buckley on 0131 220 7777."
Area residents are already fighting a battle over their poor air quality as the sewerage plant's stench has spawned its own Facebook page. Nigg Bay is a popular spot with wildlife tourists, who come from all parts of the globe to see Aberdeen's coastal marine life (dolphins, seals, whales) and bird life (protected species include swans and eider ducks).
Despite indicating they would keep Aberdeen Voice's Suzanne Kelly advised of all developments, no one from the Harbour Board has been in touch about this matter.
Potential drawbacks to this scheme include:-
Air quality – particulates in the harbour area already exceed EU levels of acceptable pollution, and have done so for some time. Adding more road congestion and more marine pollution to the area will make things worse. The carbon footprint of the new working harbour and the construction of same are wholly opposite to Aberdeen City Council's plans to reduce our area's carbon footprint.
SSSI status – Nigg Bay is important geologically. The public will not accept further loss of SSSI-protected coastal area in Aberdeenshire.
Quality of life for Torry residents – the recent harbour expansion has brought increased road traffic, increased noise (at all hours of the day) and in all probability increased marine and air pollution. Torry residents have already had to sacrifice the historic fishing cottages for the initial harbour; they were recently coaxed into selling coastal land for the benefit of Aberdeen City Council.
In return for that land sale, they were promised the ridiculous 'gift' of public lavatory facilities near Victoria Bridge – which the Harbour Board refused to agree to.
Biodiversity – the plan to turn unspoilt Nigg Bay into a working harbour will be the death knell for marine, bird and animal life in the area. It is bad enough that the sewage plant was given approval for the stretch of coast south of the Bay, but your plans will damage biodiversity irreparably. I know any plans for expansion will be opposed by conservation, animal welfare and ecological groups and charities.
Public recreation – the public enjoy using Nigg Bay all year round. It is not a development opportunity; it is one of the few remaining unspoilt parts of Torry.
Other harbours – there are dozens of harbours on mainland Scotland; some are far closer to areas which will require decommissioning services (something mentioned by the Aberdeen Harbour Board as a reason for expansion in its press releases / news stories).
The Scrabster Harbour has been given a Government grant to expand recently, and it is more than able to deal with demand from the growing decommissioning sector. Nigg fabrication yard likewise has facilities in existence suitable for servicing the decommissioning industry.
Property values – since economics seem to play such an important part in Aberdeen's decision-making processes, perhaps the Board can give examples of residential areas where property values have not decreased as a result of this type of expansion.
I for one do not want to see my neighbourhood transformed for health and environmental reasons – but clearly residential property will decrease in value if expansion is approved. No residents, taxpayers or voters will accept this plan.
Harbour management – I would like to see the statistics on how many ships use the harbour, which ships are in part at present, etc., but the function on the Harbour Board's website is currently not working. I am certain it is possible for Aberdeen Harbour to continue to thrive as it is without expansion.
In fact there is a case to make that eventually harbour use will decrease in coming years – competition with other Scottish harbours, changes in energy generation to renewables, and dwindling oil supplies will have an impact. The environment is not to be sacrified for an increase when so many other harbours can also service temporarily increased demands.
Leisure cruises are not feasible – the Harbour Board suggests that cruise ships could enter Aberdeen Harbour and/or Nigg Bay. Nigg is of course too shallow. In any event, do we really think Aberdeen's industrial harbour, crucial for the oil industry, is an appropriate destination for cruises?
I cannot imagine a business case could be made supporting the viability of cruise liner passengers arriving there, staying in Torry and spending money in Torry and the wider city area. If there is any data/case to support the viability of such a move, please forward it.
Potential pluses include more money for the Harbour Board, dock work employment.
Whatever your view, this is your chance to see the plans and make your opinion count.
Comments enabled – see comments box below. Note, all comments will be moderated.
[Aberdeen Voice accepts and welcomes contributions from all sides/angles pertaining to any issue. Views and opinions expressed in any article are entirely those of the writer/contributor, and inclusion in our publication does not constitute support or endorsement of these by Aberdeen Voice as an organisation or any of its team members.]