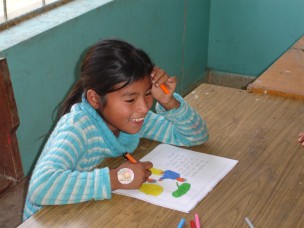 With thanks to Esther Green, Tricker PR.
Aberdeen Asset Management Charitable Foundation has selected ChildHope as its fourth emerging markets charity partner.
The Foundation has made a three year commitment, with an initial six-figure donation, to ChildHope.
ChildHope was established in 1989 and grew out of the recognition of the huge and growing but neglected problem of children living and working on the streets of Africa, Asia and South America.
Over the last twenty years, the charity has been working to develop long lasting solutions aimed at tackling the root causes of the poverty and the injustice faced by children around the world.
Aberdeen's support will focus on the regions immediately surrounding Lima, Peru where despite rapid economic development within the city, around a third of children live on less than $2 a day.
Many of these children are subject to violence in schools, where despite national policy, they are often chastised by teachers using sticks, belts or ropes. The project aims to create safer school environments in eight schools. It will identify those children within the schools that are most at risk of educational underachievement and support them with additional supportive educational sessions.
In total, the project is estimated to benefit 7,300 children who will pass through these schools over the term of Aberdeen's partnership, as well as having associated impact on 400 teachers and 4,500 parents.
Anne Richards, Chief Investment Officer of Aberdeen Asset Management and Chairman of the Foundation, comments:
"Aberdeen has a significant presence in Latin America and so I am delighted that employees globally have chosen to support ChildHope. Education plays a crucial role in the development of society so the charity will have an impact not only on the children but the country as a whole."
ChildHope UK's Executive Director Jill Healey said:
"We are absolutely thrilled to have been selected as Aberdeen Asset Management's next emerging markets charity partner. By working together we can fundamentality transform the lives of some of the most vulnerable children in Peru and give them a chance for a better future.''
ChildHope becomes the fourth emerging markets charity partner to be supported by the Foundation, alongside ABC Trust, SeeBeyondBorders and AfriKids.
The Aberdeen Asset Management Charitable Foundation was established in 2012 to formalise and develop Aberdeen's charitable giving strategy. It has two main themes:
Emerging Markets – Aberdeen has committed to develop a number of strategic partnerships with charities tackling the educational needs of disadvantaged young people in emerging markets. Each year, an emerging market is selected by the Foundation's Board and employees have the opportunity to vote for a project in that country which will receive support for a three year period.
Local Communities – To complement this international focus, each Aberdeen office around the world has established its own charity committee, whose remit is to manage local giving activities and to promote volunteering.
Comments enabled – see comments box below. Note, all comments will be moderated.