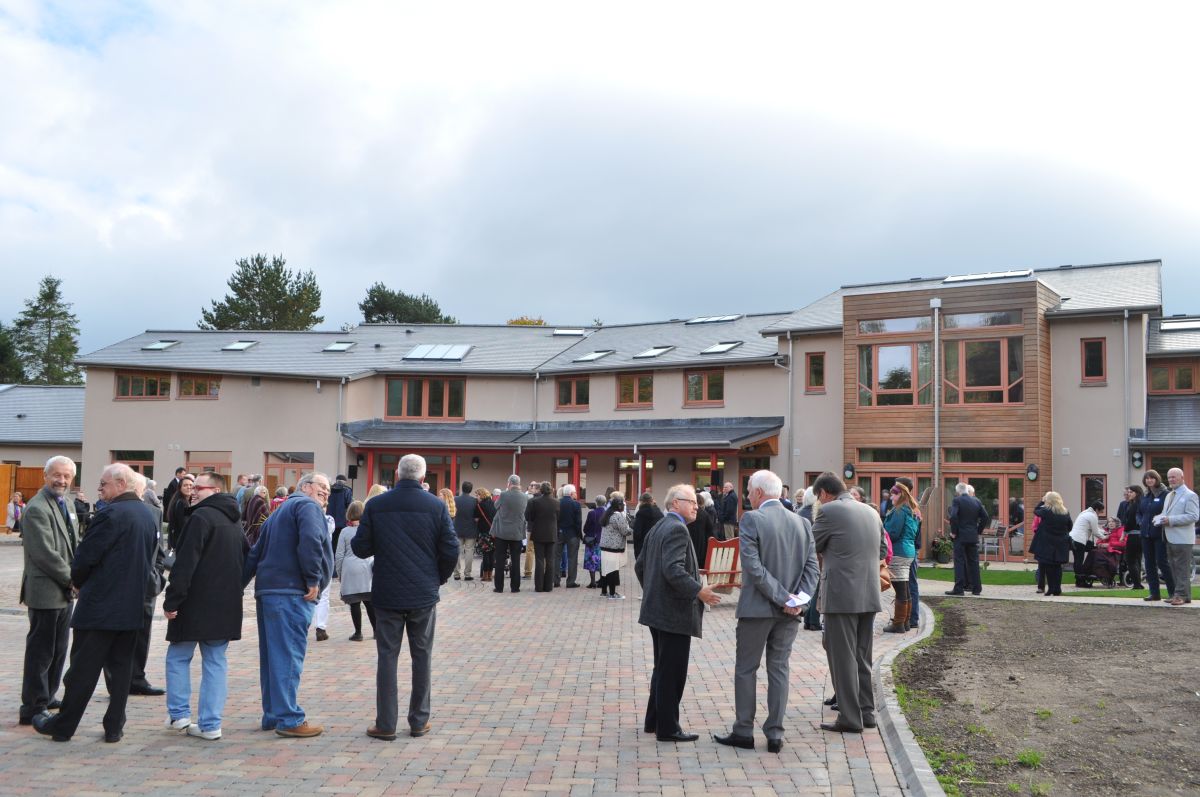 With thanks to Paul Smith, Citrus Mix.
Simeon Care for the Elderly celebrated the official opening of its innovative new care home on Saturday (Oct 17). The momentous occasion was enjoyed by invited guests and Simeon workers, volunteers and residents at a poignant ceremony at the building in Bieldside, Aberdeen.
Angelika Monteux, chairperson of Simeon Care for the Elderly, Jeannie Carlson, manager, Judith Jones, retired nurse, and Dame Anne Begg addressed attendees and paid tribute to everyone that has made Simeon House a reality.
Local musicians entertained guests who were also given tours of the fantastic facility and the charity's Golden Garden.
Simeon launched the biggest fundraising drive in its history to create the development at Cairnlee Road in Bieldside, which has enhanced its provision to the elderly and boosted capacity.
Jeannie Carlson, manager of Simeon, said:
"We are absolutely delighted to have been able to share this very special moment in Simeon's history with everyone that has played a part in this great journey. It is amazing to see how far Simeon has come since we launched our New Lease of Life fundraising campaign nearly four years ago.
"The campaign was crucial in ensuring a future for Simeon and its residents, and it is testament to the hard work of our fundraising team and generosity of our supporters that it has been a success in a difficult local climate. The kindness of individuals, community groups, charitable trusts and local businesses has got us to this point and it has been wonderful to officially mark this.
"Our residents were very excited to move into Simeon House a few weeks ago and are settling in very well. We would like to thank everyone that has helped us along the way, it has been a long journey and it has been a delight to show people around our home and share what has been achieved."
Simeon House was officially declared open by Dame Anne Begg, who cut the ribbon which was handmade by Stephanie Newbatt of Cairnlee House.
A commemorative plaque created by David Newbatt of Cairnlee House which portrays a Biblical depiction of Simeon with the addition of local sights such as Bennachie, Marischal College and Dunnottar Castle was also unveiled. The plaque also depicts the names of Simeon founders within wooden leaves, while the wood was taken from a cherry tree which was removed to make way for Simeon House.
The new home consists of 23 ensuite bedrooms with dementia-friendly in an energy efficient building. Simeon's Golden Garden, which provides a therapeutic haven for residents, was designed by Dr Garuth Chalfont, an acclaimed expert in the design, research and use of healing gardens, landscaping and dementia-friendly spaces.
The Golden Garden was made possible thanks to £45,000 in funding from the Big Lottery Fund after Simeon won 10,500 votes from the public via the ITV People's Millions.
Comments enabled – see comments box below. Note, all comments will be moderated.