Artist Bibo Keeley's work 'FREE AS A BIRD' was banned by Aberdeen's North East Scotland College (NESCOL) earlier this year, where she was studying Art and Design as a mature student. But it can now be seen for the first time when it is exhibited at the BrewDog Bar in Aberdeen's Gallowgate on 22 October 2015 from 7pm.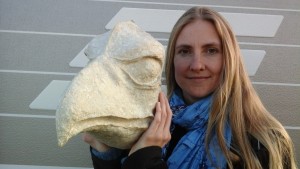 FREE AS A BIRD is a feminist artwork which denounces gender inequality. However, senior College management issued a banning order on the piece and denied Bibo Keeley the opportunity to exhibit her work at the College's Creative End of Year Show.
This act of artistic censorship caused outrage among many people, both locally and on social media.
Meanwhile, the artwork has gained academic recognition, e.g. in the article 'Bibo Keeley's artwork in the context of North American, Scottish and British feminist art' by art historians and Aberdeen University Lecturers Dr. Fern Insh and Dr. Amy Bryzgel:
Now the original artwork by Bibo Keeley will be the unveiled at an opening event at BrewDog Bar.
The artist will be present, and will introduce the work and the background as to how it came about.
There will be photo opportunities and the chance for discussions.
Bibo Keeley says
"I am delighted that I now have the opportunity to exhibit my work in public. I found it incredible that anyone would ban this artwork in the first place, because the work is very clearly aimed at promoting gender equality."
Bibo Keeley's website can be found here