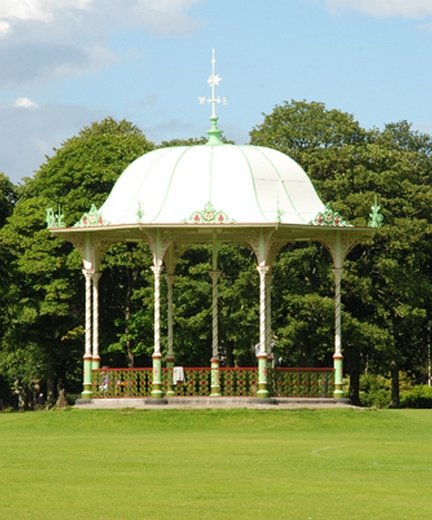 With thanks to Dave Macdermid.
This month's 5th Friends of Duthie Park Open Day is just six days short of being on the 100th anniversary of one of the largest events ever held in the park.
On the 22nd August 1915, during World War One, no fewer than 26,000 people, a significant proportion of the city's population at the time, crammed into the park at sixpence a head for 'Gala and Heather Day', an event held to raise money for Aberdeen Royal Infirmary.
Included in the attractions were a musical drill by a team of ladies, displays of physical drill by a squad from the Gordon Highlanders, exhibition dances and a motor cycle gymkhana.
Fast forward one hundred years and, as Friends Chairman Alan Amoore explains, there are similarities between the event then and the forthcoming Open Day on Sunday 16th August, which is being held in association with Aberdeen Sports Council.
"While I'm not sure we'll manage to get 26,000 through the gates, our nominated charity for this year is the Archie Foundation, which is of course is based at ARI. In addition, we'll have dancing demonstrations, fitness drills, vintage vehicles and lots more including wrestling, horse and cart rides, Aberdeen FC Community Trust, The Paul Lawrie Foundation, the Bon Accord Silver Band and much more. And while it cost 6d to gain entry a century ago, our event is completely free, so not everything has gone up in price."
The full running order for the event, which takes place between noon and 4 pm on Sunday 16th August, is as follows:
Bandstand – Noon – 2 pm; Bon Accord Silver Band
Stage – Noon – Bokwa with Jodie; 1 pm – Zumba & Powerhoops with Elma; 2 pm – Sharon Gill School of Dancing; 2.30 pm – Airyhall Dancers; 3.15 pm – Granite Beat.
Park Area – It's A Knockout; Horse & Cart Rides; Bouncy Castles; British Military Fitness Obstacle Course; Wrestlezone Scotland; Aberdeen FC Community Trust 'Speed Cage'; Paul Lawrie Golf Foundation; Paddle Boats, Vintage vehicles; Face Painters; Stalls; Spree Media; Refreshments.
Winter Gardens – Spike the Talking Cactus; McPuddick.